Why King Digital Entertainment PLC Stock Jumped 18.2% in November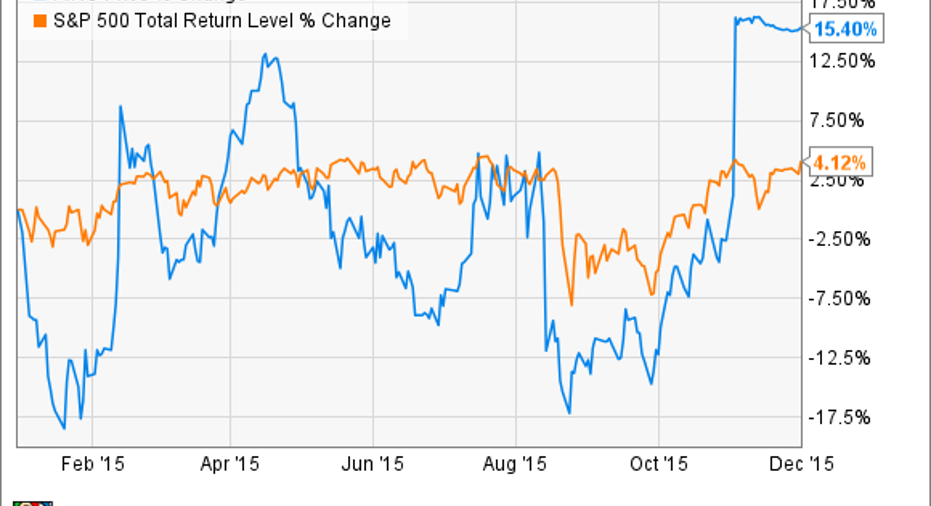 What:Shares ofKing Digital Entertainment plcrose 18.2% in November,according toS&P Capital IQdata, after it agreed to be acquired by gaming giant Activision Blizzard for a total equity value of $5.9 billion, or $18 per share. That leaves King Digital stock up just over 15% year to date:
So what: To be fair, Activision's price also represented a 27% premium over King Digital's three-month volume weighted average price per share preceding the announcement.
But to be honest, on one hand, I'm not entirely convinced I like the deal, as a longtime fan of Activision Blizzard and a longtime critic of King Digital's free-to-play gaming niche. On the other hand, King Digital is also arguably the strongest player in that niche, with revenue and cash from operations coming in at a healthy $480 million and $150 million, respectively, last quarter. The transaction is also expected to be accretive to Activision's 2016 adjusted revenue and earnings by 30%, and it presents the two companies with an abundance of opportunities to cross-promote content to their combined base of over 500 million monthly active users.
Now what:Nonetheless, Ibelieve Activision Blizzard investors would be wise to closely watch the dynamics and often-difficult financials of the free-to-play game segment in the coming years -- even if you'll be hard pressed to find any company better positioned to take advantage of the synergies this acquisition can offer.
In the meantime, note that the deal is expected to close by the spring of 2016, at which time King Digital investors will receive $18 in cash for each share of King they own. With King stock currently trading just pennies below that price -- and unless you're waiting to sell to take advantage of lower long-term capital gains taxes -- I think King shareholders would do well to take their gains and put their money to work in another promising stock.
The article Why King Digital Entertainment PLC Stock Jumped 18.2% in November originally appeared on Fool.com.
Steve Symington has no position in any stocks mentioned. The Motley Fool owns shares of and recommends Activision Blizzard. Try any of our Foolish newsletter services free for 30 days. We Fools may not all hold the same opinions, but we all believe that considering a diverse range of insights makes us better investors. The Motley Fool has a disclosure policy.
Copyright 1995 - 2015 The Motley Fool, LLC. All rights reserved. The Motley Fool has a disclosure policy.