Why Kinder Morgan Inc. Pulled the Plug on Two Big Pipeline Projects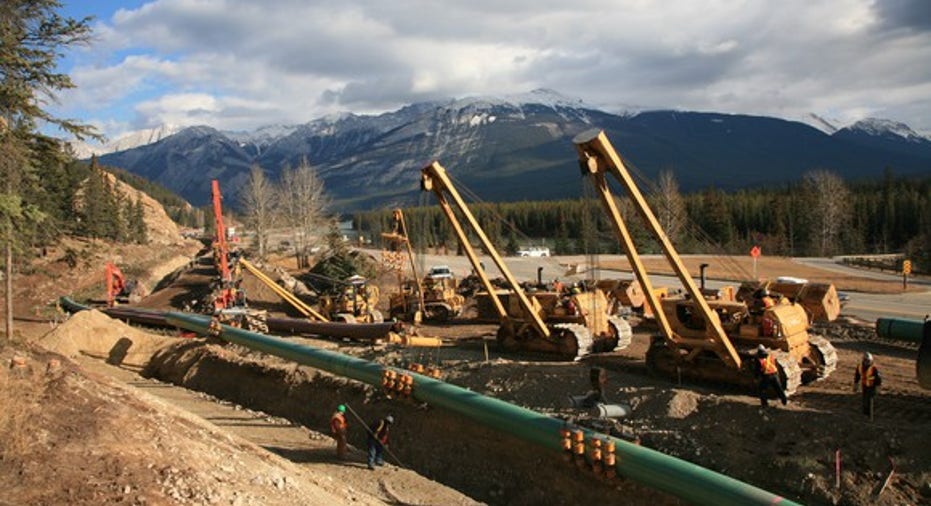 Image source: Kinder Morgan.
With the energy markets in turmoil, companies are being forced to take a hard look at their future plans. For Kinder Morgan , that meant reevaluating the projects in its backlog to determine if they're still worth pursuing. These efforts have led the company to make some surprising subtractions to its growth pipeline, such as recently pulling the plug on two big pipeline projects. Here's what CEO Steve Kean had to say on the ] most recent conference call about why these projects are no longer being pursued.
NED was never viable
Kean started off his remarks on the call by giving investors an update on the company's capital project backlog, which was being reduced by $4.1 billion. The bulk of that reduction was coming from two projects, the Palmetto Pipeline and the Northeast Direct (NED), which were expected to cost $550 million and $3.1 billion, respectively. He then discussed why the company pulled the plug on these projects, turning his attention first to NED by saying:
As Kean notes, the decision to pull the NED project out of the backlog all boils down to economics. The project in its current state simply wasn't going to earn a high enough return to justify the capital the company would need to spend to bring it online. While Kinder Morgan had high hopes that it would be able to sign up enough customers in order for this project to be economic, it just couldn't get that capacity under contract. As such, the $3.1 billion it had earmarked to invest in that project can be allocated elsewhere, such as paying down debt, buying back stock, boosting the dividend, or investing in other opportunities that would create more value than NED.
Image source: Kinder Morgan
Palmetto's red tape was only part of the story
Kean then turned his attention to the Palmetto project, noting that its issue was that:
As Kean notes, the company was basically blocked by the state government from moving forward with this project. However, instead of working with the state to get the issues resolved, the company simply canceled its plans for the Palmetto project. This suggests that economics also had a lot to do with this decision.
While the company didn't provide project-level economics on Palmetto, a little back-of-the-envelope math suggests that the expected returns from Palmettowouldn't be as good as what the company earned on recently completed projects in its products pipeline segment. For example, last year it invested $771.3 million on projects in its products pipeline segment that were expected to deliver $147.4 million in first-year EBITDA, which is a 5.2 times multiple. However, before removing Palmetto, Kinder Morgan had planned to invest more than $1.1 billion on projects that would have only delivered $104.6 million in first-year EBITDA, which is a 10.7 multiple. Given that Palmetto represented roughly half of the capital, the company's plan to invest in that segment it suggests that its economics weren't all that appealing, which appears to be why the company decided not to fight to move forward with the project.
Investor takeaway
When Kinder Morgan took a hard look at both of these projects, it realized that the economics no longer made sense, which is why it pulled the plug on both. As such, this marks a notable shift for a company that was once focused on growth at almost any cost to one that is now about just returns-driven growth. It's a move that will hopefully lead to better results over the long term.
The article Why Kinder Morgan Inc. Pulled the Plug on Two Big Pipeline Projects originally appeared on Fool.com.
Matt DiLallo owns shares of Kinder Morgan andhas the following options: short January 2018 $30 puts on Kinder Morgan and long January 2018 $30 calls on Kinder Morgan. The Motley Fool owns shares of and recommends Kinder Morgan. The Motley Fool has the following options: short June 2016 $12 puts on Kinder Morgan. Try any of our Foolish newsletter services free for 30 days. We Fools may not all hold the same opinions, but we all believe that considering a diverse range of insights makes us better investors. The Motley Fool has a disclosure policy.
Copyright 1995 - 2016 The Motley Fool, LLC. All rights reserved. The Motley Fool has a disclosure policy.