Why Keurig Green Mountain, Arrowhead Research, and Smith & Wesson Jumped on Monday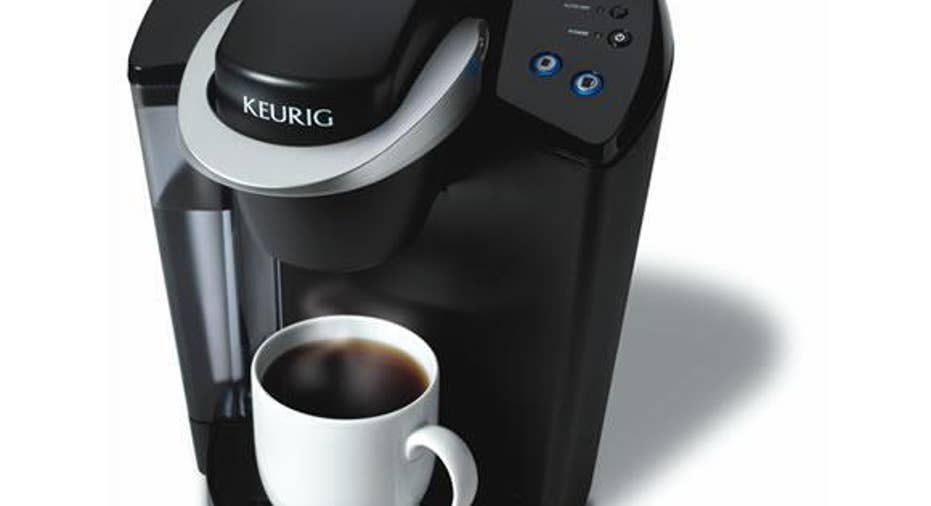 Image source: Keurig Green Mountain.
The stock market lost ground on Monday, with a plunge in oil prices well below the $40 per barrel level raising new concerns about whether the global economy would continue to slow down. Yet even as energy stocks tumbled, many companies in other industries fared far better, and Keurig Green Mountain , Arrowhead Research , and Smith & Wesson Holdings were among the best-performing stocks to start the new week.
Keurig Green Mountain soared 72% after the company behind popular home-brewing machines and new cold-beverage makers agreed to a buyout offer from private investors at JAB Holding. The all-cash deal will give Keurig shareholders $92 per share if approved, which represents a premium of more than three-quarters compared to the stock's closing price last week. Prior to the bid, Keurig stock had been under pressure for a long time, as the new Keurig Kold and the updated Keurig 2.0 brewers hadn't lived up to the high expectations that investors had for them. The size of the bid clearly recognizes the fact that Keurig stock traded far above the offering price as recently as May, but many hard-hit shareholders have to feel relief at the prospect of cashing out at such an attractive price.
Arrowhead Research gained 13% as the biopharmaceutical company released data this morning on its ARC-520 experimental treatment for hepatitis B. At the HEP DART 2015 conference, Arrowhead said that out of nine chimpanzees treated with the drug, seven showed signs of immune reactivation, which the company said is likely a necessary step toward a cure for the disease. CEO Dr. Christopher Anzalone characterized the results as "a big deal" toward Arrowhead's goal of stopping proteins from suppressing normal immune system responses. In combination with recently released data on humans, Arrowhead is hopeful that the company will be able to use ARC-520 both in conjunction with other treatments and as a single therapy on its own.
Finally, Smith & Wesson Holdings climbed 8%. The gunmaker's shares once again responded to expectations that gun sales will spike in anticipation of tougher gun control laws following the mass shootings in San Bernardino last week, repeating a pattern that longtime shareholders have seen play out countless times in the past. Following a prime-time address by President Barack Obama on Sunday night, the stock hit levels it hasn't seen since before the financial crisis. Gunmakers had believed that past spikes in sales would start to ease in the future, but incidents like these haven't lost their effectiveness in getting potential gun customers to accelerate their purchases in order to avoid tougher potential regulation in the future. As long as those fears continue, Smith & Wesson and its peers will be the ultimate beneficiaries.
The article Why Keurig Green Mountain, Arrowhead Research, and Smith & Wesson Jumped on Monday originally appeared on Fool.com.
Dan Caplinger has no position in any stocks mentioned. The Motley Fool recommends Keurig Green Mountain. Try any of our Foolish newsletter services free for 30 days. We Fools may not all hold the same opinions, but we all believe that considering a diverse range of insights makes us better investors. The Motley Fool has a disclosure policy.
Copyright 1995 - 2015 The Motley Fool, LLC. All rights reserved. The Motley Fool has a disclosure policy.