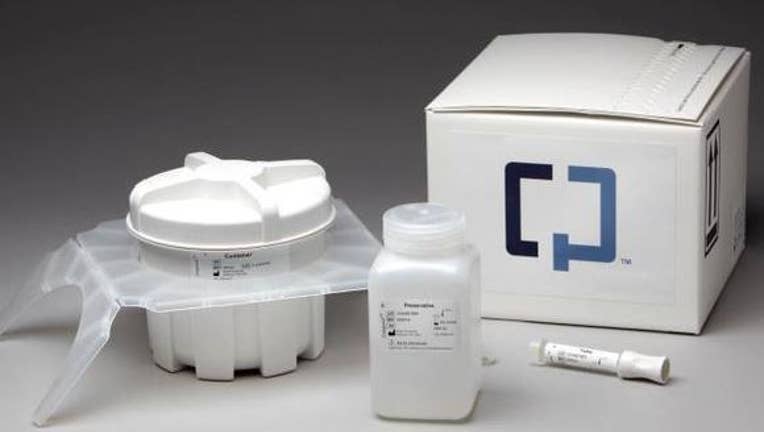 Exact Sciences hopes it will get more reimbursement money for Cologuard. Image source: Exact Sciences.
The stock market closed a holiday-shortened week on another quiet note, as volatility remained subdued in the post-Thanksgiving half-day session. Yet even though the Dow and S&P 500 were both within a tenth of a percentage point of unchanged on Friday, several stocks posted more substantial gains. Among the leaders were KaloBios Pharmaceuticals , Eldorado Resorts , and Exact Sciences .
KaloBios soared 29% after the self-proclaimed biotech specialist in cancer-fighting monoclonal antibodies found its shares involved in a classic short squeeze. The company has seen its stock soar from just $1 per share a few weeks ago, and on Nov. 13, the company said that it would wind down its operations and liquidate its assets. Yet then, infamous Turing Pharmaceuticals CEO Martin Shkreli bought up a majority stake in the company and became KaloBios' CEO last week, sending the stock as high as $40 per share. Today's move came after Shkreli said that he would no longer make his shares available for short-sellers to bet against the stock, and that resulted in a stampede among those who were short the stock to find shares to cover their positions. Many are calling for SEC action in response to wild trading in what was a penny stock until this month, but investors should expect continued swings as bulls and bears fight it out.
Eldorado Resorts climbed 6%. Investors continued to bid up shares following the casino operator's acquisition of the assets of Circus Circus Reno and the 50% interest in the Silver Legacy Resort Casino Reno venture that MGM Resorts owned. The northern Nevada company is enthusiastic about the prospects for the local economy in the Reno area, and the acquisition further cements Eldorado's presence in Nevada. With other properties in Louisiana, Ohio, West Virginia, and Pennsylvania, Eldorado has benefited from the recent trend toward domestic gaming company stocks. As long as weakness in the Asian gaming capital of Macau holds back performance among the casino industry's giants, stocks like Eldorado could keep seeing interest from those seeking to profit from a strong U.S. economy.
Finally, Exact Sciences rose 4% after the diagnostics company said that it had filed a clarification request with the Centers for Medicare and Medicaid Services. The company said that the national limitation amount on reimbursement requests for Exact Sciences' Cologuard colorectal-cancer screening test appears inconsistent with previous guidance that the CMS had provided earlier this month. The issue is a repeat of what Exact Sciences went through last year, when the company noted that the sum of the reimbursement limits for three related codes was far greater than what was initially approved for Cologuard. Exact Sciences hopes that the CMS will make a similar upward adjustment to Cologuard's reimbursement limit as it did last year, and investors appear optimistic that the request will be successful.
The article Why KaloBios Pharmaceuticals, Eldorado Resorts, and Exact Sciences Jumped Today originally appeared on Fool.com.
Dan Caplinger has no position in any stocks mentioned. The Motley Fool has no position in any of the stocks mentioned. Try any of our Foolish newsletter services free for 30 days. We Fools may not all hold the same opinions, but we all believe that considering a diverse range of insights makes us better investors. The Motley Fool has a disclosure policy.
Copyright 1995 - 2015 The Motley Fool, LLC. All rights reserved. The Motley Fool has a disclosure policy.