Why June Could Be a Big Month for AbbVie Investors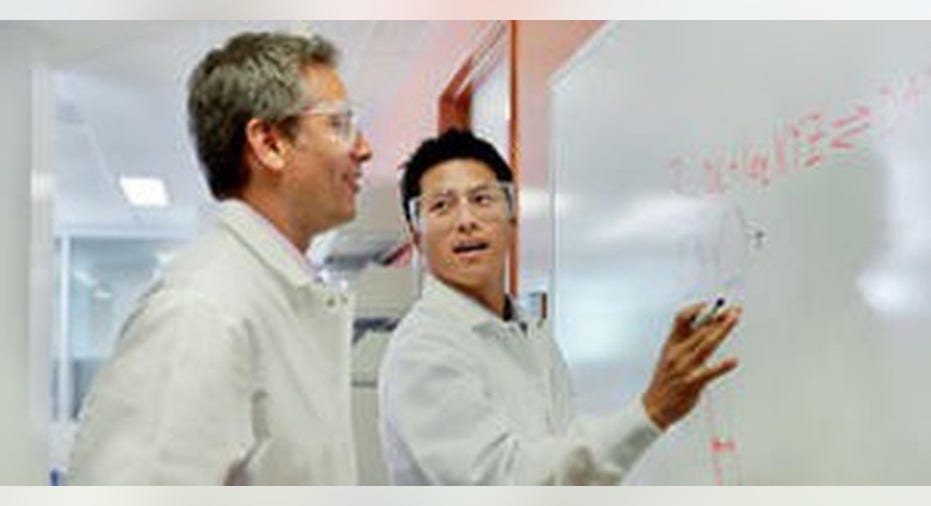 Image source: AbbVie.
Emboldened by its successful acquisition of cancer drugmaker Pharmacyclics last year, AbbVie acquired clinical-stage cancer company Stemcentrix in April. The acquisition comes ahead of a key cancer presentation in June that could move the needle for shareholders, so let's take a closer look.
A bit of background
Facing potential competition to its megablockbuster autoimmune disease drug Humira once its patent expires later this year, AbbVie has taken bold steps to expand its business into oncology.
In addition to boosting internal R&D spending on cancer therapies, the company spent $21 billion last year to acquire Pharmacyclics, the co-developer of Imbruvica,a market-leading therapy used to treat chronic lymphocytic leukemia (CLL).
Imbruvica's best-in-class efficacy and safety, along with label expansion that's increased its addressable patient pool, has resulted in a quick march to billion-dollar blockbuster status. In Q1, AbbVie reports global Imbruvica sales reached $381 million.
Also, AbbVie's internal R&D has yielded Venclexta, a therapy for relapsing CLL patients with chromosome 17p deletion -- a historically hard-to-treat patient population; 17p deletion patients represent 30% or more of CLL patients who have seen their disease return, and Venclexta won the Food and Drug Administration go-ahead in April.
Image source: AbbVie.
Further boosting its cancer prospects
Now that AbbVie has two therapies in blood cancer, the company is setting its sights on solid tumor treatments.
In April, AbbVie spent $5.8 billion in cash and stock to acquire Stemcentrix so that it can get its hands on Rova-T, a third line therapy for the treatment of small cell lung cancer (SCLC). Rova-T targets DLL3, an antibody drug conjugate that's expressed in SCLC tumors.
The acquisition is notable because SCLC is a tough-to-treat cancer with limited treatment options in the second- and third-line setting. Over 60,000 patients are diagnosed annually with SCLC and sadly, the five-year survival rate for patients in the third-line setting is only 6%.
Because there's a significant need for new SCLC treatment options, if Rova-T can demonstrate positive efficacy and safety in trials, it could reshape standard of care. So far, the information that's been released from Rova-T trials is encouraging. Earlier this year, Stemcentrix announced phase 2 study results showing that 44% of DLL3 biomarker-defined SCLC patients responded to it, and that Rova-T's safety profile didn't raise eyebrows.
About to find out more
Rova-T's results were intriguing enough that the American Society of Clinical Oncology (ASCO) has selected it as a "best of ASCO" presentation. Only 1% of ASCO presentations get that marker, and that means that industry watchers will be laser-focused on Rova-T when ASCO holds its annual conference early next month.
At that conference, AbbVie says that additional insight into Rova-T's results will be provided and I think that means that the company's presentation could meaningfully impact investors' view of the drug's peak sales potential. Among the data that should be presented is overall survival data that AbbVie said on its first-quarter conference call "compare favorably to historical controls."
Looking ahead
If Rova-T delivers the goods at ASCO, then investors might start modeling in a chance for it to be a multibillion-dollar blockbuster. During AbbVie's earnings conference on April 29, the company indicated that the ceiling for Rova-T could be as high as $5 billion.
That's a heady estimate for a drug that's still in clinical trials, especially since over 90% of cancer drugs fail in the clinic. However, if the ASCO data is solid and Rova-T can show that it's effective in other cancer indications where DLL3 expression is common, such as in metastatic melanoma, then that projection may not be as crazy as it sounds.
The article Why June Could Be a Big Month for AbbVie Investors originally appeared on Fool.com.
Todd Campbell has no position in any stocks mentioned.Todd owns E.B. Capital Markets, LLC. E.B. Capital's clients may have positions in the companies mentioned. Like this article? Follow him onTwitter where he goes by the handle@ebcapitalto see more articles like this.The Motley Fool has no position in any of the stocks mentioned. Try any of our Foolish newsletter services free for 30 days. We Fools may not all hold the same opinions, but we all believe that considering a diverse range of insights makes us better investors. The Motley Fool has a disclosure policy.
Copyright 1995 - 2016 The Motley Fool, LLC. All rights reserved. The Motley Fool has a disclosure policy.