Why Jive Software, Inc. Stock Jumped 17.4% in April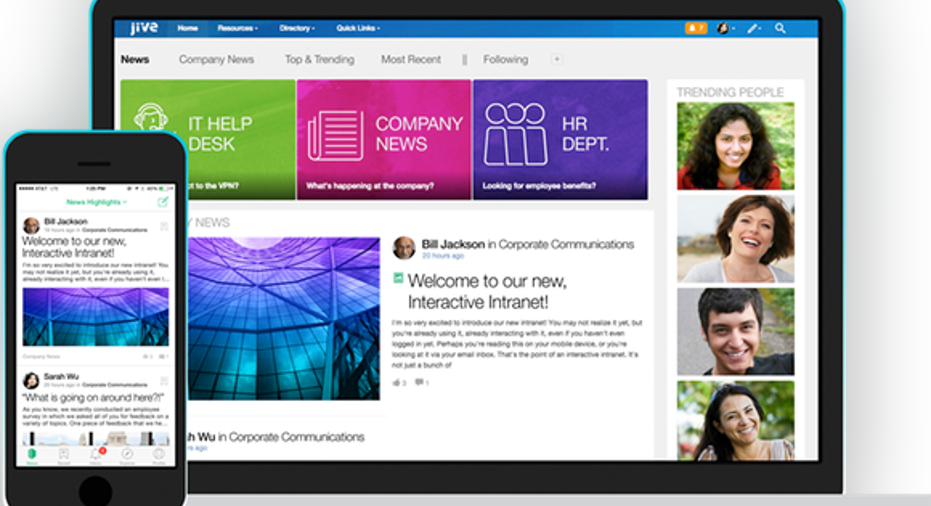 What happened
Shares of Jive Software Inc. (NASDAQ: JIVE) rose 17.4% in the month of April, according to data provided byS&P Global Market Intelligence, just before the business collaboration solutions specialist announced it had agreed to be acquired.
So what
Curiously, Jive Software stock was largely flat in the first half of last month, then it started to climb shortly thereafter -- including a more than 6% pop on April 25, 2017 -- despite no company-specific news that would seem to merit such a move.
Then on May 1, 2017, Jive software announced it had agreed to be acquired by ESW Capital affiliate Wave Systems for $5.25 per share in cash, good for a total transaction value of $462 million. Given its rise in the preceding days, though, Jive Software already traded within 4% of the agreed purchase price the day before the announcement.
IMAGE SOURCE: JIVE SOFTWARE.
Now what
To be fair, that price does represent a premium of 20% to Jive's average closing price in the three months leading up to the acquisition press release. But with the caveat that it most certainly could have been a coincidence -- perhaps related to bullish bets ahead of the company's since-cancelled first-quarter 2017 report slated for May 10 -- it's also unusual that shares began to pop on no news to just below the agreed acquisition price. This calls into question whether someone might have been privy to -- then acted on -- non-public information surrounding the deal.
Perhaps unsurprisingly, multiple law firms have already announced investigations into whether ESW is underpaying for Jive Software, and whether Jive Software's board -- which has offered its unanimous approval of the deal -- has breached its fiduciary duties to shareholders. With shares trading at $5.22 as of this writing, and until those questions have been answered, expect the fate of Jive Software stock to be closely tied to the status of its impending acquisition.
10 stocks we like better than Jive SoftwareWhen investing geniuses David and Tom Gardner have a stock tip, it can pay to listen. After all, the newsletter they have run for over a decade, Motley Fool Stock Advisor, has tripled the market.*
David and Tom just revealed what they believe are the 10 best stocks for investors to buy right now...and Jive Software wasn't one of them! That's right -- they think these 10 stocks are even better buys.
Click here to learn about these picks!
*Stock Advisor returns as of May 1, 2017.
Steve Symington has no position in any stocks mentioned. The Motley Fool has no position in any of the stocks mentioned. The Motley Fool has a disclosure policy.