Why J.C. Penney, Synchronoss Technologies, and Eldorado Gold Slumped Today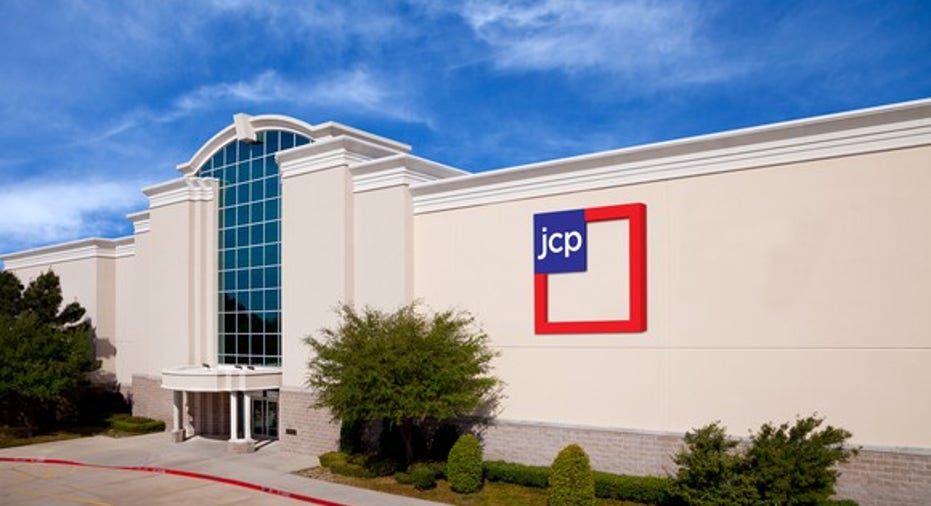 The stock market started the week strong, with the Dow Jones Industrial Average gaining 85 points, or 0.41%. TheS&P 500 and Nasdaq each enjoyed similar gains to close at fresh all-time highs, thanks in part to a spike in the price of crude oil following an agreement between Saudi Arabia and Russia to "do whatever it takes to achieve the desired goal of stabilizing the market," according to Russia's energy ministry.
But several individual stocks were left out of today's positive market action, including J.C. Penney (NYSE: JCP), Synchronoss Technologies (NASDAQ: SNCR), and Eldorado Gold (NYSE: EGO). Read on to learn what caused these unusual slumps.
Image source: J.C. Penney.
J.C. Penney's painful hat trick
Shares of department-store chain J.C. Penney declined 4.6% today after no less than three analysts downgraded the stock on the heels of its painful first-quarter 2017 results.
Note J.C. Penney already plunged nearly 14% on Friday after the early release of those results, which revealed a larger-than-expected 3.5% decline in comparable-store sales, and a quarterly net loss of $180 million, or $0.58 per share. To be fair, that included $0.71 per share in charges related to J.C. Penney's previously announced restructuring and store-closure initiatives. At the same time, J.C. Penney reaffirmed its full-year 2017 guidance for comparable-store sales in the range of negative 1% to positive 1%, and for adjusted earnings per share of $0.40 to $0.45.
Wall Street obviously wasn't impressed, with downgrades of J.C. Penney stock arriving today from Deutsche Bank, Buckingham Research, and Baird. The sentiment of each downgrade was similar. But more specifically, according to Deutsche Bank's Paul Trussell -- who reduced his rating to hold with a $5.50-per-share price target (from buy and a $9 target previously) -- his original thesis that J.C. Penney would be able to continue outperforming its peers no longer remains intact, as the company faces limited additional cost-saving opportunities and is suffering the same broader retail weakness as competitors.
Synchronoss delays its earnings
Synchronoss Technologies stock declined 7.2% today after the mobile cloud innovation specialist delayed its first-quarter 2017 earnings filing for the second time.
For perspective, Synchronoss shares plunged as much as 53% on April 27, after the company announced that its CEO and CFO were stepping down following a significantly weaker-than-expected first-quarter performance -- and this was especially concerning given that CEO, Ron Hovsepian, only just took the helm following Synchronoss' recent merger with Intralinks Holdings.After offering preliminary results at the time, Synchronoss further told investors it would hold its formal quarterly call on May 9, 2017. But on May 8, the company pushed that report out to this evening (May 15), as new CEO Stephen Waldis and CFO Lawrence Irving were "working diligently to accomplish a timely filing" of its quarterly form 10-Q with the SEC.
This morning, however, Synchronoss announced it will delay its official earnings release and quarterly filing even longer, as management "required additional time to comply with the Company's internal controls and procedures and to review certain aspects of the Company's financial statements and corresponding notes for inclusion in the Form 10-Q." Among the items being reviewed are "accounting of certain transactions conducted in prior financial periods."
This may not be cause for further alarm; Synchronoss' new management may just be opting for an abundance of caution. But given the uncertainty already surrounding Synchronoss Technologies after last month's big plunge and executive departures, it's hard to blame investors taking another step back today.
A big buy for Eldorado Gold
Shares of Eldorado Gold fell 7% today after the gold mining company announced it will acquire all issued and outstanding common shares of Integra Gold Corp. (NASDAQOTH: ICGQF) it doesn't already own for 1.21250 Canadian dollars in cash -- a 52% premiumto Integra Gold's closing price on Friday. It's also good for a total transaction value of roughly roughlyCA$590 million, including the more than 62 million common Integra shares (or 13% of the outstanding total) already held by Eldorado.
Eldorado, for its part, states that the purchase will diversify its own operating portfolio by establishing an operating presence in Canada with "one of the most productive mining camps in the world." The purchase could also have "the potential to add meaningful near-term production and cash flow with modest upfront capital," Eldorado says.
But it's also a large purchase given Eldorado's roughly $2.4 billion market capitalization as of this writing. And when the transaction closes, Integra investors will have the option of receiving either the aforementioned cash offer, or 0.24250 Eldorado shares for each Integra share they own. Eldorado also limited its amount of cash payable under the agreement to CA$129 million, or 25% of the total transaction value.
In the end, it's no surprise to see shares falling given that impending dilution. But it may be well worth the price for Eldorado shareholders as the acquisition begins to bear fruit down the road.
Offer from The Motley Fool: The 10 best stocks to buy now
Motley Fool co-founders Tom and David Gardner have spent more than a decade beating the market. In fact, the newsletter they run, Motley Fool Stock Advisor, has tripled the S&P 500!*
Tom and David just revealed their ten top stock picks for investors to buy right now.
Click here to get access to the full list!
*Stock Advisor returns as of 5/1/2017
Steve Symington has no position in any stocks mentioned. The Motley Fool recommends Synchronoss Technologies. The Motley Fool has a disclosure policy.