Why J.C. Penney Company, Inc. Stock Dropped 16% in April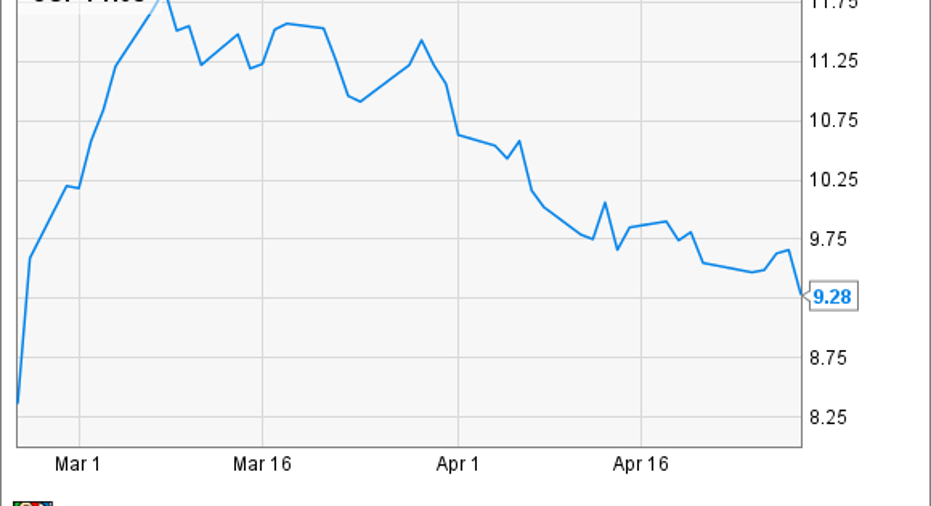 After reporting encouraging Q4 and full-year earnings in late February J.C. Penney's stock jumped on renewed optimism of its chances for long-term success. Not long after that, however, the company began slowly giving back the gains it had scored after reporting.
Image source: YCharts.com.
What: J.C. Penney shares climbed after the company reported strong numbers for Q4 and the full year on February 25. But as the company moved away from the initial investor euphoria caused by the solid report, the stock price began falling back to Earth.
The company's shares closed March at $11.06 but had dropped to $9.28 when the market closed on April 30. That's a 16% drop, according to data provided by S&P Global Market Intelligence. It's worth noting that even with the downturn in share price, the company was still trading higher than the $7.70 it closed at before it reported in February.
Image Source: JCPenny.com
So what: The initial stock jump was probably too big, but nothing has happened to temper that original optimism. J.C. Penney did have a good quarter, which capped a very solid year. The retailer grew comparable store sales by 4.1% in the pivotal fourth quarter and by 4.5% for 2015. In addition, the company reported that "strong sales growth, accelerated gross margins, and disciplined expense reduction resulted in full-year adjusted EBITDA of $715 million, a $435 million increase."
Now what: CEO Marvin R. Ellison has his company pointed in the right direction, which is impressive given that it was left for dead not so long ago. For shares to go back to rising, the company just has to continue to execute on its strategy.
Going forward, the chain has forecast comparable-store sales growth of 3% to 4% for 2016 and EBITDA of $1 billion. It also expects to increase its margins and improve free cash flow.
Meet or exceed those numbers for another year, and more investors will start to have faith. J.C. Penney has undergone an impressive turnaround, but it's still early in the game, and it's reasonable for there to be skepticism. That will melt away assuming the retailer continues to move in the right direction.
The article Why J.C. Penney Company, Inc. Stock Dropped 16% in April originally appeared on Fool.com.
Daniel Kline has no position in any stocks mentioned. He thinks JC Chasez was the real talent in *N Sync. The Motley Fool has no position in any of the stocks mentioned. Try any of our Foolish newsletter services free for 30 days. We Fools may not all hold the same opinions, but we all believe that considering a diverse range of insights makes us better investors. The Motley Fool has a disclosure policy.
Copyright 1995 - 2016 The Motley Fool, LLC. All rights reserved. The Motley Fool has a disclosure policy.