Why J.C. Penney Company, Inc. Shares Fell 13% in November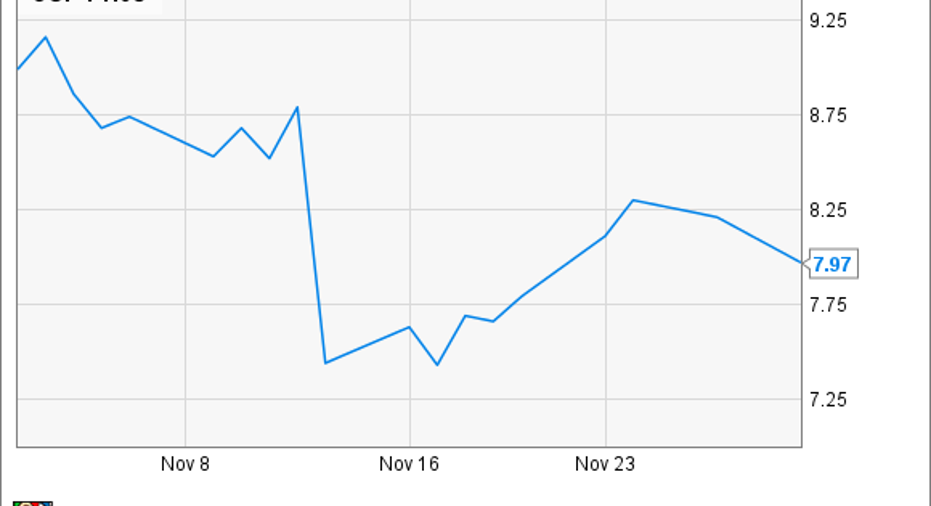 What: J.C. Penney Company shares took a hit last month, finishing down 13% according to data from S&P Capital IQafter the company reported third-quarter earnings. The slidefollowed a broader retail sell-off that hit peers likeMacy'sandNordstrom,asthe chart below shows.
So what:J.C. Penney stock dove 15% on November 13th despite its results being better than expected. The retailer continues to dig out of the hole created by former CEO Ron Johnson, posting comparable sales growth of 6.4% and a per share loss of $0.47, which beat expectations of a $0.55 shortfall. Analysts seemed disappointed by the company's fourth-quarter projection, which sees comparable sales stabilizing to 4-5%. Disappointing reports from peers like Macy's and Nordstrom also likely fueled the sell-off, as investors have soured on big retailers heading into the holiday season. Competition from Amazon.comand the online channels continues to increase, and rising wage pressures have also been felt by a wide range of retailers, includingWal-Mart, crimping profits.
J.C. Penney's turnaround continues to progress, and the company's gross margins have significantly improved since the depths of the Johnson era. There have also been notable successes, including the proliferation of Sephora stores, but plenty of long-term questions remain.
Now what:Analysts are expecting the company to return to profitability by 2017 after a slimmer loss next year, but even if it can return to profitability Penney's will be in a substantial hole from the losses it's put up over the last few years. The company now has over $5 billion in debt, resulting in annual interest payments of $400 million, meaning it would have to eventually deliver an annual operating profit of around $700 million, or more than 5% of revenue, in order to justify its current market value at $2.5 billion.
While the company is making progress, much of its mall real estate continues to lose value as traffic at those locations falls, and the threat of Amazon may force Penney and its ilk to spend more to compete as omnichannel providers. If its rivals continue to struggle, J.C. Penney can only escape the general retail malaise for so long.
The article Why J.C. Penney Company, Inc. Shares Fell 13% in November originally appeared on Fool.com.
Jeremy Bowman has no position in any stocks mentioned. The Motley Fool recommends Nordstrom. Try any of our Foolish newsletter services free for 30 days. We Fools may not all hold the same opinions, but we all believe that considering a diverse range of insights makes us better investors. The Motley Fool has a disclosure policy.
Copyright 1995 - 2015 The Motley Fool, LLC. All rights reserved. The Motley Fool has a disclosure policy.