Why Is the Market Surprised by 8point3 Partners Unsurprising Dividend Increase?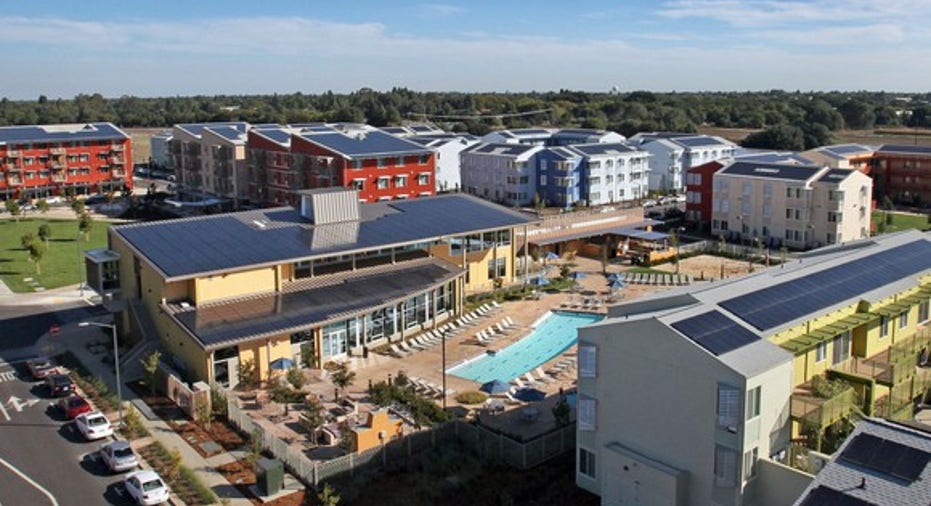 Shares of yieldco 8point3 Energy Partners (NASDAQ: CAFD) have been on a mini hot streak over the last few days. Shares have risen 10.4% since Thursday's close after the company announced a 3% increase in its quarterly dividend. As with any dividend increase, the extra payout is welcome news for investors -- but (at least in this case) it isn't surprising news.
The new dividend of $0.2565 per share announced on March 24 is exactly the dividend management forecast on January 26. And the annual rate of a 12% dividend increase for 2017 is also exactly what management projected. So why is the stock rising on news that shouldn't be at all surprising?
Image source: SunPower.
False fear of a dividend collapse
There have been a number of fears about 8point3 Energy Partners in the last few months that have had a negative effect on its stock price. When Donald Trump won the election, there was concern that renewable energy would struggle under the new administration. As oil prices have fallen and 8point3 Energy Partners' sponsors First Solar and SunPower have seen their shares languish in the stock market, there was concern that there would be a broad drag on the yieldco market, as well. And recently, an analyst note from Gordon Johnson comparing 8point3 Energy Partners to SunEdison caused shockwaves in the market.
But most of those concerns really don't impact 8point3 Energy Partners or its dividend. Neither Trump nor low oil prices will really slow renewable energy thanks to its favorable economics. And while some of Johnson's concerns about 8point3 Energy Partners, including the use of term loans to finance acquisitions, are worth keeping an eye on the yieldco has enough financing options that it isn't going to be insolvent anytime soon. Project financing is readily available, and with a weighted average power purchase agreement of 20 years remaining on the company's solar projects, there's cash flow that should maintain the dividend as well.
Investors breathe easy
I think a big reason 8point3 Energy Partners' stock has risen sharply after the dividend increase is because investors see the move as validation that the market's concerns were overblown. There's not really any risk of default, which is what brought down SunEdison, and the company's high-quality cash flows provide plenty of financing options going forward.
The increasing stock price can also be a self-fulfilling prophecy. If the stock rises, management can issue shares to fund more accretive acquisitions, or to pay down debt, reducing the company's financing risk and pushing the stock higher. In essence, a rising stock price answers a lot of questions about 8point3 Energy Partners' future.
Earnings will tell us where 8point3 Energy Partners is headed
Most of the analysis of 8point3 Energy Partners is built around management's guidance of $91.5 million to $101.0 million in cash available for distribution in 2017, and $106.5 million to $113.1 million in adjusted earnings before interest, taxes, depreciation, and amortization (EBITDA). But if history is any indication, the company will outperform that guidance and produce even more cash than anticipated.
Both First Solar and SunPower have histories of 'under promising and over delivering' on financial performance when they can, so guidance at their yieldco that errs on the conservative side wouldn't be surprising. We'll see the first evidence of what's going on at the yieldco next Wednesday when first quarter 2017 earnings are released. And that report may ease a lot of fears about where the company is going in 2017 and beyond.
10 stocks we like better than 8point3 Energy PartnersWhen investing geniuses David and Tom Gardner have a stock tip, it can pay to listen. After all, the newsletter they have run for over a decade, Motley Fool Stock Advisor, has tripled the market.*
David and Tom just revealed what they believe are the 10 best stocks for investors to buy right now... and 8point3 Energy Partners wasn't one of them! That's right -- they think these 10 stocks are even better buys.
Click here to learn about these picks!
*Stock Advisor returns as of February 6, 2017
Travis Hoium owns shares of 8point3 Energy Partners, First Solar, and SunPower. The Motley Fool has no position in any of the stocks mentioned. The Motley Fool has a disclosure policy.