Why Is Skechers' Stock Stuck In a Rut?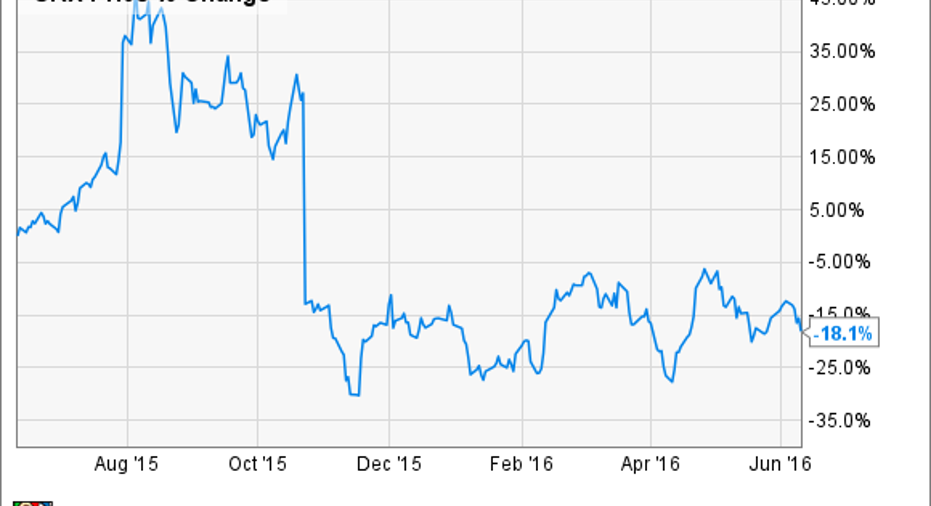 Despite setting a company record for salesin the first quarter of 2016,Skechers' stock has traded sideways.During the first three months of the year,the companysold $979 million worth of shoes and apparel, a 27.4% increaseover last year.So what is keeping its share price repressed? Should investors be worried? Or are shares of the shoe company a buy?
An underdog in the shoe business
Athletic apparel is all the rave these days, and Skechers has benefited from the fashion trend toward activewear. Skechers' total sales have more than doubled over the last five years.
Despite the favorable consumer interest, the company still plays second fiddle to American shoe juggernaut Nike . Over the last 12 months, Nike has outsold Skechers by a factor of 10 and totes a business valuation 20 times greater than Skechers'.
But even while operating in the shadow of the world's largest shoemaker, Skechers has done well, growing much more quickly than its rival. Over the last two years, Skechers' sales have increased by an average of 30%, compared to Nike's 10%. Yet, the return on Skechers' stock has trailed Nike's over the last year by 25%. This makes me think that the underdog shoe company may be a buy.
With the company posting strong numbers and providing robust forward sales guidance, analyst expectations have gotten ahead of reality. Profits came in under Wall Street forecasts the last two quarters of 2015, and beating the profit expectation earlier this year wasn't enough to counteract the recent past.
But all of this is past performance. What is Skechers doing now to keep business going up? Can the momentum in business growth help propel stock prices higher once again?
Image source: Skechers.
A different take on sponsorships
For decades, Nike has driven sales using professional athlete sponsorships. In the '90s it was Michael Jordan. A decade ago it was Kobe Bryant. More recently the company has been pushing sales with deals with LeBron James and Kevin Durant. Under Armourhas replicated that success when it penned an agreement with Stephen Curry. Skechers has also relied on sponsors, but with a different spin.
Where the big athletic-apparel companies have gone after household-name athletes, Skechers has gone after a more eccentric list of celebrities. It's signed athletes like long-distance runner Meb Keflezighi and pro golfer Matt Kuchar, as well as pop music stars Meghan Trainor and Demi Lovato. Skechers has also been quick to snatch up athletes and celebrities that other apparel makers might see as past their prime. Back in the spring, retired NFL star and commentator Howie Long signed on with a sponsorship, and former boxer Sugar Ray Leonard and Beatles drummer Ringo Starr have deals with Skechers, too.
The strategy highlights the small shoe company's marketing ploy. Rather than compete in a highly competitive marketplace, such as basketball shoes, Skechers opts to find niches that are overlooked, underserved, or even sometimes odd. In 2014 the company even sponsored race horse California Chrome's run at the Triple Crown. As bizarre as some of the campaigns may seem, the growth in Skechers' brand and sales indicate they're working.
Stagnant share price translates into a buying opportunity
A divergence between Skechers' fundamental performance its and share price has developed. With the company continuing to expand sales both in the U.S. and abroad through its quirky advertising, the now close to nine-month underperformance in the stock has, I believe, created a buying opportunity.
Company management expects to continue to set sales records through the rest of 2016, driven by international store openings. By year-end, total store count is expected to grow from the current 1,414 number to over 1,600. International sales grew by about 20% last quarter, so Skechers is working with its international partners to expand store count abroad and capitalize on the trend.
If that's not enough reason to buy the stock, it's also worth noting the company's price/earnings to growth (PEG) ratio. The PEG ratio measures the stock's value relative to future growth expectations, and a PEG of less than 1.0 might indicate a stock is undervalued. Skechers' PEG currently sits at 0.71, suggesting that the future growth of the company is currently at a good value. I think investors have been overlooking the shoe company, but if business keeps up its pace, that will not last forever.
The article Why Is Skechers' Stock Stuck In a Rut? originally appeared on Fool.com.
Nicholas Rossolillo has no position in any stocks mentioned. The Motley Fool owns shares of and recommends Nike, Skechers, and Under Armour (A Shares). Try any of our Foolish newsletter services free for 30 days. We Fools may not all hold the same opinions, but we all believe that considering a diverse range of insights makes us better investors. The Motley Fool has a disclosure policy.
Copyright 1995 - 2016 The Motley Fool, LLC. All rights reserved. The Motley Fool has a disclosure policy.