Why Is Ford Sending Big Pickup Trucks to China?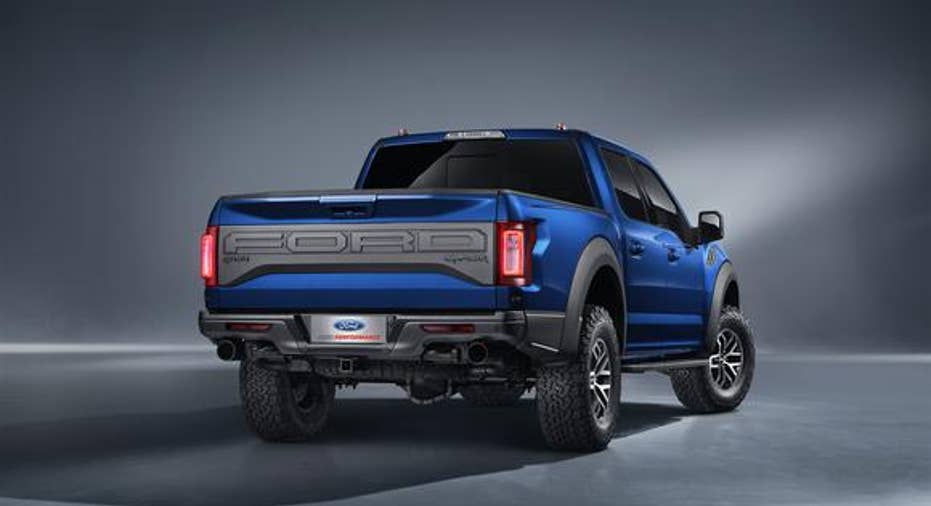 China-bound: Ford said it will offer the rowdy F-150 Raptor to Chinese buyers starting next year. The trucks will be exported to China from the United States. Image source: Ford Motor Company
Ford said on Friday that it will begin selling the F-150 Raptor in China in 2017.
The Raptor is a high-performance off-road version of the F-150, powered by a souped-up version of Ford's 3.5-liter EcoBoost twin-turbo V6. Its debut in China will mark the first time Ford has tried to sell a full-size pickup in the world's largest auto market.
What's Ford thinking here?
Chinese off-road fans might like the Raptor First and foremost, I think Ford is thinking that well-heeled off-road enthusiasts in China might like the Raptor -- and that it might be a good brand-builder, introducing Chinese consumers to another side of the Blue Oval.
That was pretty much the official explanation. "F-150 Raptor is the ultimate showcase of the tough capability available throughout Ford's family of trucks and SUVs," said Ford China chief John Lawler in a statement. "By introducing it to the world's largest auto market, we hope to inspire a new generation of off-road enthusiasts and demonstrate how we are always bringing our customers new innovations."
There is a strong niche market for off-road vehicles in China. Models such as Fiat Chrysler's Jeep Cherokee and Toyota's brawny Land Cruiser have strong followings, but pickups are a relatively new thing in China. Most of the pickup trucks in China are "gray market" vehicles, imported by private owners often at extravagant cost.
Image source: Ford Motor Company.
Ford's move to offer the Raptor gives Chinese enthusiasts a chance to buy Ford's well-regarded truck directly, with full factory support. Ford already imports other high-performance vehicles to China, including the ST versions of the Focus and Fiesta and the brawny Mustang GT. The Raptor should sit well alongside those offerings.
It all makes a lot of sense. But I wonder if something else is going on here.
Is the Raptor laying the groundwork for a bigger plan?Ford's F-Series pickups are America's best-selling vehicle line and have been for decades. General Motors' Chevy Silverado is second, and FCA's Ram pickups aren't far behind: Americans love full-size pickups.
Ford sells the F-Series in Canada, Mexico, and a few other places, including some markets in the Middle East. But for the most part, the F-Series is a uniquely North American product.
That's at odds with just about everything else Ford builds. Nearly all of Ford's products are now "global" models, sold all over the world (with some regional variants). Even the Mustang is now expected to earn its keep with sales in Europe and China and other places far from the Michigan factory that produces Ford's proud pony.
I wonder if Ford is thinking that Chinese customers might like full-size pickups -- or, put another way, if it could offer the F-Series as something more than a niche product in China. After all, here in the U.S., the F-Series is a tremendously profitable product. If it could sell well in China, too, that's a big opportunity for the Blue Oval.
While Chinese tastes in vehicles vary a bit from Americans', Chinese buyers have already shown a fondness for SUVs, including big ones -- just like Americans. Might they like big pickups, too?
Don't be surprised if Ford uses the Raptor to test the waters a bit -- and if Ford decides to start sending regular F-150s to China in a few years as well.
The article Why Is Ford Sending Big Pickup Trucks to China? originally appeared on Fool.com.
John Rosevear owns shares of Ford and General Motors. The Motley Fool owns shares of and recommends Ford. The Motley Fool recommends General Motors. Try any of our Foolish newsletter services free for 30 days. We Fools may not all hold the same opinions, but we all believe that considering a diverse range of insights makes us better investors. The Motley Fool has a disclosure policy.
Copyright 1995 - 2016 The Motley Fool, LLC. All rights reserved. The Motley Fool has a disclosure policy.