Why Is Buffalo Wild Wings Stuck in Neutral?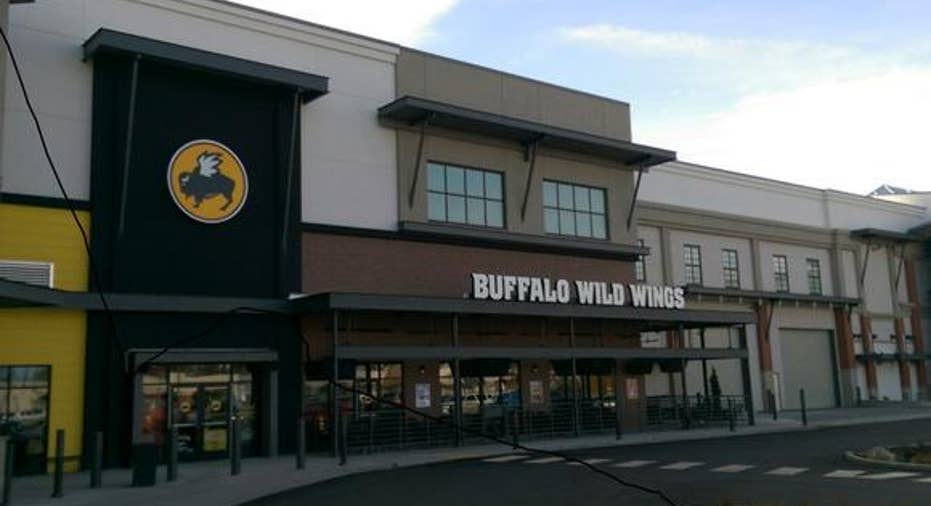 Buffalo Wild Wings in Spokane, Wash. Image source: Nicholas Rossolillo.
Since getting off to a horrific start to 2016, the broader stock market has rebounded from its lows in February. Over the same time period, shares of Buffalo Wild Wings have been stuck in a rut. After mounting an initial recovery in March, the popular sports bar and wings eatery are back down and are now at a 52-week low. What is the reason for the underperformance, and what needs to happen to get things moving again?
The past year in reviewOver the past year and into the first quarter of 2016, Buffalo Wild Wings has posted strong revenue growth averaging nearly 20%. Earnings have also been growing steadily. So why has the stock been underperforming the market? In short, its growth has been less than what Wall Street wanted to see.Shares recentlyfell againby over 10%after the last quarterly report when same-restaurant sales decreased by 1.7% at company-owned locations and 2.4% at franchised locations. The company also reduced the number of new restaurant openings for the coming year and slightly revised down the earnings outlook stated a few months ago. Here is a table illustrating the last year and a quarter:
| Quarter | Revenue (Millions) | Year-Over-Year % Revenue Growth | Earnings Per Share | Earnings % Surprise |
| --- | --- | --- | --- | --- |
| Q1 2016 | $508.3 | 15.4% | $1.73 | (2.3%) |
| Q4 2015 | $490.2 | 19.9% | $1.32 | (10.8%) |
| Q3 2015 | $455.5 | 22% | $1.00 | (22.5%) |
| Q2 2015 | $426.4 | 16.5% | $1.12 | (11.1%) |
| Q1 2015 | $440.6 | 19.8% | $1.52 | (6.7%) |
Chart data sources: Buffalo Wild Wings earnings reports and Yahoo! Finance.
The market has been unfair to the sports-themed chain, but I believe this is a great opportunity to buy in. In its first-quarter earnings report, Buffalo Wild Wings reiterated a strong pipeline for expansion. During 2016, it plans to open 40 company-owned restaurants, 30 to 35 U.S. franchised restaurants, and 12 to 15 new international franchised restaurants. Management also sees profits rising by 14% to 18% as a result of continued growth. If these developments come to fruition, I think the stock will regain traction and continue moving higher, as I explain below.
Decreasing food costsBuffalo Wild Wings' food and labor costs soared almost 25% last year, driven especially by a higher cost for chicken wings. So far in 2016, those costs have been held in check, up only about 14% from the previous year. Most of those increases, moreover, can be attributed to the new restaurants now in operation. Since this time last year, the company has added nearly 100 new restaurants, representing a nearly 20% increase.
The company expects food costs to stay roughly flat for 2016. Management sees general food and drink prices falling, offset by an increase in traditional wing prices. The increase in wing costsis expected to be substantially lower than last year, estimated to be up onlyabout 3%,as the company had favorable contract renewals with wing suppliers in the first quarter. What was a headwind against growth last year should thussubside this year as the overallcost of foodstabilizes. Thosestable costs will help bottom line profit as the company continues its expansion efforts.
Repurchase of underperforming franchised locationsAnother negative impact on company profit last year was the purchase of 54 franchised Buffalo Wild Wings locations and converting them to company-owned and -operated restaurants. This reduced profits by over half a percent in 2015, the company said, but the change is expected to boost the bottom line this year.
Why is this a good long-term move? The company has 587 franchised restaurants to 603 company-owned and -operated locations. Even though nearly half of all Buffalo Wild Wings locations are franchises, less than 5% of total revenue came from franchise fees. While those franchise fees dropped significantly as a result of the acquisitions, total revenue saw a significant boost. Over the long term, the company sees the continued acquisition of certain franchises as ultimately boosting profits further.
Development of other growth driversBuffalo Wild Wings isn't all about chicken wings anymore. The company has made efforts to diversify business when it made a small investment into build-your-own pizza chain Pizza Rev in 2013 and Mexican food when it purchased R Taco back in 2014. The company owns four and franchises six R Taco locations, and it owns two Pizza Rev locations. For 2016, the plan is six new company-owned and four franchised R Taco locations, and the company cites continued expansion of Pizza Rev.
I like that the company is increasing its footprint in the fast-casual eating industry. At some point, America will have an adequate number of Buffalo Wild Wings locations, and over the past couple of years, growth in the number of those restaurants has started to slow. Anticipating the need to generate growth elsewhere, the company has invested inpizza and tacos. Chipotle Mexican Grill'ssuccess over the past decade has proved that fast-casual Mexican food can be successful. Pizza Rev has seen initial success as well. Having started in 2012 in Los Angeles, the company now has 34 locations, with another 16 on the way. These small investments for the future could help keep growth momentum going after Buffalo Wild Wings' momentum slows.
While it has been a disappointing run as of late for America's largest wing and sports bar chain, 2016 has the potential to be a great year. I think continued growth in the overall business, paired with an improvement in food costs and realized returns on investments from last year, will drive profit higher this year and pull the stock out of its rut.
The article Why Is Buffalo Wild Wings Stuck in Neutral? originally appeared on Fool.com.
Nicholas Rossolillo owns shares of Buffalo Wild Wings. The Motley Fool owns shares of and recommends Buffalo Wild Wings and Chipotle Mexican Grill. Try any of our Foolish newsletter services free for 30 days. We Fools may not all hold the same opinions, but we all believe that considering a diverse range of insights makes us better investors. The Motley Fool has a disclosure policy.
Copyright 1995 - 2016 The Motley Fool, LLC. All rights reserved. The Motley Fool has a disclosure policy.