Why Is Atlantic City Dying During the Northeast Gaming Boom?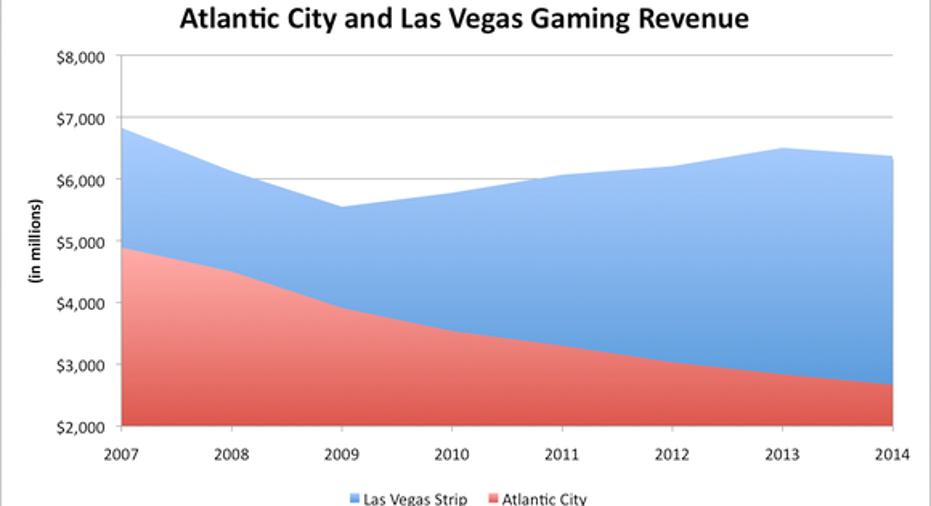 MGM Springfield. Image source: MGM Resorts.
Atlantic City is a cautionary tale of a gaming boom and bust that few people saw coming. Since the 1980s, the city's boardwalk has been something of an East Coast version of the Las Vegas Strip -- and that was the only other city in the country that beat out Atlantic City's gaming revenue.
But the city has fallen on hard times and four of the city's resorts have closed, and more closures are likely in the future. The reason for the fall may help you learn where not to make your bets in gaming.
The fall of Atlantic City's gaming People used to come from New York, Philadelphia, Baltimore, and beyond to gamble at the expansive Atlantic City casinos. But that ride came to an abrupt halt in 2006 when neighboring states started to allow gambling. New Jersey began a fast decline into obscurity.
Data source: Nevada Gaming Control Board and New Jersey Division of Gaming Enforcement. Chart by author.
What's troubling about this trend is that it shows no sign of slowing as even more casinos are built in the Northeast.
The growth in Northeast gaming While Atlantic City floundered, the rest of the Northeast has experienced a gaming boom. Pennsylvania had almost no gaming market in 2006 and by 2012 it was raking in $3.2 billiona year in gaming revenue. Las Vegas Sands (NYSE: LVS) was one of the visionaries there, building a casino where an old steel mill once stood in Bethlehem.
Connecticut's Foxwoods and Mohegan Sun generated a combined $1.9 billion in 2014, although it's down from a peak of $3.2 billion in revenue during 2006 due to increased competition.
Today, MGM Resorts and Wynn Resorts are building new resorts in the Massachusetts cities of Springfield and Everett (just outside of Boston), respectively. MGM Resorts is planning to spend $950 million on its resort while Wynn is investing a whopping $1.7 billion to enter the Boston market. But understanding why they're building just a few hundred miles from where Atlantic City is dying tells us a lot about regional gaming itself.
Regional gaming is all about convenience and appeal What the Northeast is proving is that it's a regional gaming market, not a national draw like Las Vegas is. When Atlantic City was the only gaming with a major casino presence, it drew from millions of people only a few hours' drive away. But now there are shorter drives to newer casinos and Atlantic City has lost its place in the market. And since the only reason Atlantic City allowed gaming in the first place is because it was a city with a struggling economy, it's really just losing an short-lived economic boost from gaming.
For new casinos like Sands Bethlehem, MGM Springfield, or Wynn Everett, their success will come down to cost and local draw. Out of those three, I think Wynn's resort across the river from downtown Boston has the best chance for long-term success. But with a $1.7 billion price tag, it's also by far the most expensive. At least Wynn doesn't have to worry about competition with closer proximity to the population center. It has a monopoly on Boston for the time being, something Atlantic City lost when surrounding states started building more convenient casinos.
Unless you're the only game in town or an entertainment hub, like Las Vegas, gaming can be a risky business -- something Atlantic City is finding out the hard way.
The article Why Is Atlantic City Dying During the Northeast Gaming Boom? originally appeared on Fool.com.
Travis Hoium owns shares of Wynn Resorts, Limited. The Motley Fool has no position in any of the stocks mentioned. Try any of our Foolish newsletter services free for 30 days. We Fools may not all hold the same opinions, but we all believe that considering a diverse range of insights makes us better investors. The Motley Fool has a disclosure policy.
Copyright 1995 - 2015 The Motley Fool, LLC. All rights reserved. The Motley Fool has a disclosure policy.