Why iRobot Corporation Stock Plunged Today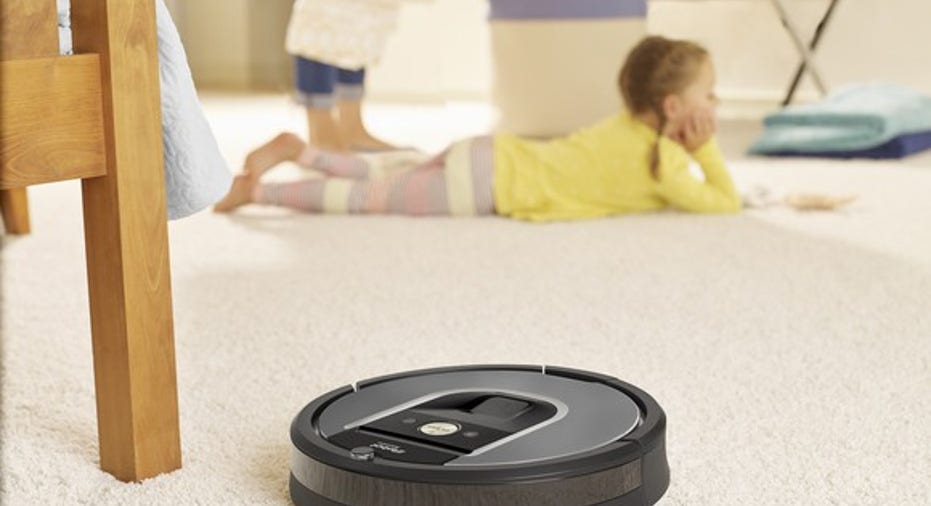 What happened
Shares of iRobot Corporation (NASDAQ: IRBT) were down 11.9% as of 11:30 a.m. EST Thursday after the consumer robotics specialist announcedstronger-than-expected fourth-quarter 2016 results, but followed with mixed 2017 guidance.
So what
Though iRobot's results don't look impressive on the surface, it effectively crushed its own outlook. Quarterly revenue climbed 3% year over year, to $212.5 million, and adjusted earnings before interest, taxes, depreciation, and amortization (EBITDA) declined 18.3%, to $28.6 million. Thattranslated to a 29% decline in net income, to $13.7 million, and a 24.6% decline in net income per share, to $0.49.
iRobot's Roomba 960. Image source: iRobot Corporation.
But keep in mind last year's fourth-quarter results included $31 million in revenue, and $0.23 per share in earnings from iRobot's since divested defense and security business, as well as a $0.06-per-share gain on the the sale of investments. And iRobot's financial guidance called for significantly lower fourth-quarter revenue of $202 million to $207 million, net income per share of $0.36 to $0.44, and adjusted EBITDA of $22 million to $26 million.
Within iRobot's top line, consumer robot revenue jumped 21.1% year over year, including a 47% jump in domestic home robot sales on strong demand for high-end Roombas and investments in ad media and national promotions. To be fair, international revenue fell 3%, albeit primarily as iRobot recorded a $5 million revenue reduction as it created a "small reserve for pricing adjustments, recognizing the need to respond to rapidly changing market conditions in some of our overseas markets."
"Our Q4 and full-year 2016 results exceeded our increased expectations," elaborated iRobot's founder and CEO, Colin Angle. "Record Q4 revenue was driven by very strong sales in the United States despite having the highest number of competitors we've ever seen."
Now what
iRobot also told investors to expect full-year 2017 revenue of $770 million to $785 million. That represents growth of 17% to 19% over 2016, and notably includes $20 million to $25 million in incremental revenue from the company's impending acquisition of its Japanese distributor. 2017 earnings per share should be in the range of $1.35 to $1.65, including a one-time negative impact of $0.25 to $0.35 per share from the acquisition.
By comparison, analysts' consensus estimates called for lower 2017 revenue of $762.5 million, and earnings near the high end of iRobot's anticipated range. But it also appears those figures weren't incorporating the effects of the acquisition -- the exclusion of which would have made iRobot fall slightly short (relative to expectations) on the top line, while coming out well ahead of consensus estimates for earnings -- that is, assuming iRobot doesn't extend its long streak of under-promising and over-delivering this year.
All things considered, this was another great quarter from iRobot -- the market is wrong to bid shares down on Thursday.
10 stocks we like better than iRobot When investing geniuses David and Tom Gardner have a stock tip, it can pay to listen. After all, the newsletter they have run for over a decade, Motley Fool Stock Advisor, has tripled the market.*
David and Tom just revealed what they believe are the 10 best stocks for investors to buy right now... and iRobot wasn't one of them! That's right -- they think these 10 stocks are even better buys.
Click here to learn about these picks!
*Stock Advisor returns as of February 6, 2017
Steve Symington owns shares of iRobot. The Motley Fool owns shares of and recommends iRobot. The Motley Fool has a disclosure policy.