Why iRobot Corporation Stock Jumped 12.4% in November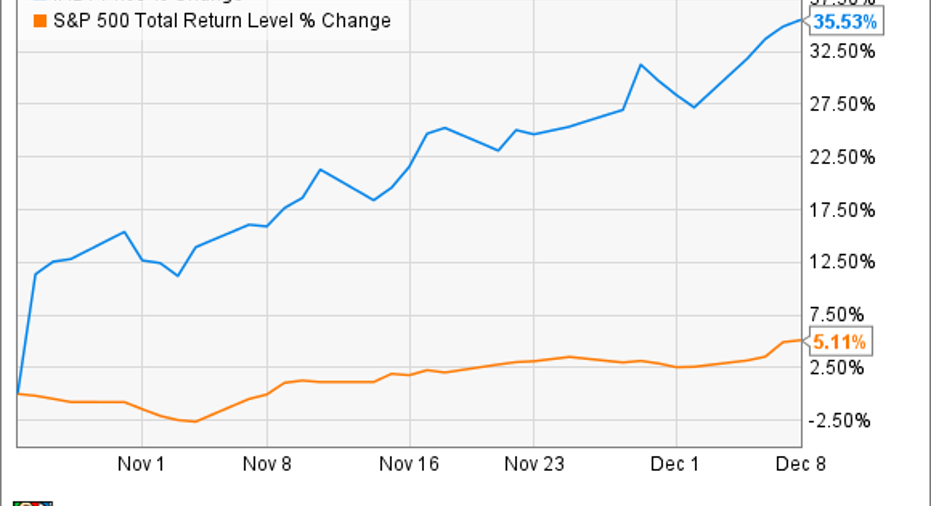 Image source: iRobot Corporation
What happened
Shares ofiRobot Corporation(NASDAQ: IRBT) popped 12.4%in the month of November,according to data provided byS&P Global Market Intelligence, on the heels of the home robotics specialist's strong third-quarter 2016 report, an encouraging analyst day, and moves to accelerate growth in Japan.
So what
First, note that last month's move wasn't a quick pop, but rather a steady rise that began with iRobot's stronger-than-expected third-quarter 2016 results in late October, then endured throughout November and early this month. In fact, including the initial pop the day after that report, shares have gradually climbed more than 35% since then as of this writing.
To be sure, iRobot co-founder and CEO Colin Angle rightly described the quarter as "outstanding," with sales and profitability handily outpacing guidance; revenue climbed 17.4% year over year, to $168.6 million, net income grew 52.3%, to $19.5 million, and net income per share rose 66.7%, to $0.70. Meanwhile, adjusted earnings before interest, taxes, depreciation and amortization (EBTIDA) grew 37.1%, to $35.5 million.
Angle also predicted iRobot's momentum would carry over into the holiday season as consumers have positively reacted to its marketing programs. As such, iRobot increased its full-year guidance for revenue, adjusted EBITDA, and net income.
If that wasn't enough, iRobot helped sustain that momentum with its annual Analyst Day presentation on Nov. 10, 2016. In it, the company confirmed it commands a 60% global share of the robotic vacuum cleaner category, and views itsits popular Roomba line as an effective platform for growth and a key driver to build its installed base of connected home robotics devices. In addition, speaking to the early success of its Braava floor mopping robot, iRobot believes wet floor care could ultimately be a larger market opportunity than robotic vacuums in Asia, where households predominately have hardwood floors.
Sure enough, later in the month iRobot put its money where its mouth is by acquiring its Japanese distribution business, the direct control of which should help position the company to more effectively accelerate sales in the country of 130 million. That's not to say iRobot isn't already succeeding there; Japan is already its largest international market, and the new Braava jet 240 model promptly became iRobot's No. 1-selling SKU in the country just a few months after its release earlier this year.
Now what
After its strong quarter, an exciting roadmap to capitalize on the rise of the smart home, and plans to accelerate sales overseas, iRobot obviously has momentum swinging in its favor. So even with shares trading near all-time highs as of this writing, it wouldn't surprise me in the least if iRobot stock continues to climb from here.
10 stocks we like better than iRobot When investing geniuses David and Tom Gardner have a stock tip, it can pay to listen. After all, the newsletter they have run for over a decade, Motley Fool Stock Advisor, has tripled the market.*
David and Tom just revealed what they believe are the 10 best stocks for investors to buy right now... and iRobot wasn't one of them! That's right -- they think these 10 stocks are even better buys.
Click here to learn about these picks!
*Stock Advisor returns as of Nov. 7, 2016
Steve Symington owns shares of iRobot. The Motley Fool owns shares of and recommends iRobot. Try any of our Foolish newsletter services free for 30 days. We Fools may not all hold the same opinions, but we all believe that considering a diverse range of insights makes us better investors. The Motley Fool has a disclosure policy.