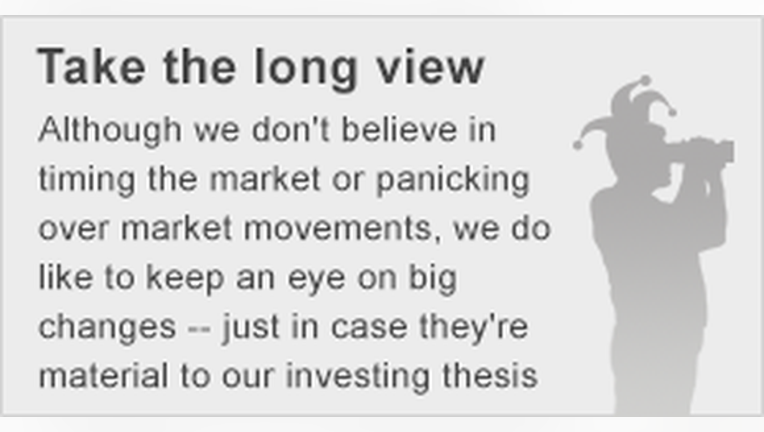 What: Ionis Pharmaceuticals is down nearly 40% at 1:15 p.m. EDT after the company announced that its partner,GlaxoSmithKline , doesn't plan to initiate a phase 3 forIONIS-TTRRx in patients with transthyretin (TTR)-related amyloid cardiomyopathy.
Yet.
So what: There was already some inclination that there was a safety issue with IONIS-TTRRx when the FDA placed the study -- that hasn't started yet -- on clinical hold because the agency wanted GlaxoSmithKline to answer questions before starting the study.
It turns out the issue was thrombocytopenia, or low platelet levels, seen in some patients with a related disease called TTR familial amyloid polyneuropathy who were being treated with IONIS-TTRRx in a trial, dubbed NEURO-TTR, being run by Ionis Pharmaceuticals.
At the same time, the FDA also placed a hold on an investigator-initiated phase 2 clinical trial in patients with TTR-related cardiomyopathy being run by Dr. Merrill Benson. The investigator was able to respond to the FDA's questions, adding more monitoring for platelet levels, and the hold was lifted.
Presumably, GlaxoSmithKline could have done the same, but the pharma decided to wait to see the data from Benson's trial as well as data from a subset of patients in the NEURO-TTR that also have cardiac involvement. We'll get data from Benson's trial in almost 20 patients -- none of which had severe platelet declines after being treated for a year or more -- at the International Symposium on Amyloidosis in July, but the NEURO-TTR data won't be available until the first half of 2017.
Ionis Pharmaceuticals doesn't believe this is a class effect with its second-generation antisense drugs because it's looked through its database of drugs for a wide variety of diseases, and the company doesn't see any meaningful differences in the level of platelet declines between drugs and placebo except at very high doses above 600 milligrams, where there's a slight difference.
If that was the end of the story, Ionis probably wouldn't be down 40% today, but the company also disclosed that it was notified of severe platelet decline in its volanesorsentrial treating patients with high triglyceride levels. That drug is dosed at 300 milligrams.
Management hasn't been able to figure out the connection between volanesorsenand IONIS-TTRRx that's causing the platelet declines, leading investors to worry that it might be seen in other diseases Ionis is developing drugs for.
Now what: Low platelet levels is a manageable condition. Typically, patients are taken off the drug and it goes away. Then patients can be given steroids before their dose of drug, which keeps the thrombocytopenia at bay.
The biggest issue is that, even though it's seen in a small number of patients, they all have to be monitored, adding to the burden for the patient and doctor, which could be a turnoff if there's a competing drug. Alnylam Pharmaceuticals, for instance, is developing a pair of drugs for both of the neuro and cardio versions of TTR.
Ionis does have more potent Generation 2.5 and Ligand-Conjugated Antisense (LICA) technologythat can be given at lower doses, which could alleviate the thrombocytopenia problem, but that would delay development for these diseases for years.
The challenging thing about this, and the reason Ionis stock is down 40%, is that there are a lot of unknowns. But it won't stay at this level; when the issues are resolved, the stock will head in one direction or the other.
The article Why Ionis Pharmaceuticals Plummeted Today originally appeared on Fool.com.
Brian Orelli has no position in any stocks mentioned. The Motley Fool owns shares of and recommends Alnylam Pharmaceuticals and Ionis Pharmaceuticals. Try any of our Foolish newsletter services free for 30 days. We Fools may not all hold the same opinions, but we all believe that considering a diverse range of insights makes us better investors. The Motley Fool has a disclosure policy.
Copyright 1995 - 2016 The Motley Fool, LLC. All rights reserved. The Motley Fool has a disclosure policy.