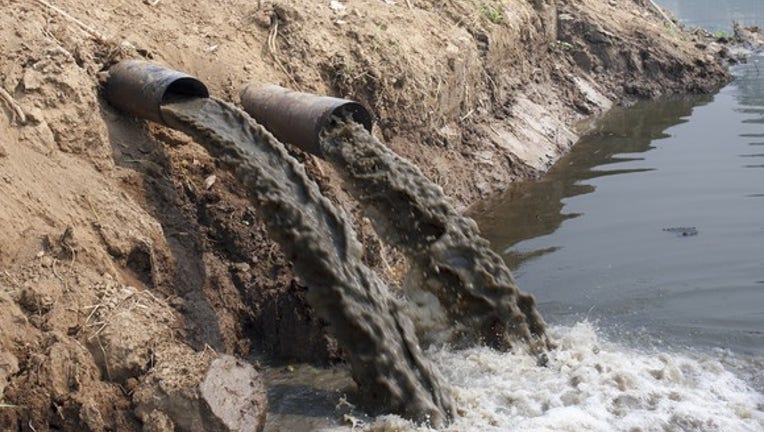 Most PFOA litigation is related to the chemical's release into the water supply. Image source: Getty Images.
PFOAs have been linked to health problems in people and animals. And for companies that manufactured PFOAs -- such as DuPont(NYSE: DD), its spinoffChemours(NYSE: CC), and3M(NYSE: MMM) -- PFOAs could soon be linked to problems for investors.
What it stands for
PFOA is short for perfluorooctanoic acid. Without getting too technical, PFOA is a compound that 3M manufactured and that was used in the production of DuPont's (now Chemours') Teflon products for decades.Additionally, while it didn't contain PFOA, 3M's original formula of ScotchGard broke down into PFOA.
Recent studies have established a "probable link'' between PFOA and various cancers, thyroid disease, and high cholesterol, among other serious health conditions. TheInternational Agency for Research on Cancer, a part of the World Health Organization, has classified PFOA as "possibly carcinogenic to humans."
PFOA has been found in the bloodstreams of people and animals around the globe. You have PFOA in your bloodstream right now. The unsettled question, though, is how much PFOA is harmful. Some studies suggest it could be anything higher than one part per trillion; others have declared that much higher concentrations -- 0.2 parts per billion, for example -- are safe. That uncertainty is making the outcome of current PFOA litigation equally opaque for investors.
The story so far
If you invest in a chemical company, you need to expect that at some point, the company will be sued. DuPont, Chemours, and 3M know this, too, which is why each of these companies lists litigation costs as a potential risk on its 10-K filing with the SEC.
As of the end of 2015, DuPont estimated it was facing approximately 3,500 PFOA-related lawsuits in various federal and state courts in Ohio and West Virginia, where its Washington Works plant discharged PFOA. The first of these,Bartlett v. DuPont, resulted in a $1.6 million judgment against DuPont, which it is currently appealing. A second trialwas settled in January for "an inconsequential amount," according to DuPont.
But in July, an Ohio jury inFreeman v. DuPontfound that PFOA from DuPont's Washington Works plant had been responsible forplaintiff David Freeman's testicular cancer, awarding him $5.1 million in compensatory damages and an additional $500,000 in punitive damages. DuPont is, of course, appealing, but if this kind of multimillion-dollar judgment against the company becomes the norm, costs could easily skyrocket into the billions.
Even DuPont admits that it has no idea how much PFOA litigation will cost. "[A]range of such liabilities, if any, cannot be reasonably estimated at this time, due to the uniqueness of the individual ... plaintiff's claims ... among other factors," it notes in its 10-K. And that's also a problem for Chemours.
On the hook
DuPont knew about the risks of PFOA litigation before the Chemours spinoff,and wisely decided to dump the legal liability for PFOA onto Chemours. As part of the spinoff, Chemours agreed to indemnify DuPont for "uncapped amounts" in all PFOA-related matters.As Chemours notes in its 2015 10-K filing, "These indemnification obligations to date have included defense costs associated with certain litigation matters as well as certain damages awards, settlements, and penalties."
But that doesn't necessarily mean DuPont is completely off the hook.
In Chemours' 2015 10-K filing, it notes that while, yes, it did indemnify DuPont, "Disputes between Chemours and DuPont may ... arise with respect to indemnification matters including disputes based on matters of law or contract interpretation." In other words, it's possible Chemours might try to wriggle out of its indemnification agreement. Also, in an absolute worst-case scenario in which the smaller Chemours is completely bankrupted by PFOA-related claims, its former parent could potentially find itself on the hook again as we have seen in other cases over the years.
In the wake of theFreemanverdict, Chemours spokesperson Cynthia Salitsky cast further doubt on the company's liability. In a statement, she pointed out that "DuPont is the named defendant in each of the cases and is directly liable for any judgment. In the event DuPont claims that it is entitled to indemnification from Chemours as to some or all of the judgment, Chemours retains its defenses to such claims."It's also unclear whether the indemnification agreement extends to punitive damages, such as the $500,000 incurred in theFreemancase.
Sooner than expected
New PFOA litigation is coming soon. Chemours CFO Mark Newman revealed on the Q2 earnings call, "In late July, the judge presiding over the multi-district litigation pulled forward two cases to November 2016 and January 2017. We have begun to prepare for these as well as other potential cases." DuPont tried to delay the proceedings in August but was rebuffed.
An accelerated schedule is of more concern to Chemours investors than to DuPont's. Chemours was saddled with some $4 billion in debt when it was spun off from DuPont, andit has barely begunto pay it off. And because Chemours has agreed to indemnify DuPont, it's probable that it will find itself on the hook -- at least initially -- for most of the damages or settlement money that needs to be paid.
DuPont, on the other hand, is in a comparatively better position, thanks to its larger size, apparent indemnification from Chemours, and healthier balance sheet.
Investor takeaway
Chemours has always been a risky bet for investors, and it looks even riskier in light of these recent PFOA developments. Investors should probably steer clear.
DuPont's fortunes hinge more on the outcome of its impending merger and split withDow Chemicalthan on the outcome of various PFOA claims, but the futures of both are uncertain. Investors considering buying in should be aware of that and wait for some clarity on both issues before adding to their position.
And while 3M isn't a party to the current PFOA litigation in Ohio and West Virginia, investors should be aware of its own PFOA risks, whichmay have huge implicationsin the long term.
A secret billion-dollar stock opportunity The world's biggest tech company forgot to show you something, but a few Wall Street analysts and the Fool didn't miss a beat: There's a small company that's powering their brand-new gadgets and the coming revolution in technology. And we think its stock price has nearly unlimited room to run for early in-the-know investors! To be one of them, just click here.
John Bromels has no position in any stocks mentioned. The Motley Fool has no position in any of the stocks mentioned. Try any of our Foolish newsletter services free for 30 days. We Fools may not all hold the same opinions, but we all believe that considering a diverse range of insights makes us better investors. The Motley Fool has a disclosure policy.