Why Investors Are Selling Off Harley-Davidson Inc's Stock Today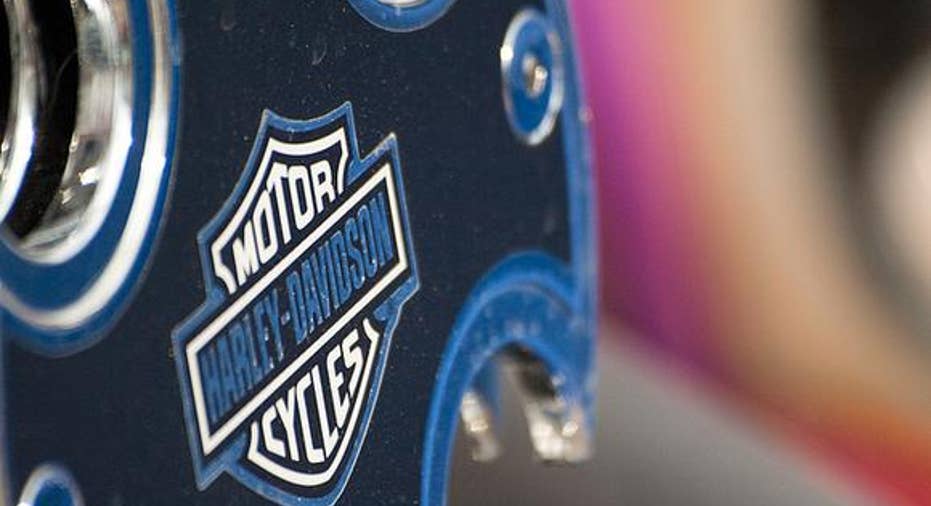 Harley-Davidson's headline numbers may have beat Wall Street expectations, but the big-bike maker still can't gain traction in its most important market. Image source: Raul Hernandez Gonzalezvia Flickr.
The question that loomed over the first-quarter earnings report from Harley-Davidson was whether the big-bike maker could reverse the string of losses it's incurred for the past few seasons. While the initial read says it beat analyst expectations for the quarter, the bar was set pretty low.
First, here are the numbers we were looking at to benchmark Harley's results:
As analysts forecast, Harley-Davidson continued to lose sales in the U.S. and saw its grip on market share slip as well, but at least in the case of the former metric, it wasn't as bad as the 7% decline in retail sales that was predicted. In fact, the half-percent drop could even be seen as a positive, but it does indicate that Harley still needs to do a better job of connecting with customers, whether it's the bike maker's core customer or the new outreach customer it's been targeting.
Takeaway 1: Harley-Davidson is gaining traction in important foreign markets.The hog maker is getting slaughtered in Latin America, where sales crumbled 27% year over year, but that market is now its smallest, and the outcomes are likely influenced by the economic upheavals occurring in a number of markets. Moreover, the one country that had been driving sales in the region, Mexico, has undoubtedly been hit hard by the collapse in oil prices, so sales would naturally be hurt.
But more important for Harley-Davidson is the growth it experienced elsewhere in the world, particularly in the Europe, Middle East, and Africa region, its biggest foreign market, which enjoyed an 8.8% bump in sales, as well as the Asia-Pacific region, the second-largest international segment, which gained 6.6% in sales, its best quarter ever. Together, their sales are equivalent to about half of the U.S. market, and the near-8% average gain shows Harley-Davidson's marketing efforts and new product introductions are resonating with bike buyers there.
Takeaway 2: Connecting with U.S. customers remains elusive.While the half-percent drop in U.S. sales beat analyst expectations, it's still yet another quarter of lower sales. Just because you're not doing as bad as Wall Street thought you were going to do doesn't mean you've done well.
The continuing loss of market share, which now hovers just above 50%, shows Harley-Davidson still retains extreme cachet with big-bike buyers, but it also means it's likely to lose its grip on owning more than half the market very soon. There are simply too many comparable bikes for buyers to choose from, including from Polaris Industries, Honda, and others. Those manufacturers are also willing to discount their bikes in this unsettled economy to maintain or even gain share, something Harley remains loathe to do.
Takeaway 3: H-D may soon dilute its motorcycles.The bike maker says it is going to "accelerate the cadence" of new product introductions, which means it will be flooding the market with lots of new models. It just started shipping two new cruisers, the Low Rider S and the CVO Pro Street Breakout, and it plans to introduce its new Roadster model next month. Putting too many models on the showroom floor may give buyers more choice, but it may also dilute the impact and strength of any one model.
Harley-Davidson already offers a fairly broad selection of bikes and options at a variety of price points, and rather than make its "menu" even more complex, it may actually want to simplify things by focusing on its strongest offerings.
Takeaway 4: Earnings aren't nearly as good as is being suggested.Net income fell 7% year over year even though earnings per share jumped by a similar amount. The discrepancy comes from the fact that Harley-Davidson bought back 3.4 million shares during the quarter and has reduced its stock outstanding by 27.6 million shares from the year-ago period. On a comparable basis, Harley would've recorded earnings of just $1.18 per share.
The market's not taking too kindly to Harley-Davidson's results in midday trading, sending the bike maker's stock some 4% lower. While it may be prepping for the warmer weather in hopes of greater sales to come, the number of bikes the company is shipping to U.S. dealers still doesn't seem warranted considering the lackluster acceptance they've already been given.
There remains a disconnect between the bike maker's sales and shipments, and though it continues to expect it will ship between 269,000 and 274,000 motorcycles this year, up 1% to 3% from last year, that can only happen if sales pick up here at home. There's no indication that's happening, so we may ultimately see Harley-Davidson need to scale back those numbers once again.
The article Why Investors Are Selling Off Harley-Davidson Inc's Stock Today originally appeared on Fool.com.
Rich Duprey has no position in any stocks mentioned. The Motley Fool owns shares of and recommends Polaris Industries. Try any of our Foolish newsletter services free for 30 days. We Fools may not all hold the same opinions, but we all believe that considering a diverse range of insights makes us better investors. The Motley Fool has a disclosure policy.
Copyright 1995 - 2016 The Motley Fool, LLC. All rights reserved. The Motley Fool has a disclosure policy.