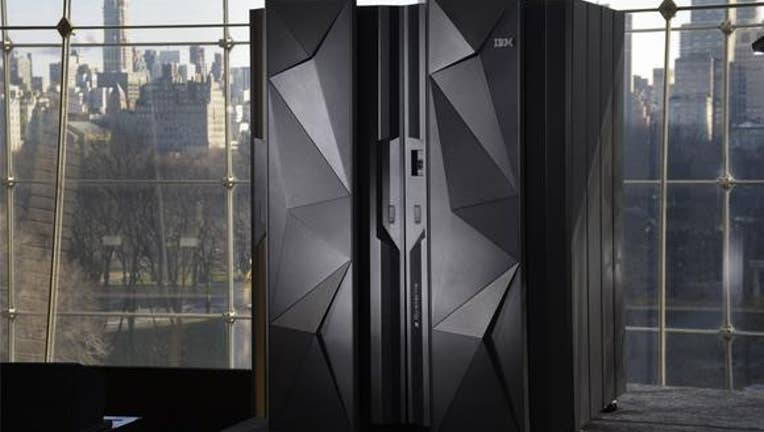 Over the past month, Groupon stock nearly doubled from all-time lows after its fourth quarter sales and earnings soundly beat analyst estimates. Unfortunately, the stock's recovery recently reversed course after IBM sued the daily deals website for alleged patent violations.
In a complaintfiled at the U.S. District Court in Delaware, IBM stated that it previously warned Groupon that its business model was built on its patented technologies, but Groupon "refused to engage in any meaningful discussions about reaching a license agreement." Let's see what this new legal battle means for Big Blue and Groupon.
IBM's z13 mainframe. Source: IBM.
Understanding IBM's patent businessIBM is primarily known for selling IT services, software, and hardware. However, it also has been accumulating a large portfolio of patents over the years. In its latest 10-K filing, IBM claims that it "was awarded more U.S. patents than any other company for the 23rd consecutive year." IBM claims that the 7,355 patents that it was awarded in 2015 will bolster its five "strategic imperatives" -- big data, analytics, security, social, and mobile tech.
IBM notes that some of its "technological breakthroughs" are used exclusively for its own products, while others are licensed to other companies. IBM doesn't disclose how much revenue comes from both categories, but it noted that its patent portfolio was a key driver for its Systems Hardware business last year. Revenue at that unit, excluding currency impacts, rose1% annually last quarter. IBM notes that while its IP rights are "important to its success," its overall business isn't "materially dependent" on any single patent or group of licenses.
One of the patents IBM claims Groupon has violated is related to single sign-on technology, which is frequently used by apps and websites to connect to networks like Facebook. IBM claims that it developed several of those underlying technologies to launch the online service Prodigy in the 1980s.Prior to suing Groupon, IBM alsosued Priceline , Twitter, and Amazon for patent infringement. The recent case withPriceline hasn't been resolved, but Twitter eventually paid IBM $36 million and Amazon settled for an undisclosed sum.
What this lawsuit means for GrouponIBM has requested to be paid "adequate" damagesfor the "patent infringement that occurred," the coverage of all of its legal expenses, and that Groupon sign patent licensing agreements. It's unclear how much that will amount to, but Groupon investors should note that while legal expenses can be considered one-time charges, constant licensing fees can't.
Groupon's mobile app. Source: iTunes.
Groupon beat estimates last quarter, but its numbers still look shaky. Revenue fell 1% annually to $917 million, but rose 4% excluding its divested stake of Korean e-commerce site Ticket Monster. Gross billings, the total dollar value of customer purchases, slipped 0.6% to $1.71 billion. Adjusted EBITDA fell nearly 28% to $67 million.
In a previous article, I explained why Groupon's model is flawed. First, it retains about half of each sale as a marketing fee, causing businesses to take a loss. However, that loss-leader strategy only works if they generate additional purchases or attract return customers. Unfortunately, Groupon customers often jump to the next daily deal instead, meaning that many businesses are basically giving out free samples.
To strengthen bottom line growth, Groupon is laying off employees, relying more on automated applications, and shuttering overseas operations. But to bolster billings, it must increase marketing expenses, which spiked 39% annually last quarter and caused operating expenses to rise 9% to $377 million. If IBM wins its case against Groupon and forces it to pay new licensing fees, those costs could rise considerably.
Is IBM a patent protector or a patent troll?IBM might claim that it is suing Groupon and Priceline to protect its patents, but critics have also accused Big Blue of turninginto a "patent troll" over the past few years. IBM certainly needs to generate sales growth after 15 consecutive quarters of revenue declines, and pressuring companies to license patents from decades ago which loosely share similar foundations might help. Moreover, IBM might use rulings against Priceline and Groupon as precedent to force any company using single sign-ons on websites and apps into patent licensing agreements.
Groupon investors should remember that patent litigation cases are common in the tech industry, and they can drag on for years. Therefore, they definitely shouldn't overreact and sell their shares on the IBM lawsuit alone. However, they should still keep an eye on this case and see if the Priceline and Groupon cases are parts of a bigger play by Big Blue to generate higher licensing fees from similar sites and apps.
The article Why International Business Machines Corp. Just Sued Groupon Inc. originally appeared on Fool.com.
Leo Sun owns shares of Amazon.com. The Motley Fool owns shares of and recommends Amazon.com, Facebook, Priceline Group, and Twitter. Try any of our Foolish newsletter services free for 30 days. We Fools may not all hold the same opinions, but we all believe that considering a diverse range of insights makes us better investors. The Motley Fool has a disclosure policy.
Copyright 1995 - 2016 The Motley Fool, LLC. All rights reserved. The Motley Fool has a disclosure policy.