Why Intel Is Betting $15.3 Billion on Self-Driving Cars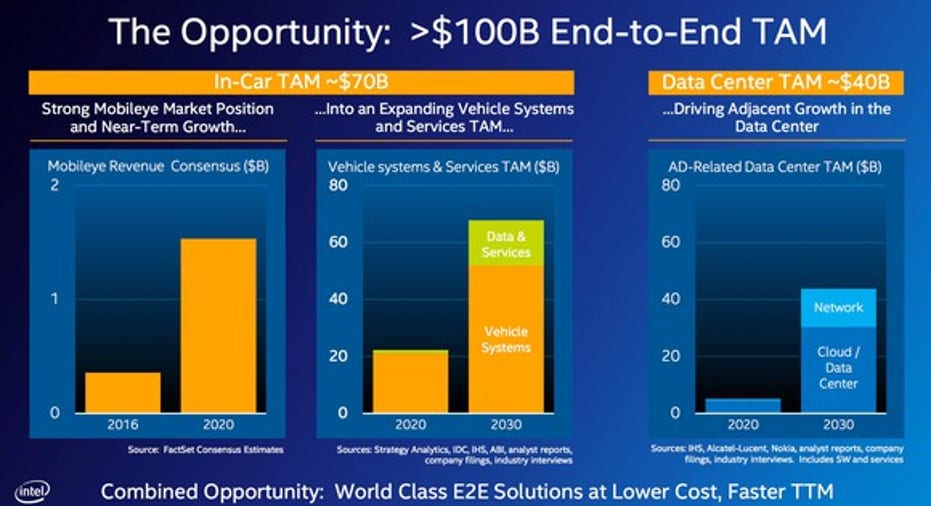 Intel Corporation (NASDAQ: INTC) announced on Monday morning that it has struck a deal to buy Mobileye N.V. (NYSE: MBLY), the Israeli maker of vision systems for autos, for $15.3 billion, or $63.54 a share.
On the one hand, that's a completely bonkers valuation for a company that generated all of $358.2 million in revenue in 2016, as Mobileye did.
On the other hand, from Intel's point of view, the deal could turn out to make a lot of sense. Here's why.
Mobileye's co-founder and chief technology officer Amnon Shashua announced a partnership with BMW and Intel last year. Intel has agreed to acquire Mobileye for $15.3 billion. Image source: Mobileye N.V.
Why Intel wants to be a player in self-driving cars
It's no secret that self-driving cars are coming. From Intel's view, self-driving cars bring two big opportunities to sell its hardware and software. First, the cars themselves: The most advanced cars today use about half a "teraflop" of computing power, Intel CEO Brian Krzanich said in a conference call for analysts on Monday morning, but that will rise to around 50 teraflops in cars equipped with Level 4 self-driving systems.
(A teraflop is a shorthand way of measuring a computer processor's power. It's the ability to calculate one trillion floating-point operations per second. A Level 4 self-driving system is one that is fully capable of driving the car with no human intervention, but only under specific circumstances. Most of the Level 4 systems under development depend on highly detailed maps and are thus geofenced, or limited to operating in mapped areas.)
That coming jump in the on-board computing power needed for self-driving cars is one opportunity for Intel to sell hardware. It's a big one: Krzanich expects the total addressable market for vehicle systems (or as he sees it, "data centers on wheels"), to be over $20 billion a year by 2020, and around $70 billion a year by 2030.
A slide from a presentation in which Krzanich explained the Mobileye deal to analysts. Image source: Intel Corporation.
The second opportunity for Intel, as Krzanich sees it, is in the actual data centers that will be needed to support all of these interconnected self-driving cars. That's a second big market, possibly around $40 billion by 2030, he said.
Intel has the technology and products to supply components of both of these markets. What it hasn't had is full access to these future markets' likely key players: The giant global automakers and their established major suppliers.
That's where Mobileye comes in.
Why Mobileye is the key to accessing the automotive market
Mobileye has at least two things that make it very valuable to Intel:
Established, deeply respected expertise in a key part of self-driving technology, and
existing relationships with most of the world's automakers.
In a nutshell, Mobileye makes computer systems that can parse images from cameras, designed for use in automobiles and trucks. Mobileye's systems, which combine hardware and software, are already part of many of the advanced driver-assist systems (ADAS) that have become common in new cars, including features like adaptive cruise control, lane-departure warnings, and parking-assist systems.
ADAS are useful safety-enhancing systems today, but they're also the building blocks of the self-driving vehicles of the near future. Mobileye is already a key player in self-driving: Last year, it formed a partnership with Intel and giant auto-industry supplier Delphi Automotive (NYSE: DLPH) that plans to make a Level 4 system available to automakers by the end of 2019.
But the real value to Intel might lie in Mobileye's existing relationships with automakers and major auto-industry suppliers. Mobileye's client list includes most of the world's major automakers, several heavy-truck makers, most of the auto industry's biggest suppliers, and a few companies that might be less familiar, including Chinese automakers and electric-car start-ups.
Why is that a big deal? Because automakers, mindful of the disruption that wrecked many phone manufacturers, have been very wary of doing business with big tech companies. Auto executives don't want to give up the essence (and more to the point, the value, specifically the data) of their products to giants like Alphabet. That's why its Waymo subsidiary (formerly known as the Google Self-Driving Car Project) hasn't had as much interest from the automakers as a casual observer might expect: The automakers don't want to be stuck making low-margin phones for the automotive equivalent of Android.
What's more, tech companies often have a hard time understanding the requirements of the auto industry. It's one thing to make a component for a phone that's only expected to last a few years, something else entirely to make a component for a car that might have to operate with high reliability for a decade or more while surviving vibrations and big temperature swings.
But Mobileye has already opened the door to doing business with the automakers and its established suppliers. The deal aims to preserve that: It will essentially fold Intel's existing self-driving operation into Mobileye, rather than vice versa. During a call for analysts on Monday morning, Mobileye co-founder and chief technology officer Amnon Shashua said that several of Mobileye's big clients have told him that they see the Intel deal as a very good one.
Translation: Assuming the deal is completed, that door will be open to Intel, too.
The upshot: An instant contender in a potentially huge new market
Intel rival NVIDIA (NASDAQ: NVDA) has garnered a lot of attention recently from investors for its own ADAS and self-driving efforts, centered around its Drive PX 2 automotive supercomputer. It has won business from several automakers and companies interested in self-driving, including Chinese giant Baidu.
Intel has been knocking on the door of that market, with limited success, but acquiring Mobileye should push it right open. It looks like an expensive deal now, but if it adds $40 billion or $50 billion in revenue to Intel's top line in a decade -- a plausible assumption -- it will look in retrospect like a smart move.
10 stocks we like better than IntelWhen investing geniuses David and Tom Gardner have a stock tip, it can pay to listen. After all, the newsletter they have run for over a decade, Motley Fool Stock Advisor, has tripled the market.*
David and Tom just revealed what they believe are the 10 best stocks for investors to buy right now... and Intel wasn't one of them! That's right -- they think these 10 stocks are even better buys.
Click here to learn about these picks!
*Stock Advisor returns as of February 6, 2017
Suzanne Frey, an executive at Alphabet, is a member of The Motley Fools board of directors. John Rosevear has no position in any stocks mentioned. The Motley Fool owns shares of and recommends GOOG, GOOGL, Baidu, and Nvidia. The Motley Fool recommends BMW and Intel. The Motley Fool has a disclosure policy.