Why Intel Corporation's Cannon Lake-EP and EX Server Chips May Be Dead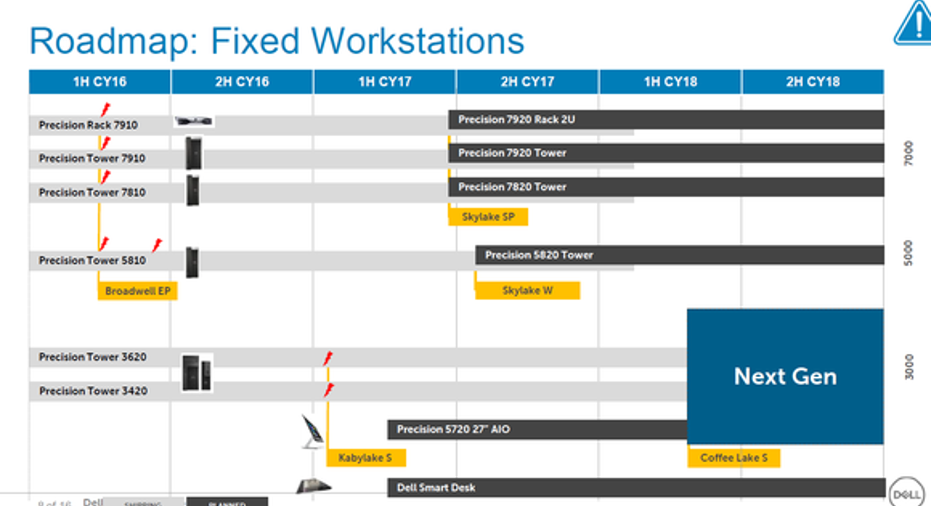 A while back, various leaks showed that microprocessor giant Intel (NASDAQ: INTC) was planning to introduce two waves of processors for its upcoming Purley server platform -- Skylake-EP and EX, and Cannon Lake-EP and EX.
Skylake-EP and EX represent all new architectures built using the company's 14-nanometer+ technology, while Cannon Lake-EP and EX were supposed to represent mild architectural enhancements of the Skylake-EP and EX chips, but with the benefit of being built on the company's upcoming 10-nanometer chip manufacturing technology.
Intel's Haswell-EP server processor. Image source: Intel.
Although I can't make this prediction with 100% certainty, I strongly suspect that based on Intel's most recent disclosures, Cannon Lake-EP and EX are dead.
The new "data center first" strategy
As I outlined in a previous column, Intel announced that it's making a massive change in its plans in how it builds future server processors. Going forward, beginning with the 10-nanometer++, the company's third-generation 10-nanometer manufacturing technology, server processors will be first to adopt new manufacturing technologies, with personal-computer chips adopting this new manufacturing technologies later.
Intel's first 10-nanometer processor will be its Cannon Lake-Y chips targeted at low-power notebooks and 2-in-1 hybrid systems -- this is expected to go into volume manufacturing in the second half of 2017, with sales velocity accelerating in the first half of 2018.
I believe that the company will introduce a second generation of chips built on 10-nanometer technology beginning in the second half of 2018, based on its Ice Lake architecture. I also believe this will be manufactured on Intel's second-generation 10-nanometer technology, known as 10-nanometer+.
If we assume that Intel aims for annual product refreshes in the personal-computer market, then we should expect to see the company's third-generation 10-nanometer processor family, known as Tiger Lake, in late 2019/early 2020. Tiger Lake would presumably be manufactured in the company's 10-nanometer++ technology.
If Intel's data-center group will start shipping product on 10-nanometer++ before its personal-computer chip business does, then we should expect the 10-nanometer++ server processor to launch sometime before late 2019 or early 2020.
Let's call it mid-2019 for that processor family, which I believe will be codenamed Ice Lake-EP and EX.
In that case, where's the room for Cannon Lake-EP and EX?
Intel's Skylake-EP and EX chips are expected to launch in "mid-2017," according to recent company disclosures.
If we have the 10-nanometer++ server processor pinned down to a mid-2019 launch, then the only way that the Cannon Lake-EP and EX parts, presumably 10-nanometer-based, would really fit in would be if they were to launch in mid-2018, since a product cycle of under one year in this market is highly unusual.
However, over on the AnandTech forums, a user posted a slide that seemingly comes from Dell -- a leading personal-computer and server vendor.
A purported Dell system road map. Image source: AnandTech Forums.
In the slide, Dell shows that its server and workstation offerings will see upgrades to Skylake-EP and Skylake-W in the second half of 2017. The slide also indicates that those systems will continue to be the company's offerings through the second half of 2018.
If Intel were going to release Cannon Lake-EP and EX chips in the middle of 2018, then one would reasonably expect a major server and workstation vendor like Dell to refresh its offerings to utilize those new chips.
Will there be a Cannon Lake server processor family at all?
I have seen evidence in the LinkedIn profiles of Intel employees that there indeed exist server processors utilizing Intel's Cannon Lake architecture. However, in the descriptions those employees provided, the chips are referred to as "SoCs" -- i.e., system on a chip.
I think there's a very good chance we'll see Xeon D products, Intel's high-end server system-on-a-chip line aimed at certain types of less processor-intensive workloads, based on the Cannon Lake architecture in the future.
However, I think that Cannon Lake-EP and EX -- the potential successors to the company's workhorse Skylake-EP and EX chips -- were cancelled to allow the superior Ice Lake-EP and EX products to come to market quicker than they would have otherwise.
Offer from The Motley Fool: The 10 best stocks to buy now
Motley Fool co-founders Tom and David Gardner have spent more than a decade beating the market. In fact, the newsletter they run, Motley Fool Stock Advisor, has tripled the S&P 500!*
Tom and David just revealed their ten top stock picks for investors to buy right now.
Click here to get access to the full list!
*Stock Advisor returns as of 1/30/2017
Ashraf Eassa owns shares of Intel. The Motley Fool recommends Intel. The Motley Fool has a disclosure policy.