Why Intel Corporation Expects Lower Profit Margins in Its Data Center Business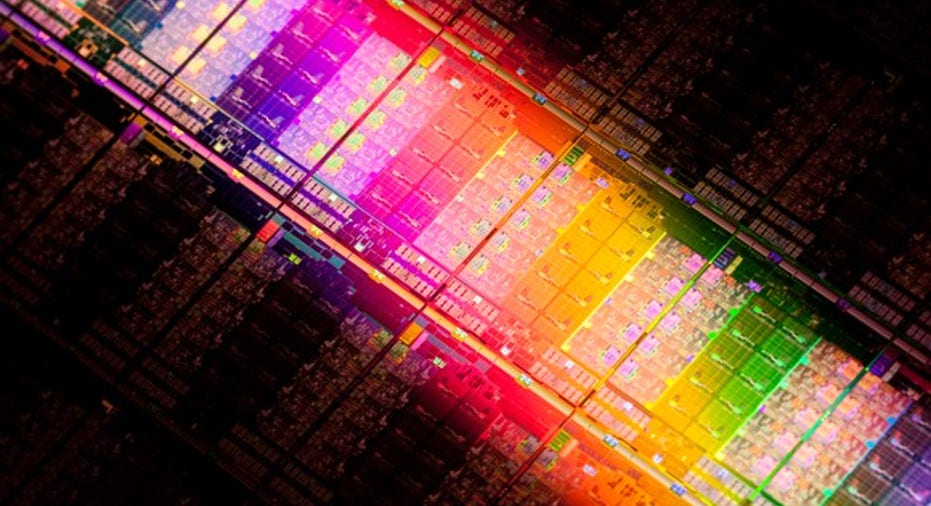 On Feb. 9, microprocessor giant Intel (NASDAQ: INTC) hosted its annual investor meeting, during which the company went over its long-term strategies and business objectives in each of its core business units.
Intel's second-largest business unit by revenue, and arguably its most important business for the long term, is its data center group (DCG). The business is attractive for a couple of key reasons. First, it's a large business that still has the potential to deliver meaningful growth. And, perhaps just as importantly, it's extremely profitable, with operating margins coming in at nearly 44% in 2016.
Intel server chips. Image source: Intel.
In her presentation, DCG chief Diane Bryant talked about how the company expects its profit margins in DCG to come down in the coming years -- something that was likely responsible for the drop in the company's share price in the wake of the investor meeting. Here,I'd like to go over the key reasons for why Intel expects that drop in DCG profitability and why investors shouldn't freak out about it.
DCG gets the shiny new manufacturing tech first
Historically, when Intel would introduce new manufacturing technologies, the first products to get them would be its personal computer processors. And, recently, it would be the very low-power chips aimed at slim notebooks and 2-in-1 devices that would get the latest technologies, with higher-performance personal computers getting them a bit later.
That's all about to change going forward.
According to Bryant, the first products to get new manufacturing technologies will be those produced by DCG. It's going to take a little while for DCG to "take the lead," but Bryant indicated that the company's server processors would be the first to adopt its third-generation 10-nanometer technology called 10-nanometer++ and then the follow-on technology known as 7-nanometer.
The good news here is that since the chips that Intel's DCG produces are sold to customers willing to pay more for higher performance and additional features. Additionally, as competition heats up in the server market (a lot of companies want a piece of the action that Intel currently dominates), Intel is going to want every potential competitive advantage that it can get.
However, this will come at a cost to the company. In the past, Intel would have the benefit of having run its easier-to-manufacture consumer chips on the new technology first, ironing out the kinks and improving manufacturing yields before DCG got to use it.
Now, the processors produced by DCG will have to bear that burden -- negatively impacting gross profit margins and, ultimately, operating profit margins.
A bigger operating expense burden
Intel also indicated that another headwind to DCG operating margin going forward is that DCG will see an "increased allocation of corporate expenses."
Remember that the bulk of Intel's research and development spending goes toward "shared" technology development -- that is, on technologies that are used by all of Intel's major business groups such as processors, memory controllers, and other intellectual properties.
Since DCG is becoming a larger part of Intel's revenue mix, its share of those common research and development expenses will now go up, too. This increase in operating expenses attributable to DCG is naturally going to negatively impact operating profits and therefore operating margin.
Ramp of non-CPU products
Between 2017 and 2021, Intel expects that revenue from its server CPU business will grow at a 6% compounded annual growth rate (CAGR). It expects an overall revenue growth CAGR in the "low-double-digit" percentage range during that time, with the rest of the growth coming from non-CPU products.
These non-CPU products, according to Intel, should carry lower gross profit margins than the CPU products do. So, although those products should boost DCG revenue and total operating profit, they should also dilute the average gross profit margin of that business, which in turn should lead to a reduction in operating margin.
Don't panic
It is clearly disappointing in the near term that Intel is expecting reduced profit margins in DCG. That, coupled with the company's new long-term revenue CAGR expectations in the "low-double-digit" percentage range (down from a previous goal of 15%), is certainly going to ding sentiment around this business.
Nevertheless, the moves that Intel is doing here are the correct ones. DCG products should use Intel's latest manufacturing technology advances, particularly as competition heats up, and it's only fair that DCG take on more of the shared operating expense burden given that it's becoming a bigger part of Intel's business.
And finally, while the shift in revenue mix from CPU to non-CPU products is clearly expected to dilute gross profit margin, the ramp-up of those products should add to total revenue and gross profit dollars -- it's generally better to have a slightly lower margin percentage on a much higher revenue base than to have a slightly higher-margin percentage on a significantly lower revenue base.
In other words, relax -- Intel is making the right moves for the long term.
10 stocks we like better than IntelWhen investing geniuses David and Tom Gardner have a stock tip, it can pay to listen. After all, the newsletter they have run for over a decade, Motley Fool Stock Advisor, has tripled the market.*
David and Tom just revealed what they believe are the 10 best stocks for investors to buy right now... and Intel wasn't one of them! That's right -- they think these 10 stocks are even better buys.
Click here to learn about these picks!
*Stock Advisor returns as of February 6, 2017
Ashraf Eassa owns shares of Intel. The Motley Fool recommends Intel. The Motley Fool has a disclosure policy.