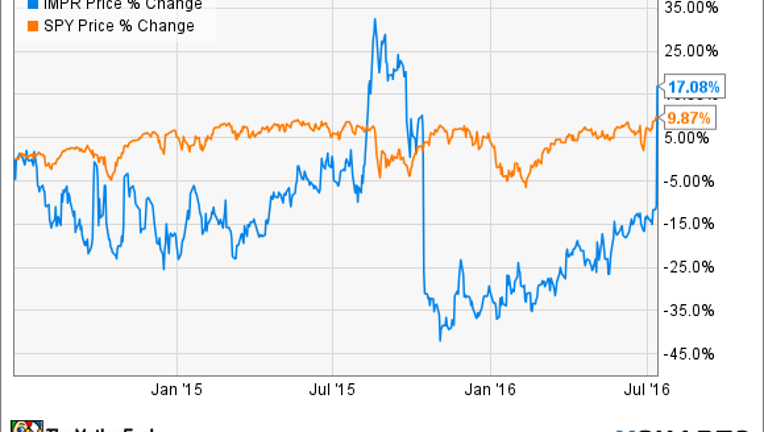 Image source: Imprivata
What: Shares of Imprivata , an IT company primarily focused on security and identitymanagement solutions for the healthcare sector, are on the move today. The company's stock was up about 31% as of 11:30 a.m. ET after news broke that the company is being acquired by a private-equity firm.
So what:Imprivata issued a press release today stating that it has agreed to be acquired by Thoma Bravo LLC, a private-equity firm, forabout $544 million in an all-cash deal. That values shares at $19.25 each, which represents a 33% premium over Tuesday's closing price.
Here's whatOmar Hussain, Imprivata's president and CEO, had to say about the deal:
Scott Crabill, a partner at Thoma Bravo, commented on his firm's rationale for buying Imprivata:
Thoma Bravo currently has about$17 billion in assets under management, so it doesn't look like it will have any problems funding the deal.
Now what:Imprivata has been on the public markets for about two years now, and it has spent most of that time trailing the returns of the S&P 500. Today's pop did push it back into market-beating territory.
A timeline for the closing was not announced, but with shares trading within a few pennies of the acquisition price, long-term investors might want to take a victory-lap by selling their shares today and reinvesting the proceeds elsewhere.
The article Why Imprivata Inc. Is Soaring Today originally appeared on Fool.com.
Brian Feroldi has no position in any stocks mentioned.Like this article? Follow him onTwitter where he goes by the handle@Longtermmindsetor connect with him on LinkedIn to see more articles like this.The Motley Fool has no position in any of the stocks mentioned. Try any of our Foolish newsletter services free for 30 days. We Fools may not all hold the same opinions, but we all believe that considering a diverse range of insights makes us better investors. The Motley Fool has a disclosure policy.
Copyright 1995 - 2016 The Motley Fool, LLC. All rights reserved. The Motley Fool has a disclosure policy.