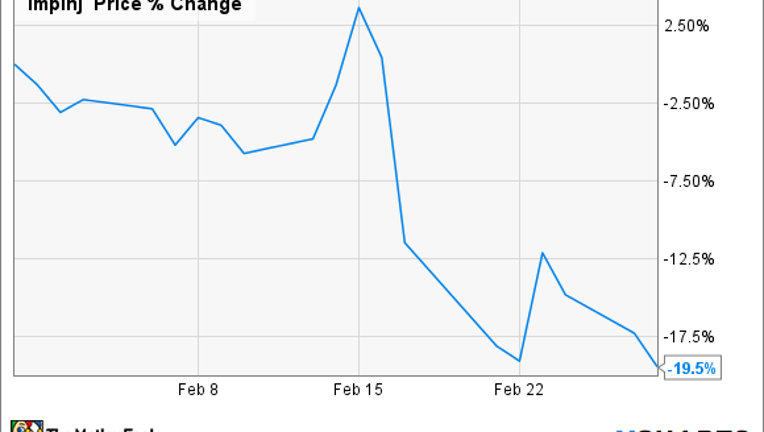 What happened
Shares ofImpinj, inc.(NASDAQ: PI) got hammered last month after the radio frequency ID chip-maker turned in a disappointing earnings report. The stock slipped 19.5% according to data from S&P Global Market Intelligence. As the chart below shows, much of those losses came immediately after its earnings report on February 16.
So what
Impinj actually beat estimates in its fourth-quarter report. The company saw its top-line expand 49% to $33.7 million, beating estimates at $32.4 million. Earnings for the internet-of-things play, meanwhile, increased from $0.07 to $0.11 a share, which topped expectations at $0.09.
Image source: Impinj.
The maker of RAIN RFID chips, which helps supply chains frictionlessly track items, has been highly volatile since its July 2016 IPO.
CEO Chris Diorio called the fourth quarter "a strong close to a landmark and transformational year for Impinj" as revenue growth accelerated in the fourth quarter and IC (integrated circuit) volume growth hit 70%.
Now what
Looking ahead to 2017, the market seemed to be disappointed by Impinj's guidance for the first quarter. The company projected revenue of $30-$31.5 million for the current period and adjusted earnings per share ranging between a loss of $0.06 and a profit of a penny. At the time of the announcement, analysts had expected a profit of $0.02 a share.
Weak guidance like this has a tendency to sink high-flying tech stocks like Impinj, but investors should me mindful that this a young company with a promising future ahead of it. Investors should remember to look past a single quarter's guidance.
10 stocks we like better than ImpinjWhen investing geniuses David and Tom Gardner have a stock tip, it can pay to listen. After all, the newsletter they have run for over a decade, Motley Fool Stock Advisor, has tripled the market.*
David and Tom just revealed what they believe are the 10 best stocks for investors to buy right now... and Impinj wasn't one of them! That's right -- they think these 10 stocks are even better buys.
Click here to learn about these picks!
*Stock Advisor returns as of February 6, 2017
Jeremy Bowman has no position in any stocks mentioned. The Motley Fool recommends Impinj. The Motley Fool has a disclosure policy.