Why I'm Not Worried About Demand for Tesla Motors, Inc.'s Model X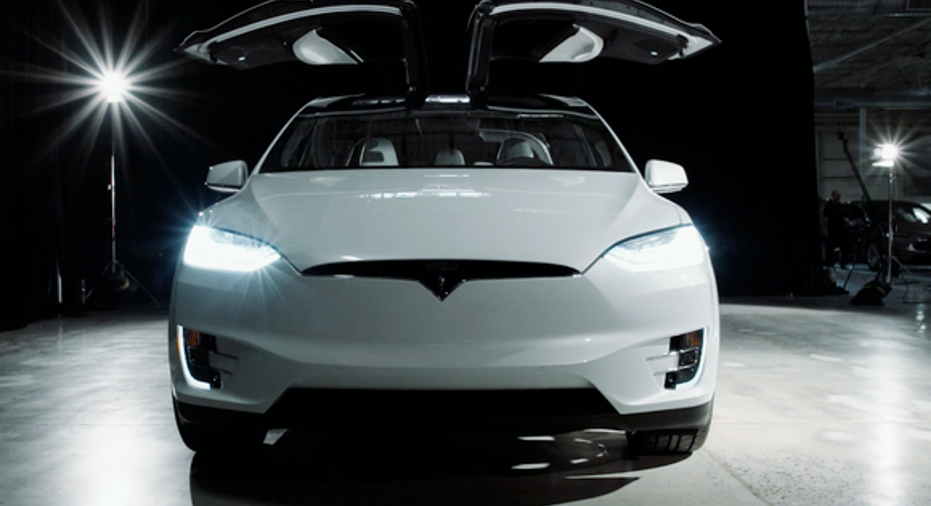 When electric-car maker Tesla Motors opened up its design studio in the U.S. for Model X earlier this month, some investors might have been a bit surprised by the short wait time between a customer's order and their estimated delivery time frame. For instance, customers who put in orders for the Model X with a larger battery pack today have an estimated delivery of next month. Is this short wait time a sign Tesla could be having trouble converting its large backlog of orders into actual reservations?
Model X. Image source: Tesla Motors.
Despite the short wait times for Model X in the U.S., there are several reasons I'm not worried about demand for the SUV -- at least not yet. In short, the company isn't pulling all the levers it has at its disposal to boost demand for the vehicle.
Here's what I mean.
1. Model X test drives are only just getting started. Toward the beginning of the year, Tesla did begin hosting test-drive events, but these drives were limited to reservations holders only. In other words, to drive Model X, not only did potential customers have to put down a $5,000 deposit but the customer needed to be available the one week the company came to a location near them as part of its Meet Model X tour.
As far as scheduling an individual test drive outside of the company's test-drive events, even these are difficult -- if not impossible -- to come by if you're not a reservation holder. Calling my local Tesla store, which only received a Model X unit for its store about a week ago, sales representatives said the vehicle was currently only available for reservation holders to test drive.
And test-drive availability at Tesla stores for reservation holders is only just now ramping up. Tesla confirmed with The Motley Fool that it only sent test-drive vehicles, with the purpose of being available to reservation holders for test drives, to 30 cities in the last few weeks -- and these units are in North America only.
It's fair to say that it's not easy to test drive a Model X.
2. Tesla may benefit from a word-of-mouth effect as deliveries ramp. Because Tesla vehicles are so different from typical comparably priced gas cars (and Model X is obviously no exception), in the past it has relied heavily on word-of-mouth marketing as a demand driver. The problem with word-of-mouth marketing, of course, is that Tesla needs to actually begin delivering vehicles in markets for the process to begin.
Tesla highlighted this word-of-mouth effect when it was ramping up Model S production and beginning to pull levers for Model S demand several years ago.
Model X. Image source: Tesla Motors.
Tesla's 2013 Q1 shareholder letter: "Importantly, we are seeing orders in a particular region increase proportionate to the number of deliveries, which means that customers are selling other customers on the car."
In the 2013 Q3 shareholder letter: "As more people see our car on the road, take a test drive or talk with another Model S owner, more demand is created for our product. Demand exceeds supply, despite no advertising, no discounts and no paid endorsements."
Test test-drive events, individual test drives, and vehicle deliveries to customers all positively impact the company's word-of-mouth effect. And, of course, all of these levers are currently highly limited.
Furthermore, since Tesla doesn't pay for any advertising, its reliance on these word-of-mouth levers is particularly strong.
3. Vehicle reviews are still rare. Model X reviews are extremely rare, and ratings for the vehicle are basically nonexistent. Early reviews from The Drive and Wall Street Journal's Dan Neil, which were very positive, suggest proliferation of extensive reviews should only help demand.
Yes, a few magazines and auto journalist have got their hands on Model X and published extensive reviews. But many haven't -- including widely respected Consumer Reports and Edmunds.
Model X interior. Image source: Tesla Motors.
Investors should keep in mind these listed wait times are for the U.S. market only. In many of Tesla's markets, the company hasn't yet opened the configurator for Model X to the public. Also, the expected delivery window for orders of the entry-level version of the SUV with a smaller battery are slated for June -- not May -- as Tesla continues to prioritize versions with higher options.
As of Tesla's most recent quarterly shareholder letter, Tesla said reservations for Model X were up 75% compared to the prior year. With reservations for Model X at 20,000 when year-ago results were reported, this would put total Model X reservations at last count at 35,000. During Q1, Tesla delivered 2,400 units -- up sequentially from 206 units in Q4. During the last week of Q1, the company said it was building 750 Model X per week.
Investors will likely get an update on production and demand for Model X when Tesla releases its first-quarter shareholder letter toward the end of April or the beginning of May.
The article Why I'm Not Worried About Demand for Tesla Motors, Inc.'s Model X originally appeared on Fool.com.
Daniel Sparks owns shares of Tesla Motors. The Motley Fool owns shares of and recommends Tesla Motors. Try any of our Foolish newsletter services free for 30 days. We Fools may not all hold the same opinions, but we all believe that considering a diverse range of insights makes us better investors. The Motley Fool has a disclosure policy.
Copyright 1995 - 2016 The Motley Fool, LLC. All rights reserved. The Motley Fool has a disclosure policy.