Why Illumina Shares Are Tanking 18% Pre-Market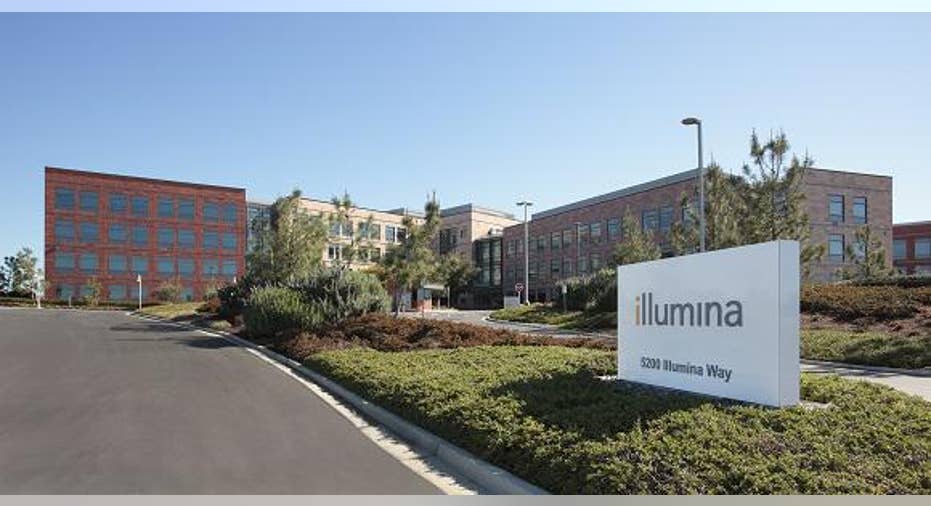 SOURCE: ILLUMINA CORP
What:After issuing preliminary revenue for the first quarter that was below industry watcher's targets, shares of Illumina are indicated to open lower by 18% today as of 8:30 a.m. EST.
So what:The maker of machines used in sequencing genomes reports that first quarter revenue will likely be $572 million. That figure is up 6% year-over-year, but is 4% lower than analysts' projections. Illumina's management expects that sales will accelerate this year by 12% in spite of the first quarter results. The company will report its complete audited results on May 3.
In addition to reporting lackluster sales, CEO Jay Flatley also indicated that while they don't have a precise EPS number to release yet, he does believe that the final EPS number will be shy of analysts' forecasts too.
"Gross margins will be lower than normal due to the reduction in sales volume, but that difference is expected to be partially offset by lower operating expenses and stock-based compensation," said Flatley on Illumina's conference call after the closing bell yesterday. Overall, Flatley expects "non-GAAP EPS to be below the current consensus expectation, consistent with the revenue shortfall."
A big reason behind the sales miss this quarter appears to have been sluggish demand in Europe. Sales in theAmericas and Asia-Pacific regions remain on track with previously issued guidance for mid-teens growth, butEuropean shipment growth in the low- to mid-single digits is creating a big headwind to global growth rates.
Now what:A sales miss is never a good thing, especially considering that competitors, including Pacific Biosciences , are mounting their most significant threat yet.
Last fall, Pacific Biosciences released its aptly named Sequel machine, offering better performance and longer data reads at a lower price point than Illumina's solutions. Exiting Pacific Biosciences' fourth quarter, management reportedthat they had received 49 orders for the Sequel, including orders for 10 machines that they installed at customer sites in December. For comparison, the company recorded 40 orders for the RS II in the entirety of 2014.
It's not clear whether or not Illumina's disappointing results are due to competitive launches or a weak Europe. Investors will know more when Pacific Biosciences reports its first quarter financials on April 21.
Regardless, Illumina remains the biggest player in gene sequencing by far. Innovation that's leading to significant adoption of personalized medicine suggests that the company's got plenty of opportunity to get back on track to double digit growth in the future. If so, then this sell-off may be the perfect opportunity to add this stock to healthcare portfolios.
The article Why Illumina Shares Are Tanking 18% Pre-Market originally appeared on Fool.com.
Todd Campbell has no position in any stocks mentioned. Todd owns E.B. Capital Markets, LLC. E.B. Capital's clients may have positions in the companies mentioned. The Motley Fool owns shares of and recommends Illumina. The Motley Fool recommends Pacific Biosciences of California. Try any of our Foolish newsletter services free for 30 days. We Fools may not all hold the same opinions, but we all believe that considering a diverse range of insights makes us better investors. The Motley Fool has a disclosure policy.
Copyright 1995 - 2016 The Motley Fool, LLC. All rights reserved. The Motley Fool has a disclosure policy.