Why IBM Is Betting Big on Blockchain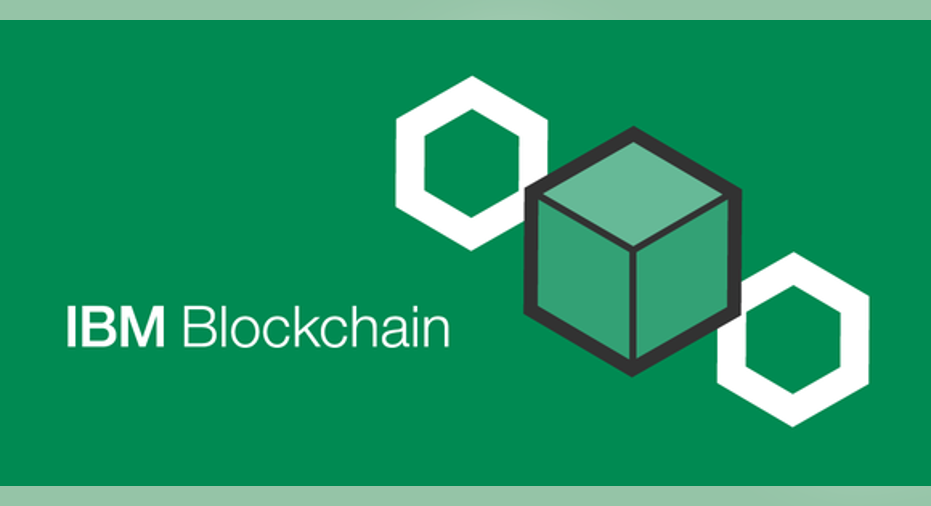 Image source: IBM.
While bitcoin and other digital currencies have so far failed to live up to their promise, the underlying blockchain technology has the potential to transform countless industries. A distributed, decentralized database that records transactions in a way that can't be altered, blockchain is being touted as a way to remove inefficiencies, saving time and money.
IBM goes all-in on blockchain
There is perhaps no company making a bigger blockchain push than International Business Machines (NYSE: IBM). Finance is one area where blockchain has found early adopters, so it should be no surprise that IBM is leading the charge. The company counts as clients more than 90 of the top 100 banks worldwide. Any significant technological change in the banking industry not being spearheaded by IBM risks the company losing that valuable customer base.
IBM has announced a flurry of partnerships and initiatives related to blockchain in recent weeks. The company is working with the Bank of Tokyo-Mitsubishi UFJ to use blockchain for contracts between business partners. IBM is teaming with China UnionPay to develop a blockchain-based system for sharing loyalty points between multiple banks. A partnership with SBI Securities to test blockchain technology for a new bond trading system was announced in late October.
According to an IBM study, 15% of banks surveyed plan to have blockchains in commercial production by 2017, and 91% of banks are investing in blockchain for deposit-taking. The World Economic Forum estimates that 80% of banks are actively working on blockchain projects. This rapid adoption has forced IBM to be aggressive in order to maintain its position as a major supplier of IT to the banking industry.
Finance isn't the only opportunity IBM sees with blockchain. CEO Virginia Rometty recently penned an op-ed for The Wall Street Journal, laying out the case that blockchain could be just as transformative as the internet. If that ends up being the case, IBM's intense focus on the technology could pay dividends down the road.
One example put forth by Rometty of where blockchain can increase efficiency is the process of buying a house:
Another example is a project involving Visa and DocuSign that would allow car buyers to configure a lease and drive away with a new car immediately, without the time-consuming process of filling out mountains of paperwork. La'Zooz, a start-up in Israel, is using blockchain in a ride-sharing app that allows drivers and customers to connect directly, without the need for a middleman ride-sharing company.
Making supply chains more efficient is another area where blockchain could potentially shine. IBM estimates that blockchain could generate more than $100 billion of efficiencies annually if applied to global supply chains -- a staggering number. Both Toyota and the U.S. Postal Service are currently looking into using blockchain for exactly that purpose.
IBM's core aim is to solve problems for its clients. Blockchain has the potential to solve myriad problems in a variety of industries, making the technology a natural fit for Big Blue. At this point, given how new the technology is, it's impossible to say whether it will live up to its potential. But if blockchain delivers on its promises, IBM could be at the center of a major technological revolution.
10 stocks we like better than IBM When investing geniuses David and Tom Gardner have a stock tip, it can pay to listen. After all, the newsletter they have run for over a decade, Motley Fool Stock Advisor, has tripled the market.*
David and Tom just revealed what they believe are the ten best stocks for investors to buy right now...and IBM wasn't one of them! That's right -- they think these 10 stocks are even better buys.
Click here to learn about these picks!
*Stock Advisor returns as of November 7, 2016
Timothy Green owns shares of IBM. The Motley Fool owns shares of and recommends Visa. Try any of our Foolish newsletter services free for 30 days. We Fools may not all hold the same opinions, but we all believe that considering a diverse range of insights makes us better investors. The Motley Fool has a disclosure policy.