Why I Will Never Buy Finish Line Inc. Stock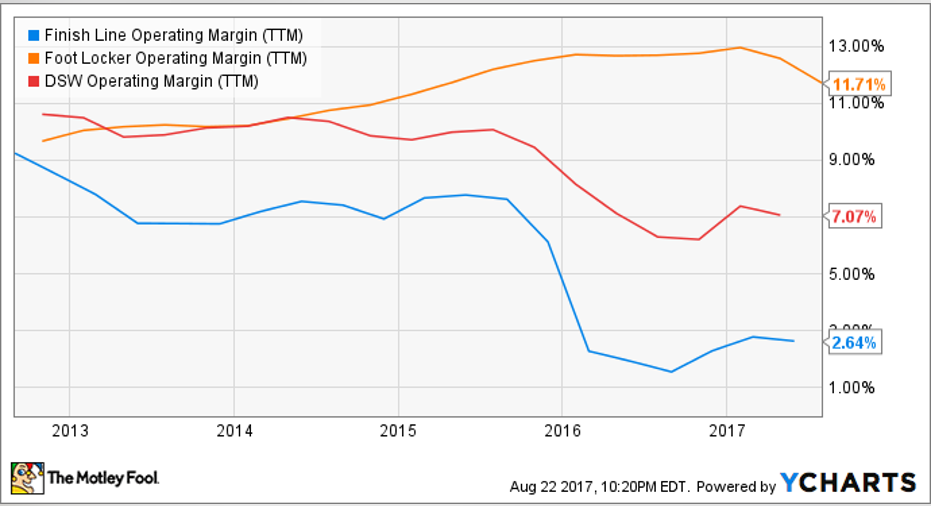 Shares of Finish Line (NASDAQ: FINL) tumbled nearly 60% over the past 12 months, due to ongoing concerns about the footwear retailer's slowing sales growth and disruption from direct-to-consumer channels. That drop reduced Finish Line's P/E to 12, versus the industry average of 46 for specialty retailers. Its forward yield of 4.5% is also easily supported by a low payout ratio of 52%.
Those figures make Finish Line look like a cheap income investment. But if we take a closer look at Finish Line's core business, we'll see that it's still a very risky stock -- and one that I never plan to buy.
Being disrupted on all fronts
Finish Line faces tough challenges on both the brick-and-mortar and e-commerce fronts. On the brick-and-mortar front, bigger rivals like Foot Locker (NYSE: FL) and DSW (NYSE: DSW) are making it tough for Finish Line to stay relevant.
Leading footwear makers like Nike, Adidas, and Under Armour are exacerbating that pain with their own brick-and-mortar stores. They're also striking deals with other retailers to open mini-shops in their stores -- as Nike recently did with J.C. Penney and Under Armour did with Kohl's.
On the e-commerce front, Nike, Adidas, and Under Armour are all directly selling their products to consumers via their websites and apps. Nike recently opened a store on Amazon, Adidas allows customers to reserve popular sneakers via an app, and Under Armour's UA Shop tethers a shopper's data to its ecosystem of fitness tracking apps. This makes it tough for "middlemen" retailers like Finish Line and Foot Locker to remain relevant.
Even Foot Locker is struggling to counter these headwinds. Foot Locker's stock recently crashed to a four-year low after its second-quarter earnings broadly missed analyst estimates. Since Finish Line is much smaller than Foot Locker (571 first-party stores vs. 3,359 stores), it could fare even worse in this challenging environment. That's why multiple analysts downgraded Finish Line after Foot Locker's report.
Stalled-out growth and uninspired turnaround plans
Finish Line has posted two straight quarters of annual revenue declines. Analysts expect its revenue to rise 2.5% this year, but stay nearly flat next year. Its earnings, which are boosted by store closings and buybacks, are expected to rise 5% this year and 8% next year. Those numbers aren't terrible, but Finish Line's comps growth looks unimpressive:
| Quarter | Q1 2017 | Q2 2017 | Q3 2017 | Q4 2017 | Q1 2018 |
| --- | --- | --- | --- | --- | --- |
| Comps growth | 1.5% | 5.1% | 0.7% | (4.5%) | (1.1%) |
Finish Line's comps declines were partly offset by double-digit sales growth at Finish Line Macy's (NYSE: M), a partnership it formed with the department store chain five years ago. That deal added hundreds of Finish Line shop-in-shops to Macy's stores.
Unfortunately, Macy's recent troubles took the wind out of Finish Line Macy's sails. Finish Line Macy's posted just 14% annual sales growth last quarter, compared to 35% growth in the previous quarter.
Like many other retailers, Finish Line is reducing its store count, renovating stores, and investing heavily in its e-commerce channels. During last quarter's conference call, CEO Sam Sato highlighted more "frictionless" ordering experiences on mobile devices, the use of analytics on customer data, and the recruitment of social media influencers -- but we've heard similar turnaround plays from other struggling retailers before.
Deteriorating margins ahead
Finish Line's inventories rose 5% annually to $341.4 million last quarter. That figure could continue rising as it loses ground to direct-to-consumer players and other brick-and-mortar rivals. Meanwhile, demand for footwear remains weak in Finish Line's core U.S. market -- U.S. footwear sales fell 5% in July, according to NPD's latest numbers.
When we combine all these factors, it seems that Finish Line's own estimate for comps growth to "increase during the back half of the year" seems too optimistic. Instead, we'll likely see its comps dip and its operating margins decrease as it lowers prices.
Finish Line is already skating on thin ice there, since its operating margins are already much lower than the margins at bigger rivals like Foot Locker and DSW.
The key takeaways
Finish Line looks like a value trap to me -- its fundamentals look solid, but it's caught in the blast zones of major disruptions in the brick-and-mortar and e-commerce markets. Foot Locker's awful second-quarter earnings is a bright red flag for Finish Line investors, who shouldn't be surprised if the stock crashes following its second-quarter earnings report next month.
10 stocks we like better than The Finish LineWhen investing geniuses David and Tom Gardner have a stock tip, it can pay to listen. After all, the newsletter they have run for over a decade, Motley Fool Stock Advisor, has tripled the market.*
David and Tom just revealed what they believe are the 10 best stocks for investors to buy right now... and The Finish Line wasn't one of them! That's right -- they think these 10 stocks are even better buys.
Click here to learn about these picks!
*Stock Advisor returns as of August 1, 2017
Leo Sun owns shares of Amazon. The Motley Fool owns shares of and recommends Amazon, Nike, Under Armour (A Shares), and Under Armour (C Shares). The Motley Fool recommends DSW. The Motley Fool has a disclosure policy.