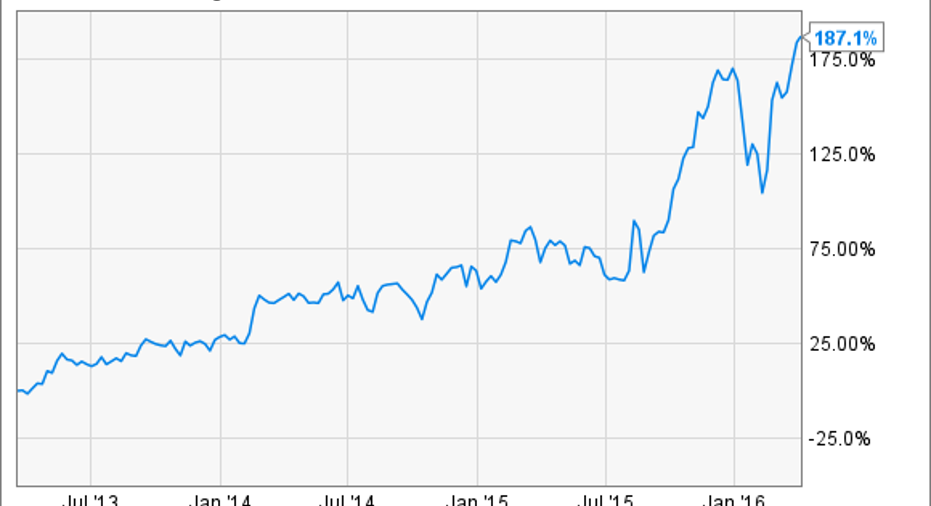 Image source: NVIDIA.
One of the hardest things all investors have to deal with is deciding when to sell. Sell too early, and you risk missing out on further gains. Sell too late, and you risk a decline that sends the stock tumbling. Deciding when to buy is much easier. Is the stock cheap, relative to earnings and growth prospects? If so, buy it. Otherwise, don't.
I first bought shares of graphics chip company NVIDIA in early 2013, adding to my position twice over the following months. The stock has surged over the past three years, nearly tripling from my lowest purchase price of $12.60 per share. The decision to buy was easy: NVIDIA was shockingly cheap and had a few major growth prospects that were being ignored by the market. Adjusting for the excess cash on the company's balance sheet, NVIDIA traded for a single-digit earnings multiple at the time, a price that seemed too good to be true. Meanwhile, the company's push into the enterprise and mobile markets created the potential for long-term growth.
I've sold pieces of my NVIDIA position a few different times over the past three years for various reasons, but recently, I've fully exited my position. My opinion of the company's growth prospects remains unchanged, but the valuation has risen to levels that don't make much sense.
A nosebleed valuationAt the moment, NVIDIA trades for about $36 per share, the highest level since late 2007. In fiscal 2016, the company generated record revenue of $5.01 billion, with growth being driven by strong sales of high-end gaming graphics cards, enterprise products, and automotive platforms. NVIDIA abandoned the mobile device market after attempting to become a major competitor with its Tegra SoCs, and now the focus of the Tegra segment is mostly automotive.
NVIDIA earned $1.08 per share on a GAAP basis in fiscal 2016, putting the P/E ratio at a lofty 33.3. The multiple is lower on a non-GAAP basis, but with much of the difference due to stock-based compensation, I'll stick with the GAAP figures. NVIDIA still has a large net cash position, and adjusting for this, the P/E ratio falls to about 27.8.
This valuation assumes that fairly rapid growth is going to occur going forward, and while there are certainly growth opportunities, there are some headwinds as well. First, NVIDIA recognizes $264 million of revenue each year from a cross-licensing agreement with Intel. That agreement expires next year, and the first quarter of fiscal 2018, which ends in April of 2017, will be the last quarter NVIDIA recognizes that revenue. It's unclear whether the agreement will be renewed, or if the amount of money changing hands will be adjusted. Under the worst-case scenario, all of this revenue goes away; excluding this revenue from fiscal 2016 results, GAAP EPS would have been about 35% lower, assuming everything else remains unchanged.
The second headwind is the very gaming GPU market that has driven NVIDIA's growth over the past few years. NVIDIA's unit share of the discrete graphics card market is roughly 80%, with Advanced Micro Devices claiming the rest. This is up from about 60% a couple of years ago, and it's unlikely that further market share gains are possible. With both NVIDIA and AMD set to launch new graphics cards this year, the best case scenario for NVIDIA is simply maintaining its current lead.
Growth comes at a priceThat's not to say NVIDIA's gaming GPU business can't growth. A shift to higher-end cards has been helping NVIDIA's results, and its GTX 970, which sells for around $350, is the most popular graphics card on the Steam gaming platform. The introduction of virtual reality headsets like the Oculus Rift can also drive sales of high-end graphics cards, as well as the increasing affordability of 4K screens. I expect NVIDIA's gaming business to continue to post solid results, but I don't think the growth will be enough to justify the valuation.
NVIDIA's other growth areas, namely datacenter and automotive, have long growth runways, but again, I think the valuation more than prices this growth in. During fiscal 2016, the datacenter segment generated $339 million of revenue, just 6.8% of the total, while the automotive segment generated $320 million, 6.4% of the total. These are still small parts of the overall business, and while growth will likely be brisk going forward, paying nearly 30 times earnings is tough to justify.
It was a hard decision to sell NVIDIA, and part of me wanted to hold on for the ride. But it seems to me that the best-case scenario, or close to it, needs to play out for the stock to outperform the market from its current price. As a value investor, I don't like betting on best-case scenarios, and without any margin of safety, it was time for me to end my stint as an NVIDIA shareholder.
The article Why I Sold NVIDIA Corp. originally appeared on Fool.com.
Timothy Green has no position in any stocks mentioned. The Motley Fool recommends Intel and Nvidia. Try any of our Foolish newsletter services free for 30 days. We Fools may not all hold the same opinions, but we all believe that considering a diverse range of insights makes us better investors. The Motley Fool has a disclosure policy.
Copyright 1995 - 2016 The Motley Fool, LLC. All rights reserved. The Motley Fool has a disclosure policy.