Why I Just Bought This Chinese Growth Company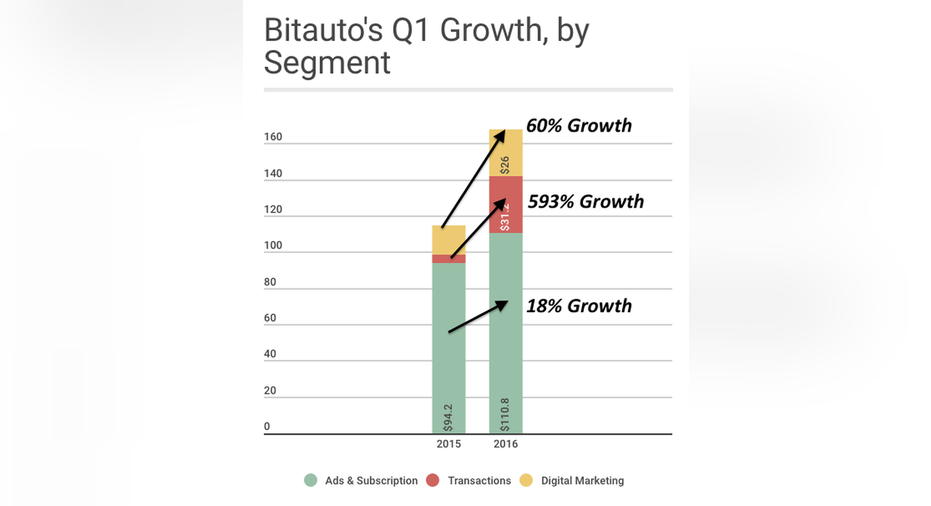 Image source: Getty Images
Just four years ago, I swore off Chinese small cap stocks altogether. The risks were too high, the businesses too opaque, and the volatility too much to handle. But that was then, and this is now. And I believe I've found a Chinese small cap worth investing in.
Let me introduce you to Bitauto
Bitauto was created in 2000 by William Bin Li.
Over the years, Bitauto has evolved markedly -- from an ad business, to a CRM platform, to a financer. It has had no problem growing sales: revenue more than tripled from 2013 to 2015, topping out at over $600 million.
Today, Bitauto has three main reporting segments.
1. Advertising and subscription business: This combines two of the backbones of Bitauto's core business. The first is simple advertising revenue.
The subscription revenue arrives via the company's EasyPass (EP) platform. In essence, this is a customer relationship management (CRM) tool that allows dealers to build websites, publish deals, and communicate with potential customers.
2. Transaction services: By far the newest offering, Bitauto dipped its toes into the auto-financing market in 2014. By partnering with Chinese-based Yixin Capital, Li looked to help Bitauto capitalize on a profitable opportunity, while also helping streamline a customer's online experience and make them more likely to purchase a car from a Bitauto-associated auto dealer.
3. Digital marketing solutions: This division gets its money by helping auto-dealers come up with ad campaigns. Sometimes, that means advertising on Bitauto sites, but it often involves third-party advertising as well.
Because the company recently reorganized into these three divisions, consistent historical performance is difficult to come by. Here's what we do have, via the company's first quarter release.
Image source: Created using Infogr.am. Data Source: SEC filings.
The two divisions that will determine the fate of this Chinese growth stock
Bitauto is not -- and will not be -- the only player looking to capitalize on the growing Chinese auto market. Autohome , for instance, is a larger company going after the exact same market. Whatever Bitauto can do for sustainable competitive advantages now will pay huge dividends in the future.
My thesis is built around two parts of the company that I believe will give it this advantage.
The first is the EP platform, which is now classified as the "subscription" half of the "advertising and subscription" division. The vast majority of Chinese citizens are new to the Internet -- something many American investors may not appreciate. As the company put it in its annual report:
"Internet usage in China is limited among the general population. China has a relatively low penetration rate compared to most developed countries... Many of our current or potential customers...may have limited experience with the Internet as an advertising and marketing medium."
The EP platform streamlines this whole process. It takes what is a dizzyingly complicated experience of navigating and trying to sell cars on the web and makes it very easy. That means that switching costs are very high if an auto-dealer ever wants to stop using the platform and transition to something else.
The second part of the company I'll be watching is the burgeoning transactions platform. While still in its infancy, it clearly has shown explosive growth over the past year. It went from just 4% of all revenues in the first quarter of last year to nearly 19% in just one year's time.
Like the EP platform, I think that, by offering a transaction solution to auto-dealers, Bitauto is again making switching costs very high. If all of your transaction data is with one company, can you imagine the headache of transferring all of the data to a new application?
What investors need to keep an eye on is whether or not management can balance growing revenues from the offering while not making overly risky loans to customers who have no hope of paying them back. While there's no evidence to suggest this is currently a threat, I believe it's prudent for investors to keep this in mind.
I'm not alone
Last month, some of the biggest names in China showed that they, too, believe in Bitauto. JD.com , Baidu , and Tencent -- along with a private equity firm that Li has a stake in -- invested a total of $200 million in Bitauto.
While Tencent and JD already had ownership stakes in the company, this was Baidu's first foray with Bitauto. While Bitauto didn't necessarily need the cash -- it had almost $580million in cash and equivalents on the books -- it further intertwines these major players.
As it stands today, Baidu now owns 3.2% of shares outstanding, with Tencent owning 7.1% and JD.com owning 23.5%. In addition to these three, American-based AutoTrader owns over 10% of shares outstanding. And perhaps most importantly, Bin Li upped his 14.7% stake in the company by purchasing shares via the private equity firm. That's an impressive level of skin in the game.
What it all means
The combination of this skin in the game, the endorsement of Chinese heavy-weights, and a business model that I see having significant staying-power have convinced me to dip back into Chinese small cap stocks.
Having said that, Bitauto shares still make up less than 2% of my real-life holdings. The risks of opacity and a quickly changing market are still there, and if the company continues to do well, I'll have plenty of opportunities to buy in later.
The article Why I Just Bought This Chinese Growth Company originally appeared on Fool.com.
Brian Stoffel owns shares of Baidu, Bitauto Holdings, and Bitauto Holdings. The Motley Fool owns shares of and recommends Baidu. Try any of our Foolish newsletter services free for 30 days. We Fools may not all hold the same opinions, but we all believe that considering a diverse range of insights makes us better investors. The Motley Fool has a disclosure policy.
Copyright 1995 - 2016 The Motley Fool, LLC. All rights reserved. The Motley Fool has a disclosure policy.