Why I Don't Trust AMD's Guidance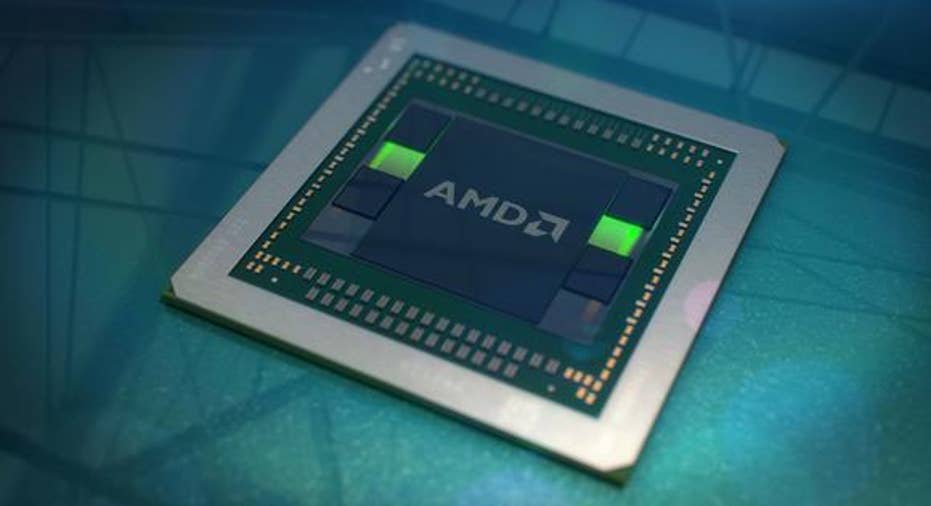 Image source: AMD.
It's finally happening. After years of struggling with a weak PC market and share losses to both Intel and NVIDIA , Advanced Micro Devicesexpects its turnaround efforts to pay off during the second half of the year. AMD's guidance calls for revenue growth in 2016, along with a return to non-GAAP operating profitability during the second half. All of those qualifiers before the word profitability means that AMD will still almost certainly post a net loss, but hitting this guidance would mark a vast improvement compared to the second half of 2015. Shares of AMD exploded higher when the company unveiled this guidance along with its first-quarter report.
But AMD investors may be counting their chickens before they hatch. When I first read AMD's guidance, I was overcome with a sense of deja vu. This all seemed very familiar. It turns out that the company provided very similar guidance last year, only to abandon those targets a few months later. Given AMD's history of overly optimistic outlooks, I just don't trust the company's guidance.
A guidance disasterAMD held an analyst day event in May 2015 where the company outlined its strategy and provided its outlook for the rest of the year. AMD expected great things during the second half 2015, including revenue growth, a non-GAAP net profit, and positive free cash flow. Here's a rundown of its guidance for the second half of 2015:
| Item | Guidance |
| --- | --- |
| Revenue | Up 15% +/- 3% from first half |
| Gross margin | 32% to 34% |
| Net income | Positive |
| Cash | $800 million to $1 billion |
| Free cash flow | Positive |
All figures except revenue and cash non-GAAP. Data source: AMD 2015 analyst day presentation.
Unfortunately for AMD, the PC market performed far worse than the company expected. During AMD's Q2 2015 earnings conference call, less than three months after the analyst day event, the company was forced to abandon this outlook, with CFO Devinder Kumar stating that the goal of profitability had been pushed back.
Here's are AMD's actual results for the second half of 2015.
| Item | Guidance |
| --- | --- |
| Revenue | Up 2.3% from first half |
| Gross margin | 25.9% |
| Net income | ($215 million) |
| Cash | $785 million |
| Free cash flow | ($63 million) |
All figures except revenue and cash non-GAAP. Source: AMD Q3 & Q4 2015 earnings reports.
Revenue barely grew compared to the first half, both free cash flow and net income were soundly negative, and the company's cash balance fell below the low end of its guidance. AMD wasn't even in the ballpark.
Will it be different this time around?AMD's 2015 guidance assumed that the PC market would improve, driven by the release of Windows 10. That didn't happen. This year, AMD is working under the assumption that the PC market will continue to be weak. That makes the company more likely to hit its guidance this time around, with less room for a negative surprise when it comes to PC sales.
AMD will get a revenue boost during the second half thanks to the ramping of revenue from additional semi-custom design wins that the company has previously announced. These three deals are expected to generate around $1.5 billion of total revenue over the course of the next three to four years. AMD didn't say exactly how much revenue will be recognized from these deals this year, only that it will take time to ramp.
These deals alone won't be enough push AMD into the black during the second half. AMD pointed to graphics as the second area responsible for its second half expectations. New graphics cards based on Polaris, AMD's upcoming graphics architecture, are set to launch in the next few months, and AMD will be aiming to win back considerable market share from NVIDIA. During the fourth quarter of 2015, AMD shipped just 21.1% of graphics cards, leaving NVIDIA with the lion's share of the market. Historically, AMD's share has been closer to 40%.
NVIDIA will be launching new graphics cards of its own this year, based on its upcoming Pascal architecture, so there's no guarantee that Polaris will be a big enough success for AMD to hit its guidance. Polaris will reportedly be focused on the mainstream market, according to Ars Technica, a move which could leave NVIDIA unchallenged at the high end.
I think AMD has a better chance of hitting its guidance this year than it did last year, especially given the additional semi-custom revenue. But AMD's business has proven to be very difficult to predict, and both the PC market and AMD's ability to regain graphics share remain wild cards. If AMD manages to hit its guidance for the second half, it would be the first real sign that the core business is turning around. But I would take the company's guidance with a grain of salt.
The article Why I Don't Trust AMD's Guidance originally appeared on Fool.com.
Timothy Green has no position in any stocks mentioned. The Motley Fool owns shares of and recommends NVIDIA. The Motley Fool recommends Intel. Try any of our Foolish newsletter services free for 30 days. We Fools may not all hold the same opinions, but we all believe that considering a diverse range of insights makes us better investors. The Motley Fool has a disclosure policy.
Copyright 1995 - 2016 The Motley Fool, LLC. All rights reserved. The Motley Fool has a disclosure policy.