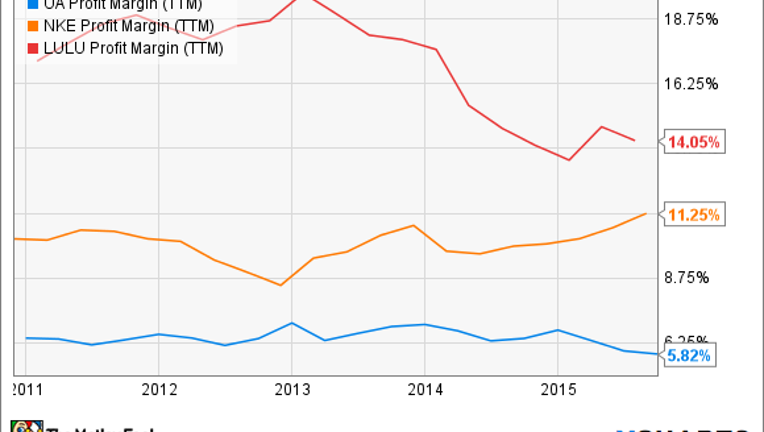 Lululemon store in New York City. Photo: Lululemom
Lululemon Athletica has recently suffered from a volatile track record with product recalls, management issues, inventory challenges, and a declining profit margin. As a result, the stock has seesawed over the last two years and is now down about 25% from its 2015 highs. Many on Wall Street think this is an opportunity to buy in before the stock stages its comeback -- bulls include Sanford C. Bernstein (outperform on Nov. 14),Credit Suisse (outperform on Oct. 16), Citigroup (initiating coverage with buy rating on Oct. 6), and others.
Ready for a comeback?There are reasons to be bullish on Lululemon right now. During the most recent quarter, the company reported a 16% jump in sales year-over-year, thanks to success with a growing men's wear line and online sales. Additionally, the company is expanding its physical footprint as it has crossed the milestone of 300 physical stores this year and released plans for a 11,500 sq. ft. flagship store in New York City, which will help the company to test new sales strategies.
Lululemon also looks like it might be a value play due to its recent price drop -- the stock is now trading cheaper than competitors likeNikeandUnder Armourat just 28 times fiscal 2015 earnings. However, looks can be deceiving. Here are three reasons this company might deserve its lower valuation.
Margins under pressureLululemon's profit margin remains one of the best in the industry, above that of eitherNike or Under Armour.However that same margin has been steadily declining in the last two years, and the company's revenue growth isn't enough to keep up. In its fiscal second quarter, the company reported a 2% year-over-year drop in income.
UA Profit Margin (TTM) data by YCharts
As the company faces more competition in its main product lines, it's unlikely the company will be able to leverage its pricing power to raise margins. Furthermore the company has reported a large surge in inventory on its balance sheet, one more reason it is likely to lower prices to move product, further pressuring margins.
And as that margin is squeezed, Lululemon will likely continue to post negative or flat profits, regardless of growing revenue. If this profit margin decrease were going toward investments in new products or international growth, that would be one thing, but as you will see below, neither of those areas look very compelling.
Unimpressive international growthThe company initially expanded to Japan and Australia but exited Japan in 2009. Its growth in Australia seems to have tapered off with just one new store opening there last year, bringing the total to 26. Management is now focused on opening more stores in Europe and Asia and in fiscal year 2014, added a single store in Singapore and two in the U.K.
The company is undoubtedly growing its international footprint, with revenue outside of North America up 24% in fiscal year 2014 year-over-year. However,that's coming from a very low base as it still accounted for less than 6% of the top line.When it comes to investing in international growth, compare Lululemon's 24% international sales growth to Under Armour's 96% over the same period. For the amount that margins have declined due to these investments, Lululemon's international results are lacking.
Little differentiationLastly, there is a serious lack of diversification or product segmentation. Look at all of the ways Nike and Under Armour segment their businesses. They are growing in many different sports, activities, and across product lines. This is especially true when it comes to technology. Under Armour released its first mobile app geared toward what it calls Connected Fitness last year, and the company reported they already have over 150 million Connected Fitness users as of Oct. 2015. Nike is offering interesting customization called NikeID that allows customers to use its app or go online to design products just as they want it. The company is even experimenting with 3D technology, which could allow consumers even more freedom in getting what they want right when they want it.
Lululemon has very little segmentation. It's great for a company to know what it's good at and to focus on making that product really well. However, as Lululemon sticks to its core product of high priced workout apparel, other companies are quickly swooping in, from the major players to smaller companies like Fitbox and Rhonewhich are working to offer the same quality and feel as without the high price tag.
Not a good valueWhile Lululemon could definitely make a comeback, there doesn't seem to be a strong argument for why the stock deserves a stronger valuation. Its price-to-earnings is low compared to Nike and Under Armour, but it's well above the apparel industry average of about 19 times.
Until the company begins to show signs of stabilizing margins or better returns on its international investments, I would look elsewhere for a good value.
The article Why I Am Still a Lululemon Athletica Inc. Bear originally appeared on Fool.com.
Bradley Seth McNew owns shares of Nike and Under Armour. The Motley Fool owns shares of and recommends Lululemon Athletica, Nike, and Under Armour. Try any of our Foolish newsletter services free for 30 days. We Fools may not all hold the same opinions, but we all believe that considering a diverse range of insights makes us better investors. The Motley Fool has a disclosure policy.
Copyright 1995 - 2015 The Motley Fool, LLC. All rights reserved. The Motley Fool has a disclosure policy.