Why Hudson Technologies, Inc. Stock Slumped 17% Today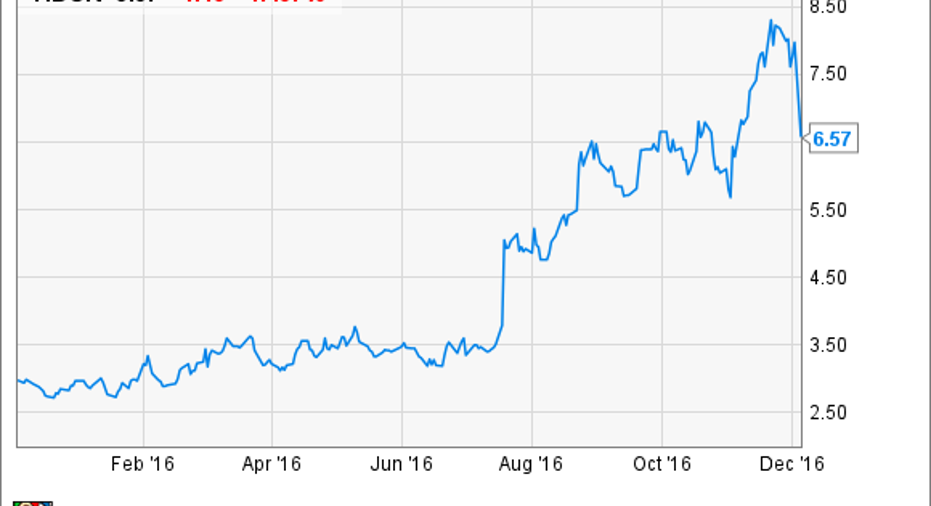 What happened
Hudson Technologies (NASDAQ: HDSN) stock is going over the waterfall today, down 17.2% as of 11:45 a.m. EST on news of a big secondary stock offering.
So what
Hudson Technologies' stock took off like a rocket this past summer after announcing a big five-year contract to perform refrigerants reclamation for the Department of Defense. It hasn't looked back since. In fact, according to data from Yahoo! Finance, Hudson stock is up a whopping 171% over the past year.
With its stock now worth nearly triple what it was worth just a few short months ago, Hudson apparently feels the time is ripe to take some chips off the table and convert some of its richly appreciated stock into some cold, hard cash that it can put to use to grow its business.
Now what
Hudson plans to sell as much as $45 million worth of new stock -- or $51.8 million worth if underwriters exercise their overallotment option in full. Such an offering would dilute existing shareholders by 22%. (Insiders also plan to sell some stock -- about $4 million worth -- but this would not dilute other shareholders.)
Dilution is rarely a welcome announcement for shareholders, but investors selling off Hudson in response to this news may be jumping the gun. They may own a smaller proportion of Hudson's overall share count after this stock offering, but the value of those share holdings may grow as the company shores up its balance sheet.
Among other things, $51.8 million in new cash (or a bit less after fees) would suffice to completely eliminate the company's $19.4 million debt load, which is one goal management named expressly as a possible use of the cash. The new cash could fund a dividend or pay for opportunistic acquisitions at favorable valuations. Most importantly, raising cash by selling shares now means Hudson may have less need to sell them at less attractive valuations should their price decline at some future date.
That's a possibility you shouldn't discount, not least because it's exactly what is happening to Hudson Technologies' stock today.
10 stocks we like better than Hudson Technologies When investing geniuses David and Tom Gardner have a stock tip, it can pay to listen. After all, the newsletter they have run for over a decade, Motley Fool Stock Advisor, has tripled the market.*
David and Tom just revealed what they believe are the 10 best stocks for investors to buy right now... and Hudson Technologies wasn't one of them! That's right -- they think these 10 stocks are even better buys.
Click here to learn about these picks!
*Stock Advisor returns as of Nov. 7, 2016
Fool contributorRich Smithdoes not own shares of, nor is he short, any company named above. You can find him onMotley Fool CAPS, publicly pontificating under the handleTMFDitty, where he currently ranks No. 340 out of more than 75,000 rated members.
The Motley Fool has no position in any of the stocks mentioned. Try any of our Foolish newsletter services free for 30 days. We Fools may not all hold the same opinions, but we all believe that considering a diverse range of insights makes us better investors. The Motley Fool has a disclosure policy.