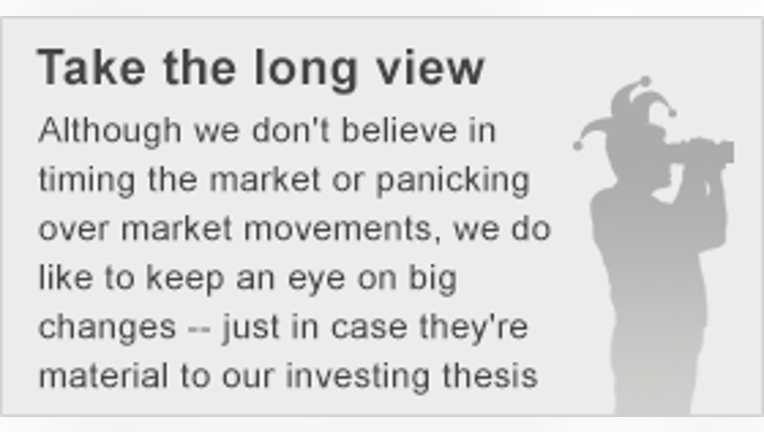 Source: HP, edited by the author.
What: Shares of HP fell as much as 16.3% on Wednesday before recovering to a 14% drop at 12:27 p.m. Eastern time. Both HP and sister company Hewlett-Packard Enterprise reported fourth-quarter results on Tuesday night, with sharply divided market responses. The Enterprise stock surged as much as 8.5% higher on Wednesday morning before backing down to a 2.1% gain
So what: Because a single press release contained results for both the consumer-oriented HP and the business-focused Hewlett-Packard Enterprise, then compared them to results from the combined company in the year-ago period, these results can be confusing even to battle-harden veteran investors.
That being said, the two companies combined for $25.7 billion of fourth-quarter revenues, down 9% year over year. Adjusted earnings stopped at $0.93 per diluted share, a 12% year-over-year decline.
These results fell short of the combined analyst projections for HP and Enterprise, which added up to sales in the region of $26.4 billion and earnings near $0.98 per share. Meanwhile, Hewlett-Packard Enterprise's total segment revenues came in 5% above analyst estimates.
Now what: If your head is spinning from these conflicting and vague numbers, you're not alone. Splitting the old Hewlett-Packard in half has not done anything to clarify how each business operates. So far, the effect is more like the exact opposite.
The only segment reporting year-over-year sales growth in this quarter was the core enterprise group, up 2% in constant currency. Everything else headed south, led by 14% lower sales of both printing products and personal systems.
Then again, it's not entirely clear that you should trust the Enterprise sales numbers as stated. That $14.1 billion figure was arrived at by adding the company's various business-class segment sales. The "Total HP" result backs out $1.1 billion of inter-segment net revenues, and I'm not at all sure how that works out for Enterprise investors.
In other words, HP and Hewlett-Packard Enterprise may have changed on the surface, but the two halves are still very deeply intertwined -- exactly as predicted. If Enterprise coughs, HP gets a cold.
HP had been surging in the last few market days before this report while Enterprise lagged behind. Wednesday's market action brought them closer together, both having fallen a little since the beginning of November.
The article Why HP Inc. Dropped on Wednesday originally appeared on Fool.com.
Anders Bylund has no position in any stocks mentioned. The Motley Fool has no position in any of the stocks mentioned. Try any of our Foolish newsletter services free for 30 days. We Fools may not all hold the same opinions, but we all believe that considering a diverse range of insights makes us better investors. The Motley Fool has a disclosure policy.
Copyright 1995 - 2015 The Motley Fool, LLC. All rights reserved. The Motley Fool has a disclosure policy.