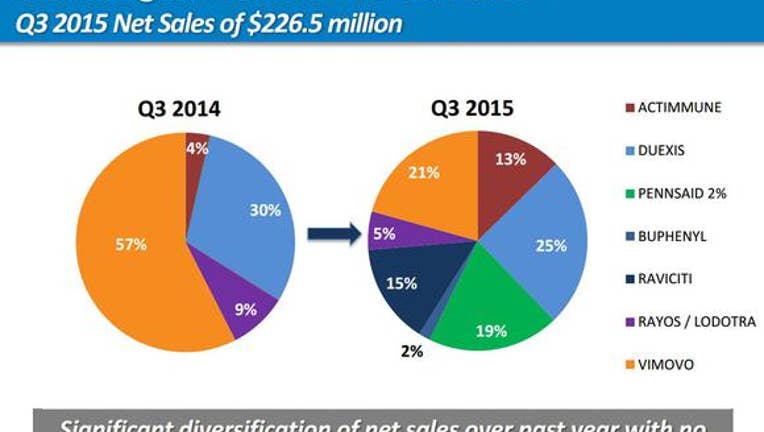 Image source: Horizon Pharma plc.
What: Revenue- and profit-boosting acquisitions drove record sales and profit last year, leading to shares in Horizon Pharma plc soaring 68.1% in 2015, according to Capital IQ.
So what: Thanks to a M&A-hungry approach to growth, revenue at Horizon Pharma plc surged 202% year over year to $226.5 million in the third quarter.
The biggest reason behind the increase is Duexis, a combination of ibuprofen and famotidinethat racked up sales of $56.9 million, up 150% from last year.
Revenue also remained strong for Vimovo, a combination drug consisting of the NSAID Motrin and the antacid Pepcid that is used to fight ulcers in arthritis patients at risk of developing NSAID-related ulcers. Sales of Vimovo totaled $46.8 million in the quarter.
Additionally, sales of Pennsaid 2% reached $43.9 million, up 49% from the second quarter, and sales of Rayos grew 106% quarter over quarter to $11.7 million.
Image source: Horizon Pharma plc.
Leveraging the spike in sales against fixed costs resulted in Horizon Pharma delivering non-GAAP EPS of $0.70 in Q3, a whopping 268% improvement from last year.
Now what: A big part of Horizon Pharma's strategy has been the acquisition of existing medications in order to rebrand them with higher price tags. That business model has come under fire following the high-profile exploits of Martin Shkreli, who was made infamous this fall for buying a decades-old drug used to fight parasitic infection only to increase its price by more than 5,000%.
Because this rebranding strategy is increasingly drawing the ire of insurers and politicians, it's uncertain whether any blowback could damage Horizon Pharma's cash cows.
Although that risk shouldn't be ignored, investors should know that the company isn't resting on its laurels. This summer, the company launched a now-failed bid to acquire rival Depomed Inc. and its platform of pain drugs, and in December, Horizon Pharma inked a $510 million deal to buy privately held Crealta Holdings to get its hands on Krystexxa, a therapy for gout.
Given the company has over $680 million in cash and management is predicting that its sales will hit $2 billion in 2020, it would appear there's still a lot of potential growth ahead for this company, assuming, of course, that drug prices don't end up falling significantly lower.
The article Why Horizon Pharma plc Shares Jumped 68% in 2015 originally appeared on Fool.com.
Todd Campbell owns shares of DepoMed,. Todd owns E.B. Capital Markets, LLC. E.B. Capital's clients may have positions in the companies mentioned. The Motley Fool has no position in any of the stocks mentioned. Try any of our Foolish newsletter services free for 30 days. We Fools may not all hold the same opinions, but we all believe that considering a diverse range of insights makes us better investors. The Motley Fool has a disclosure policy.
Copyright 1995 - 2016 The Motley Fool, LLC. All rights reserved. The Motley Fool has a disclosure policy.