Why Hershey Co. Stock Gained 16% in 2016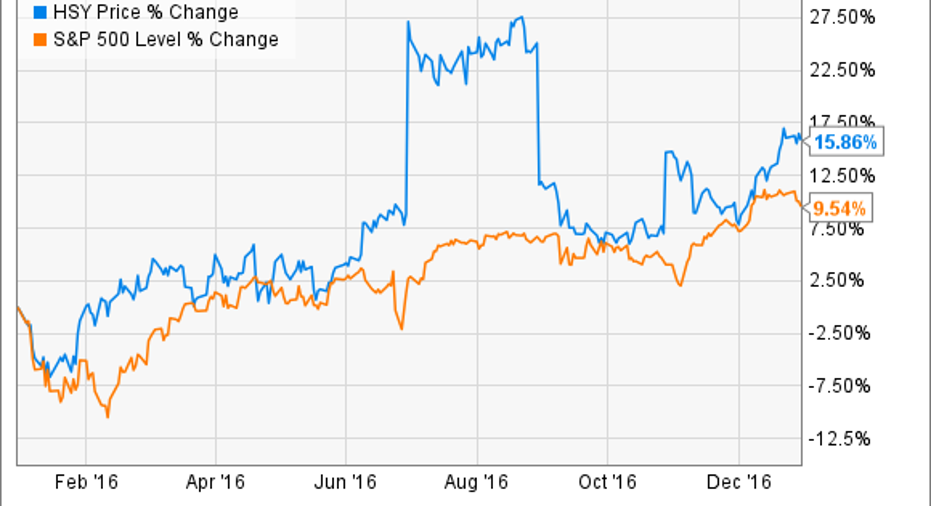 What happened
Sweets specialist Hershey (NYSE: HSY) enjoyed market-beating gains of 16% last year, according to data provided by S&P Global Market Intelligence.
The stock had been higher by nearly 30% at one point in the year following a buyout offer from global snacks giant Mondelez (NASDAQ: MDLZ). As hopes for the unsolicited acquisition dwindled, though, Hershey's stock settled back.
So what
Hershey saw weak but steady sales gains last year. A sharp drop in the first quarter gave way to more solid demand in the second and third quarters. However, sluggish market conditions and rising competition in the candy segment forced Hershey to lower its full-year revenue outlook to 1% from the 1.5% that CEO John Bilbrey and his executive team had initially projected.
Image source: Hershey.
The company managed to keep its gross profit margin steady while cost cuts helped operating profit spike to 18% of sales in the first nine months of the year, up from 13% in the previous year. Despite flat overall revenue, adjusted profit rose 7% through the first nine months of the year.
Its final quarterly announcement of the year didn't give investors much to celebrate, however. Sales growth fell in the key U.S. market to below 2% from 3.5% in the prior quarter. The expansion pace also declined internationally, falling to 7.5% from 13%.
Now what
Hershey's estimated 1% annual sales increase should deliver earnings growth of about 5% for the full year, and continued expense discipline will likely make that expansion pace easy to maintain even in a slow-growing industry. But the company hopes that innovation like the recently released Cookie Layer Crunch Bar will fuel a return to more substantial sales growth.
Meanwhile, the stock is valued at a hefty premium of over 3 times sales, compared to around 2.5 times for comparable rivals. That's one more reason why investors shouldn't bet on an acquisition moving shares higher, but instead keep their focus on whether Hershey is succeeding at speeding up its organic growth pace in 2017.
10 stocks we like better than The Hershey Company When investing geniuses David and Tom Gardner have a stock tip, it can pay to listen. After all, the newsletter they have run for over a decade, Motley Fool Stock Advisor, has tripled the market.*
David and Tom just revealed what they believe are the 10 best stocks for investors to buy right now... and The Hershey Company wasn't one of them! That's right -- they think these 10 stocks are even better buys.
Click here to learn about these picks!
*Stock Advisor returns as of January 4, 2017
Demitrios Kalogeropoulos has no position in any stocks mentioned. The Motley Fool has no position in any of the stocks mentioned. The Motley Fool has a disclosure policy.