Why Heartware International's Shares Are Sinking 12% Today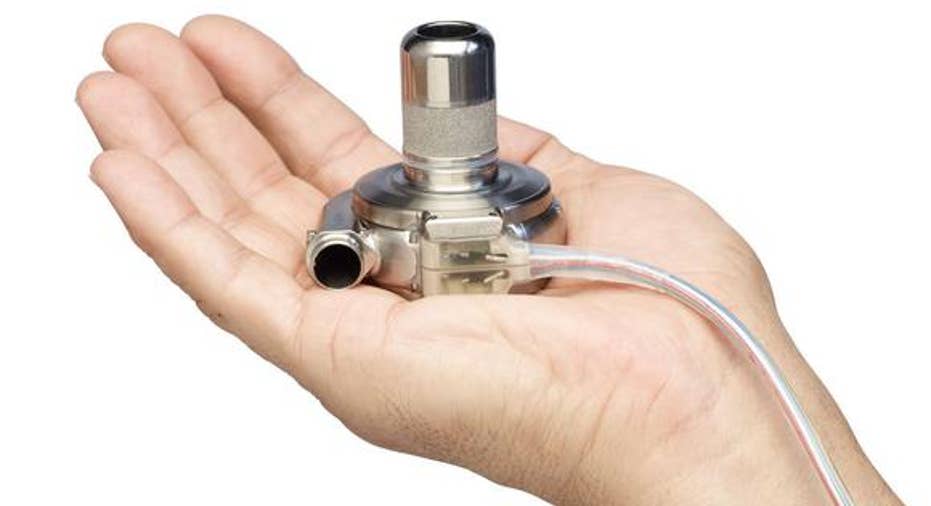 SOURCE: HEARTWARE INTERNATIONAL, INC.
What:After reporting first-quarter financial results that fell shy of industry watchers' forecasts, shares ofHeartware International were tumbling by 12.4% at 11:30 a.m. EST.
So what: The maker of implantable pumps, which can assist heart function, reported sales and losses of $55.07 milion and $0.95 per share, respectively, in the first quarter. Those results were short of analysts' projections for sales of $59.9 million and a loss of $0.79 per share.
Revenue was down from $70 million in the first quarter of 2015, and it marks yet another in a string of sequential quarterly sales declines for the company.
HTWR Revenue (TTM) data by YCharts.
In the company's earnings release, management reported greater than 20% declines overseas and in the United States. U.S. sales dropped because the company's implants are only approved as a bridge to transplant, rather than a destination therapy. Because reimbursement is easier for destination therapy, more patients are being treated that way.
Overall, 578 HVAD Systems were sold globally last quarter, a 19% decrease from the first quarter of 2015.
Now what: It's been a struggle for Heartware investors. The company's efforts to develop a smaller version of its pumps have been delayed because of adverse events. Research is ongoing into the cause of those events, but no timeline has been given yet on when trials may resume, or if the device needs to be scrapped and reengineered. Additionally, while the company is working on gaining approval as a destination therapy, the current trends away from bridge-to-transplant treatment are creating major headwinds.
Last quarter, the company's operating expenses totaled $47 million, and the company has $189 million in cash and cash-like investments on its books, down from $244 million at the end of 2015, so the company could need to raise some additional funding at some point. Overall, until Heartware can win approval for its devices as a destination therapy, reverse the slide in unit volume, or right-size expenses so that it can become profitable, there are probably better investments to consider than this company's stock.
The article Why Heartware International's Shares Are Sinking 12% Today originally appeared on Fool.com.
Todd Campbell has no position in any stocks mentioned.Todd owns E.B. Capital Markets, LLC. E.B. Capital's clients may have positions in the companies mentioned. Like this article? Follow him onTwitter where he goes by the handle@ebcapitalto see more articles like this.The Motley Fool has no position in any of the stocks mentioned. Try any of our Foolish newsletter services free for 30 days. We Fools may not all hold the same opinions, but we all believe that considering a diverse range of insights makes us better investors. The Motley Fool has a disclosure policy.
Copyright 1995 - 2016 The Motley Fool, LLC. All rights reserved. The Motley Fool has a disclosure policy.