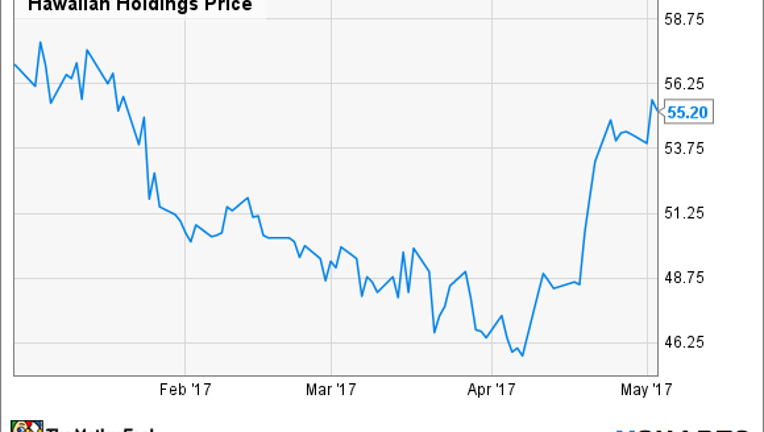 What happened
Most airline stocks had a quiet month in April. Industry earnings plunged during the first quarter due to rising fuel and labor costs, but investors were content to overlook this earnings weakness based on improving unit revenue trends across the sector.
However, Hawaiian Holdings (NASDAQ: HA) stood out last quarter as one of the few U.S. airlines to expand its profit margin and grow its earnings per share. As a result, investors drove Hawaiian Holdings stock up 17% during the month of April, according to data from S&P Global Market Intelligence. This offset nearly all of the stock's losses from the previous three months:
Hawaiian Holdings year-to-date stock performance, data by YCharts.
So what
Most U.S. airlines are just starting to return to unit revenue growth after more than two years of declining fares. However, Hawaiian Airlines' unit revenue recovery began about a year ago -- and it is still gaining steam.
Back in January, Hawaiian's management projected that the carrier would log a solid increase of 4% to 7% in revenue per available seat mile (RASM) during the first quarter. This forecast was actually too conservative, though. Early last month, Hawaiian Airlines raised its first-quarter RASM guidance, calling for an increase of 6.5% to 8%. The company ultimately reported a 7.6% year-over-year RASM gain for the quarter.
Hawaiian Airlines' unit revenue is surging. Image source: Hawaiian Airlines.
This stellar unit revenue result was the primary driver of Hawaiian Holdings stock's gains last month. Indeed, Hawaiian's RASM growth allowed it to overcome steep cost headwinds to post a 17% year-over-year increase in its adjusted profit for the first quarter.
Now what
Hawaiian Airlines' revenue momentum remains strong. Management forecast that RASM will rise 5.5% to 8.5% this quarter. That should be enough to offset the company's cost headwinds once again.
Looking further ahead, Hawaiian's unit revenue growth is likely to moderate as year-over-year comparisons become increasingly difficult. However, cost performance should start to improve, especially as Hawaiian ramps up service with its new fleet of A321neos during 2018 and 2019. This could enable further earnings growth and share-price gains for Hawaiian Holdings in the years ahead.
10 stocks we like better than Hawaiian HoldingsWhen investing geniuses David and Tom Gardner have a stock tip, it can pay to listen. After all, the newsletter they have run for over a decade, Motley Fool Stock Advisor, has tripled the market.*
David and Tom just revealed what they believe are the 10 best stocks for investors to buy right now... and Hawaiian Holdings wasn't one of them! That's right -- they think these 10 stocks are even better buys.
Click here to learn about these picks!
*Stock Advisor returns as of May 1, 2017
Adam Levine-Weinberg is short October 2017 $50 puts on Hawaiian Holdings. The Motley Fool has no position in any of the stocks mentioned. The Motley Fool has a disclosure policy.