Why Hawaiian Holdings, Inc. Stock Slumped 11% in April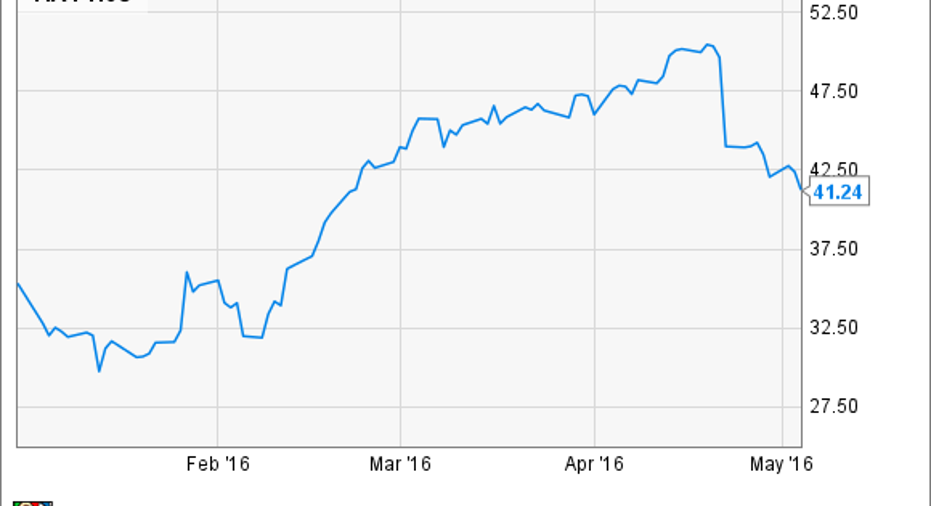 Hawaiian Holdings stock crashed in April. Image source: Wikimedia Commons.
What: Shares of leisure-oriented airline Hawaiian Holdings rallied more than 50% between early February and early April. However, the stock fell 11% last month, according to data provided by S&P Global Market Intelligence.
Hawaiian Holdings YTD Stock Performance, data by YCharts.
So what: The bulk of Hawaiian's share price decline last month came on the day after it released its Q1 earnings report. That was somewhat surprising, because the company's adjusted earnings per share more than doubled year over year to $0.80, beating the average analyst estimate of $0.76.
However, investors zeroed in on the company's Q2 outlook, which didn't quite meet the market's expectations. Furthermore, the stock's 50% rally in the months leading up to the earnings report indicates that investors had very high expectations going in. That put the stock at risk for a big decline if there were any bad news.
Hawaiian stock was also probably hurt by the weak results posted at several other airlines with big international operations like United Continental . For example, passenger revenue per available seat mile slumped 7.4% at United Continental last quarter, and the company expects another big decline of 6.5%-8.5% in Q2.
Hawaiian Airlines is subject to many of the same revenue trends that affect larger peers like United. As a result, bad results elsewhere in the airline industry will make investors nervous about Hawaiian's prospects.
Now what: Nevertheless, it's important to remember that Hawaiian Airlines has reported much more favorable revenue trends than United Continental and the other legacy carriers. It is benefiting from low capacity growth in the key West Coast-Hawaii market, the strengthening yen, and easy comparisons.
While Hawaiian's Q1 unit revenue came in near the low end of the company's guidance, management expects unit revenue to be roughly flat on a year-over-year basis in Q2. Moreover, demand for the peak summer season looks very good, which should drive strong earnings for Q3.
After its recent pullback, Hawaiian Holdings stock trades for less than nine times projected 2016 earnings. That's a very cheap price to pay for a company that is still firing on all cylinders and has ample room for growth.
The article Why Hawaiian Holdings, Inc. Stock Slumped 11% in April originally appeared on Fool.com.
Adam Levine-Weinberg owns shares of Hawaiian Holdings, and United Continental Holdings, and is short Oct. 2016 $50 calls on Hawaiian Holdings, The Motley Fool has no position in any of the stocks mentioned. Try any of our Foolish newsletter services free for 30 days. We Fools may not all hold the same opinions, but we all believe that considering a diverse range of insights makes us better investors. The Motley Fool has a disclosure policy.
Copyright 1995 - 2016 The Motley Fool, LLC. All rights reserved. The Motley Fool has a disclosure policy.