Why Hawaiian Holdings, Inc. Stock Fell 10.6% in January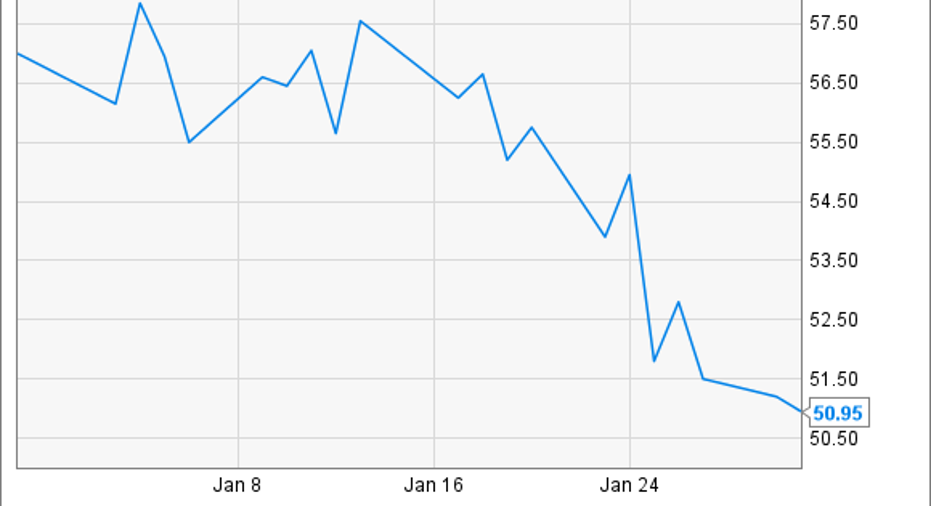 What happened
Following a stellar 2016, Hawaiian Holdings (NASDAQ: HA) shares quickly ran into trouble in 2017. While the Hawaiian Airlines parent released a strong Q4 earnings report last month, Hawaiian Holdings stock still declined 10.6% during January, according to data from S&P Global Market Intelligence.
Hawaiian Holdings January Stock Performance, data by YCharts.
So what
On January 24, Hawaiian Holdings reported that adjusted earnings per share totaled $1.28 in the fourth quarter of 2016. That matched the average analyst estimate and was up about 50% year over year.
Hawaiian's stellar earnings performance was driven by industry-leading unit revenue results. While most other airlines are still reporting declines in revenue per available seat mile (RASM), Hawaiian Airlines generated 6% RASM growth last quarter. The company expects to post a similar RASM gain in the first quarter of 2017.
That didn't satisfy investors, though. Instead, many investors seemed to zero in on Hawaiian Airlines' rising costs. Hawaiian forecast that non-fuel unit costs would rise at a mid-single-digit rate in 2017. This doesn't include the potential impact of a new pilot contract, which could drive costs much higher. Furthermore, fuel costs are rising again on a year-over-year basis.
Hawaiian Airlines faces rising unit costs in 2017. Image source: Hawaiian Airlines.
Additionally, CEO Mark Dunkerley confirmed on Hawaiian's earnings call that the airline's first three Airbus (NASDAQOTH: EADSY) A321neo aircraft are no longer expected to arrive in time to enter service this year. That's unfortunate, because Hawaiian Airlines is counting on those planes to reduce its unit costs and open up new West Coast-Hawaii markets.
Now what
Even with unit costs on the rise and the Airbus A321neos arriving a few months late, analysts expect Hawaiian Airlines to hold its earnings per share roughly flat on a year-over-year basis in 2017. Yet the company has strong earnings growth potential for the next several years.
Despite the short-term delivery delays at Airbus, Hawaiian Airlines still expects to have 17 A321neos operating by the end of 2019. Meanwhile, it will retire the last of its aging, high-cost 767s in late 2018. These moves will allow Hawaiian to modestly improve its non-fuel unit costs, significantly reduce its fuel consumption, and better match capacity to demand in several markets.
Thus, while Hawaiian Holdings faces some cost pressures right now, the transition to the ultra-efficient Airbus A321neo fleet should benefit unit costs in 2018 and beyond. That sets the stage for a return to margin expansion if the revenue environment remains relatively strong.
10 stocks we like better than Hawaiian HoldingsWhen investing geniuses David and Tom Gardner have a stock tip, it can pay to listen. After all, the newsletter they have run for over a decade, Motley Fool Stock Advisor, has tripled the market.*
David and Tom just revealed what they believe are the 10 best stocks for investors to buy right now... and Hawaiian Holdings wasn't one of them! That's right -- they think these 10 stocks are even better buys.
Click here to learn about these picks!
*Stock Advisor returns as of February 6, 2017
Adam Levine-Weinberg has no position in any stocks mentioned. The Motley Fool has no position in any of the stocks mentioned. The Motley Fool has a disclosure policy.