Why Hasbro, Inc. Stock Popped 17.4% in February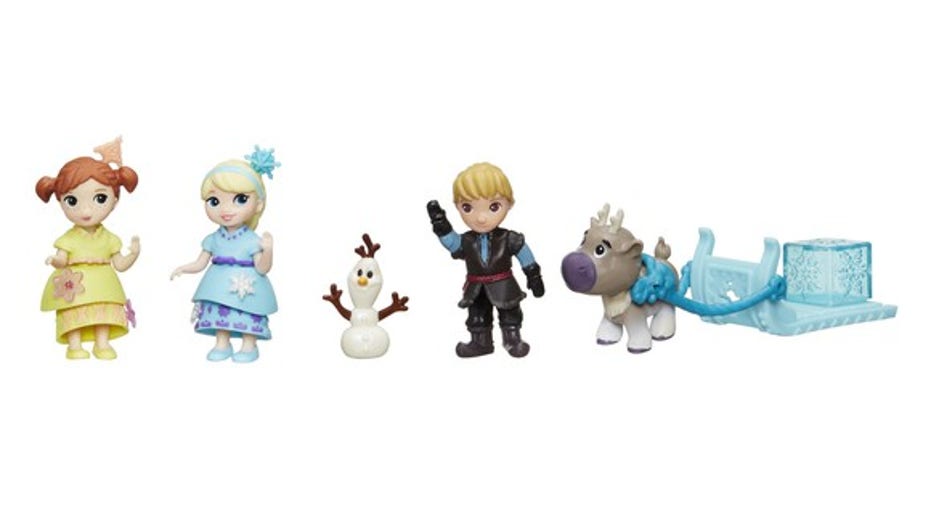 What happened
Shares of Hasbro, Inc. (NASDAQ: HAS)jumped 17.4% in the month of February,according to data provided byS&P Global Market Intelligence, after the toy and games specialist announced strong fourth-quarter 2016 results.
So what
Hasbro stock jumped more than 14% on Feb. 6, 2017, when the company revealed that fourth-quarter revenue grew 11% year over year, to $1.63 billion, helping the company exceed $5 billion in annual sales for the first time. On the bottom line, that translated to 17.9% growth in adjusted net income, to $207.4 million, or $1.64 per share. Both figures were well ahead of Wall Street's expectations, which called for revenue of $1.50 billion and adjusted net income of $1.27 per share.
Frozen-themed toys helped boost Hasbro's girls category in 2016, IMAGE SOURCE: HASBRO.
Perhaps most notable for the full year, Hasbro's girls category revenue climbed a whopping 50% in 2016, to $1.19 billion, thanks to shipments of its line of Disney princess and Disney Frozen fashion and small dolls, as well as a successful launch of Dreamworks' Trolls and Baby Alive products. Revenue on the boys side grew at a more modest 4% last year, to $1.85 billion, helped by strength in the company's NERF and Yo-Kai Watch brands.
Now what
Hasbro doesn't typically provide specific financial guidance. But the company did increase its quarterly dividend by 12%, to $0.57 per share, noting it exited 2016 with strong momentum and well positioned to execute against a strong plan for the coming year.
In particular, Hasbro looks forward to taking advantage of its partnerships to capitalize on a number of promising cinematic releases in 2017, including Disney's Beauty and the Beast in March, Guardians of the Galaxy Vol. 2 in May, Spider Man: Homecoming in July, and Thor: Ragnarok next November. What's more, Hasbro should benefit from increased visibility of its own brands through the releases of Transformers: The Last Night in June, and My Little Pony: The Movie, in October.
All in all, there was little not to like about Hasbro's performance as it capped 2016, and plenty that investors can look forward to this year. Even with shares trading near all-time highs, Hasbro stock has plenty of room to run going forward.
10 stocks we like better than HasbroWhen investing geniuses David and Tom Gardner have a stock tip, it can pay to listen. After all, the newsletter they have run for over a decade, Motley Fool Stock Advisor, has tripled the market.*
David and Tom just revealed what they believe are the 10 best stocks for investors to buy right now... and Hasbro wasn't one of them! That's right -- they think these 10 stocks are even better buys.
Click here to learn about these picks!
*Stock Advisor returns as of February 6, 2017
Steve Symington has no position in any stocks mentioned. The Motley Fool owns shares of and recommends Hasbro and Walt Disney. The Motley Fool has a disclosure policy.