Why Halozyme Therapeutics, Inc Fell 40.6% in 2016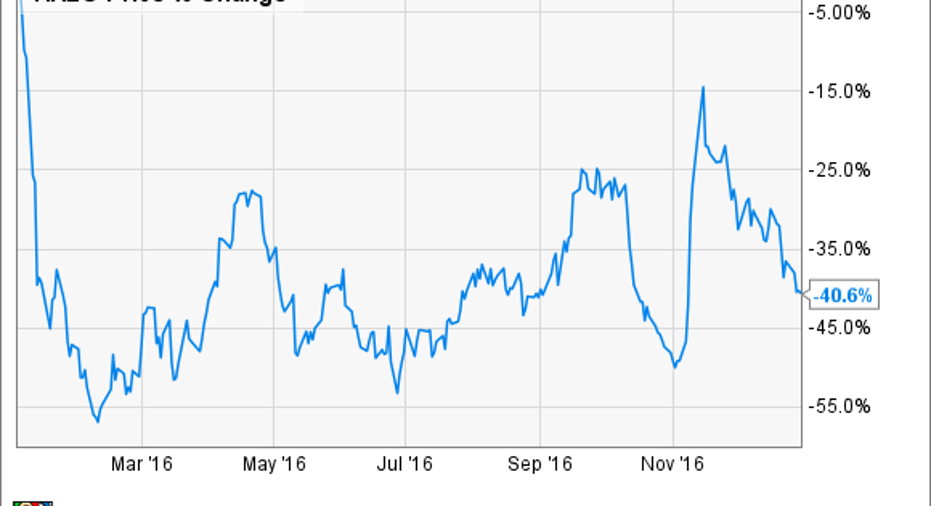 Image source: Getty Images.
What happened
Investors in Halozyme Therapeutics (NASDAQ: HALO),a small-cap biotech focused on products that enhance drug delivery, had a 2016 to forget. The company put its shareholders on a gut-wrenching roller-coaster ride during 2016, ending the period down more than 40% from its starting point, according to data fromS&P Global Market Intelligence.
So what
Here are some of the highlights that affected the company during the year:
In January, management entered into a $150 million credit agreement with Roche and Baxalta, two of the company's partners. The deal wassecured by future royalties of products that are developed using the company's Enhanze technology.
Later that month, management told investors that spending for the year would land between $240 million to $260 million. That range represented a $100 million increase over spending levels in 2015. In response, traders sold off shareshard.
In March, the first patient was dosed in a Phase 3 clinical trial that used Halozyme's investigational drug, PEGPH20, in combination with Celgene's Abraxane.
In June, management refinanced the company's debt, which added more than $22 million to the company's cash balance. As a result, management increased its year-end cash balance guidance.
In November,Halozyme announced that the FDA had accepted Genentech's application for MabThera SC, which is already approved in countries outside the U.S. MabThera SC is a co-formulation of a drug called rituximab and Halozyme's Enhanze platform. Total sales of rituximab exceed $3 billion in the States in 2015, and Halozyme is entitled to mid-single-digit royalties on any sales if MabThera SC wins approval.
Also in November, news broke that bothAbbVieand Pfizer had decidedto discontinue development of programs that utilized Halozyme's technology. However, both companies continue to have active partnerships in place with Halozyme.
Given the mix of news, it's easy to understand why the company's share price was all over the map during the year.
Now what
Looking ahead, Halozyme continues to offer investors reasons for optimism. The company just reported intriguingresults from a Phase 2 study that is testing PEGPH20 in combination withCelgene's Abraxane andEliLilly's Gemzarin treating patients with stage IV pancreatic cancer. This tough-to-treat disease is thethird-leading cause of cancer-related deaths in the U.S. each year.
Beyond PEGPH20, the company continues to boast awho's who list of partnersthat are exploring a range of exciting product candidates. While we wait for those products to work their way through clinical trials, shareholders should continue to see revenue push higher over time from increased royalty revenue on sales of drugs likeHerceptin SC, MabThera SC, and Hyqvia.
All in all, I continue to believe Halozyme could be a high-risk biotech stock that's worth nibbling on. With shares currently trading at a discount, it seems like as fine of a time as any to consider getting in.
10 stocks we like better than Halozyme Therapeutics When investing geniuses David and Tom Gardner have a stock tip, it can pay to listen. After all, the newsletter they have run for over a decade, Motley Fool Stock Advisor, has tripled the market.*
David and Tom just revealed what they believe are the 10 best stocks for investors to buy right now...and Halozyme Therapeutics wasn't one of them! That's right -- they think these 10 stocks are even better buys.
Click here to learn about these picks!
*Stock Advisor returns as of January 4, 2017.
Brian Feroldi owns shares of Celgene.Like this article? Follow him onTwitter where he goes by the handle@BrianFeroldior connect with him on LinkedIn to see more articles like this.
The Motley Fool owns shares of and recommends Celgene. The Motley Fool has a disclosure policy.