Why GrubHub Inc. Stock Jumped 55% in 2016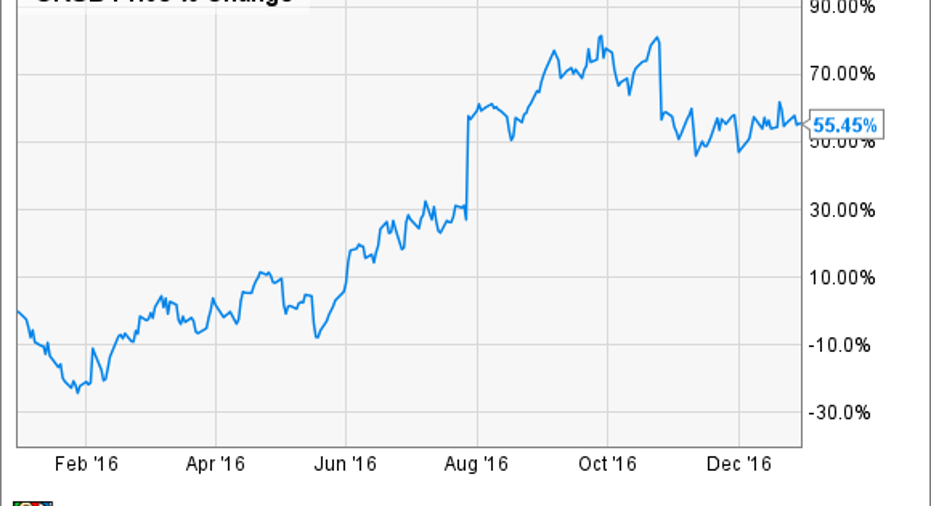 Image source: GrubHub Inc.
What happened
Shares of GrubHub Inc. (NYSE: GRUB) had a banner year in 2016, climbing 55%, according to data from S&P Global Market Intelligence, as the food delivery network posted strong growth throughout the year. GrubHub bounced back from a weak 2015, in which the stock lost 33%. As you can see from the chart below, the stock was up as much as 80% before slipping on its third-quarter earnings report, as the market worried about a slowdown in user growth:
So what
Unlike many tech companies, the parent of Seamless and other food delivery services has been consistently profitable, along with offering strong growth. It's a unique company -- and one that investors have struggled to value, explaining the stock's wild swings over the last two years.
Through the first three quarters of 2016, revenue was up 36%, and it accelerated to 44% in the most recent quarter. On the bottom line, earnings per share increased 35%, keeping pace with sales growth. Active Diners, the company's equivalent of monthly average users, increased 19% to 7.9 million, while daily average orders were up 26% to 267,500.
The company's biggest one-day gain came following its second-quarter earnings report in late July: The stock jumped about 25% as it beat expectations and raised its outlook.
Now what
Looking ahead to 2017, GrubHub shares have gotten pricier as the company's price-to-earnings ratio has risen to 68, meaning the stock is unlikely to repeat last year's performance.
There seems little doubt that food delivery has a long growth path ahead of it, as the industry has attracted competitors like Postmates, Uber, and Amazon.com. But GrubHub, whose Seamless property was started in 1999, seems to have an advantage with brands including MenuPages, Allmenus, and DiningIn. The company will have to continue investing to maintain its leadership position, but if it can maintain last year's growth rate in 2017, the stock should continue to move higher.
10 stocks we like better than Grubhub When investing geniuses David and Tom Gardner have a stock tip, it can pay to listen. After all, the newsletter they have run for over a decade, Motley Fool Stock Advisor, has tripled the market.*
David and Tom just revealed what they believe are the 10 best stocks for investors to buy right now... and Grubhub wasn't one of them! That's right -- they think these 10 stocks are even better buys.
Click here to learn about these picks!
*Stock Advisor returns as of January 4, 2017
Jeremy Bowman has no position in any stocks mentioned. The Motley Fool owns shares of and recommends Amazon.com. The Motley Fool has a disclosure policy.