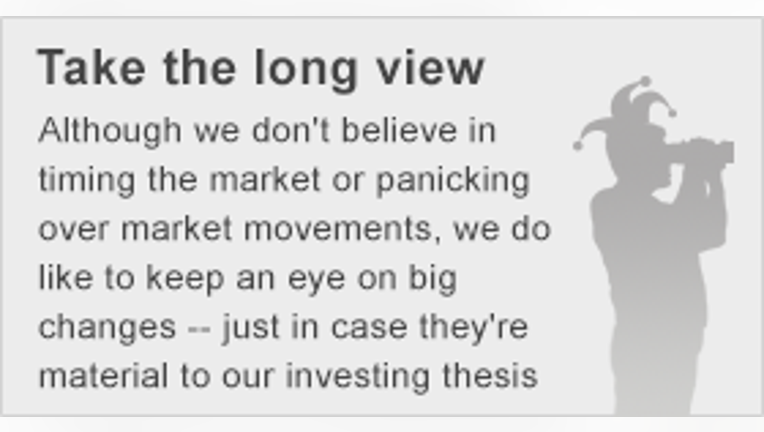 Image source: Groupon.
What: Shares of deals marketplace Groupon are getting crushed today, down by 13% as of 12:14 p.m. ET, after the company reported first-quarter earnings and losses significantly widened.
So what: Revenue in the first quarter was $732 million, which translated into an adjusted net loss of $4.6 million, or $0.01 per share. Both figures beat consensus estimates of $708 million in sales and an adjusted net loss of $0.03 per share. However, on a GAAP basis, Groupon's net loss more than tripled to $49.1 million, or $0.08 per share. Adjusted EBITDA also fell by more than half to $31.3 million.
Now what: Investors were also disappointed with the company's outlook. Groupon's 2016 outlook calls for full-year sales of $2.75 billion to $3.05 billion, which should result in adjusted EBITDA of $85 million to $135 million. The midpoint of revenue guidance is below the $3 billion that the Street was expecting. The company noted that it sold its billionth unit during the quarter. Groupon is attempting to focus its efforts in a smaller number of geographical markets as well.
The article Why Groupon Shares Got Crushed Today originally appeared on Fool.com.
Evan Niu, CFA has no position in any stocks mentioned. The Motley Fool has no position in any of the stocks mentioned. Try any of our Foolish newsletter services free for 30 days. We Fools may not all hold the same opinions, but we all believe that considering a diverse range of insights makes us better investors. The Motley Fool has a disclosure policy.
Copyright 1995 - 2016 The Motley Fool, LLC. All rights reserved. The Motley Fool has a disclosure policy.