Why GoPro Stock Crashed 52% in 2016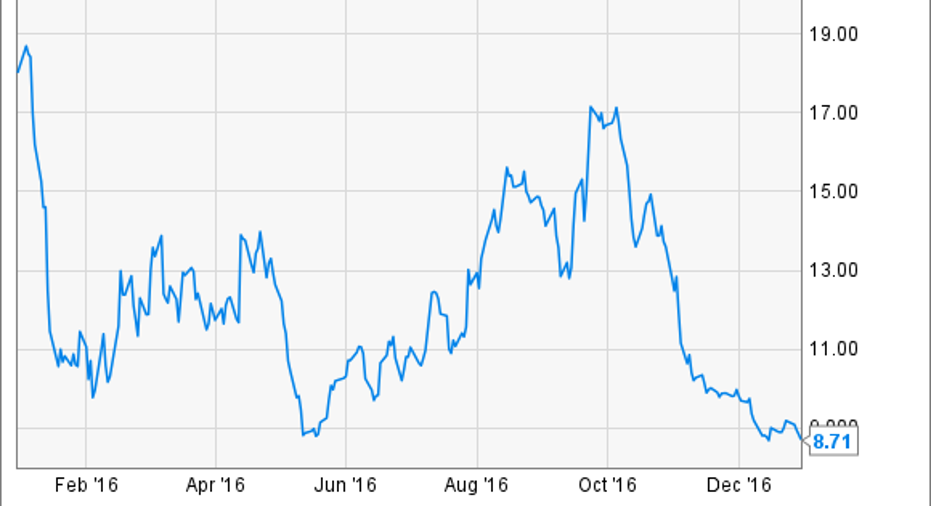 Image source: GoPro.
What happened
Shares of action camera company GoPro (NASDAQ: GPRO) tumbled 51.6% in 2016, according to data provided byS&P Global Market Intelligence. A steep revenue and earnings decline reported in February snowballed into a full-blown disaster, with four consecutive quarters of year-over-year revenue declines of 30% or more. The launch of the Karma drone in October, which was recalled almost immediately and has not yet been made available again, added insult to injury.
So what
GoPro reported a 31.1% year-over-year decline in revenue during the fourth quarter of 2015, results for which were announced in February. An impressive profit in the prior-year period was transformed into a loss, and the company guided for another big revenue decline during the first quarter of 2016. A statement from GoPro CEO Nick Woodman failed the grasp the severity of the situation:"In 2015, we recorded 16% year-over-year revenue growth and the fourth quarter represented the second highest revenue quarter in the company's history. However, growth slowed in the second half of the year and we recognize the need to develop software solutions that make it easier for our customers to offload, access and edit theirGoProcontent."
GoPro would go on to report three more miserable quarters, with year-over-year revenue declining by 49.5%, 47.4%, and 39.9% in the following quarters, respectively. During the third quarter, GoPro posted a $104 million net loss on just $241 million of revenue, the fourth consecutive quarterly loss. Through the first nine months of 2016, GoPro's net loss totaled $303 million.
GoPro is now working to slash costs, closing its entertainment business and laying off employees. Operating expenses are expected to drop considerably in 2017, although the company still expects to report a GAAP net loss this year.
The launch of GoPro's first drone, Karma, was supposed to aid in the company's turnaround efforts. The drone finally launched in October after a months-long delay, but a problem with some units falling out of the sky led the company to recall the 2,500 drones it had sold. The $800 drone is still unavailable on GoPro's website, and it's unclear if and when it will be available again.
Now what
GoPro expects to produce double-digit revenue growth during 2017, but only because 2016 was such an awful year. The company now claims to be an "end-to-end hardware and software storytelling solution." Investors should hope that GoPro's turnaround plan runs deeper than coming up with new ways to describe itself.
If GoPro can rebound in 2017 and beyond, the stock could soar from its currently depressed level. A turnaround, though, is far from guaranteed. The almost unbelievable failure of the Karma drone is as good a sign as any that new management may be required to right the ship. Execution problems like those plaguing Karma bode poorly for GoPro going forward.
10 stocks we like better than GoPro When investing geniuses David and Tom Gardner have a stock tip, it can pay to listen. After all, the newsletter they have run for over a decade, Motley Fool Stock Advisor, has tripled the market.*
David and Tom just revealed what they believe are the 10 best stocks for investors to buy right now... and GoPro wasn't one of them! That's right -- they think these 10 stocks are even better buys.
Click here to learn about these picks!
*Stock Advisor returns as of Nov. 7, 2016
Timothy Green has no position in any stocks mentioned. The Motley Fool owns shares of and recommends GoPro. The Motley Fool has the following options: short January 2019 $12 calls on GoPro and long January 2019 $12 puts on GoPro. The Motley Fool has a disclosure policy.