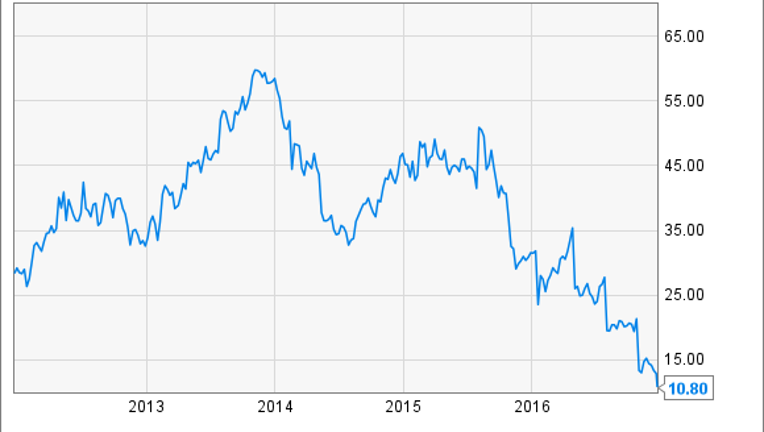 Image source: GNC Holdings.
What happened
Shares of vitamin and supplement retailer GNC Holdings (NYSE: GNC) tumbled on Friday after an analyst slashed his price target on the stock. This follows an awful third-quarter report in October, which featured a steep drop in comparable sales. At 2:45 p.m. EST, GNC stock was down about 12.5%. The stock is now down 65% year to date and 80% over the past three years.
So what
Piper Jaffray warned on Friday that analyst estimates for GNC's fourth-quarter results are likely too optimistic. On average, analysts expect GNC to report a 7.1% year-over-year revenue decline and a 40% decline in EPS. Piper Jaffray lowered its price target from $11 per share to just $7 per share.
GNC recently announced its plan to turn itself around. The new strategy involves a new loyalty program with no membership fee, making pricing across all channels the same, and an expensive Super Bowl ad. Piper Jaffray sees this plan as risky.
GNC reported abysmal third-quarter results in October. Comparable sales at company-owned stores dropped 8.5%, while franchise locations suffered an 8.9% decline. Operating income slumped 21%, while EPS fell by a smaller percentage thanks to the company's aggressive share buyback program.
Now what
GNC's market capitalization sits at about $725 million after Friday's decline. That's just 4.3 times the average analyst estimate for earnings this year. The market is extremely pessimistic, and for good reason. Earnings could fall off a cliff if sales keep tumbling, and a debt load of about $1.5 billion makes the stock even riskier.
If GNC can stabilize its business in the next few quarters, however, the stock could bounce back in a big way. Management's plan will take time to produce results, and we'll have to wait until February for any indication of whether paying millions for a Super Bowl ad was a good idea. For investors willing to dumpster dive, betting that the worst-case scenario won't play out, GNC is an interesting stock.
10 stocks we like better than GNC Holdings When investing geniuses David and Tom Gardner have a stock tip, it can pay to listen. After all, the newsletter they have run for over a decade, Motley Fool Stock Advisor, has tripled the market.*
David and Tom just revealed what they believe are the 10 best stocks for investors to buy right now... and GNC Holdings wasn't one of them! That's right -- they think these 10 stocks are even better buys.
Click here to learn about these picks!
*Stock Advisor returns as of Nov. 7, 2016
Timothy Green has no position in any stocks mentioned. The Motley Fool has no position in any of the stocks mentioned. Try any of our Foolish newsletter services free for 30 days. We Fools may not all hold the same opinions, but we all believe that considering a diverse range of insights makes us better investors. The Motley Fool has a disclosure policy.