Why Gilead Sciences, Zillow Group, and Parsley Energy Slumped Today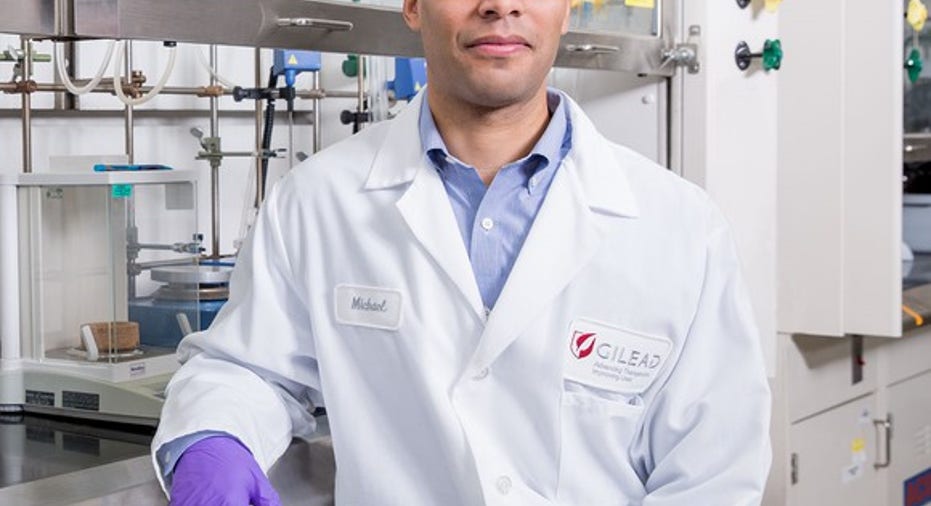 Wednesday was a mixed day for the stock market. Broad-based market benchmarks like the S&P 500 and Nasdaq Composite posted modest gains, but the Dow Jones Industrials finished the day with a modest loss of 36 points. Many investors appear to be waiting for confirmation about the success or failure of the new presidential administration's economic policies, and earnings season hasn't provided a clear direction for the overall market. Despite the relatively neutral performance from the market today, some stocks fell sharply, and Gilead Sciences (NASDAQ: GILD), Zillow Group (NASDAQ: Z) (NASDAQ: ZG), and Parsley Energy (NYSE: PE) were among the worst performers on the day. Below, we'll look more closely at these stocks to tell you why they did so poorly.
Gilead can't catch a break as sales projections plunge
Shares of Gilead Sciences dropped 9% after the biotech giant reported its fourth-quarter financial results. Backward-looking numbers were relatively solid, including full-year revenue of $30.4 billion and net income of $9.94 per share, which again put the biotech's valuation at extremely low levels. However, Gilead said that it anticipates sales of its various products of just $22.5 billion to $24.5 billion, down roughly 20% to 25% from 2016 levels, and particularly weak projections for hepatitis C products were far worse than most analysts following the stock had expected. The question Gilead keeps facing is what it needs to do going forward to deal with concerns about its shrinking top line. Many speculate that acquisitions or strategic partnerships could help pull Gilead out of its funk, but until it actually moves forward, shareholders could see weakness continue.
Image source: Gilead Science.
Zillow loses ground
Depending on the share class, Zillow shares fell 6% to 8% in the wake of disappointing fourth-quarter financial results. Sales jumped by more than a third on strength in Zillow's marketplace, as mortgage, premier real estate agent, and other real estate offerings all saw significant increases from the year-ago quarter. Yet despite Zillow's move away from display advertising in order to improve users' experience with its website, the company continued to lose money, only minimally reducing its GAAP net loss from what it lost in the fourth quarter of 2015. Nevertheless, CEO Spencer Rascoff called 2016 "a fantastic year" for Zillow, and with the integration of Trulia having gone well, today's reaction looks more like a pause in the stock's explosive move higher over the past year rather than a major concern about the home-oriented website's future.
Parsley makes a big buy
Finally, Parsley Energy stock declined 7%. The oil and gas exploration and production company said late Tuesday that it would spend $2.8 billion to buy Midland Basin assets from privately held Double Eagle Energy Permian. The deal encompasses 71,000 net acres in the area, bringing Parsley's total exposure to the broader Permian Basin region to 227,000 acres. Parsley now has the second-biggest position in the Midland Basin among any publicly traded exploration and production company, and CEO Bryan Sheffield said that the deal "sets us apart from peer companies on the basis of the size and quality of our acreage position in what we consider the most desirable basin in the country." Yet some investors fear that Parsley might have overpaid for the deal, especially in light of concurrent offerings of 36 million shares of common stock and $350 million of eight-year senior unsecured notes to help finance the purchase. A lot will depend on what happens to oil prices over the next year, but Parsley hopes that the quality of the acreage will win out in the end.
Offer from the Motley Fool: The 10 best stocks to buy now
Motley Fool co-founders Tom and David Gardner have spent more than a decade beating the market. In fact, the newsletter they run, Motley Fool Stock Advisor, has tripled the S&P 500!*
Tom and David just revealed their ten top stock picks for investors to buy right now.
Click here to get access to the full list!
*Stock Advisor returns as of 1/30/2017
Dan Caplinger has no position in any stocks mentioned. The Motley Fool owns shares of and recommends Gilead Sciences, Zillow Group (A shares), and Zillow Group (C shares). The Motley Fool has a disclosure policy.