Why Gilead Sciences Stock Slumped Today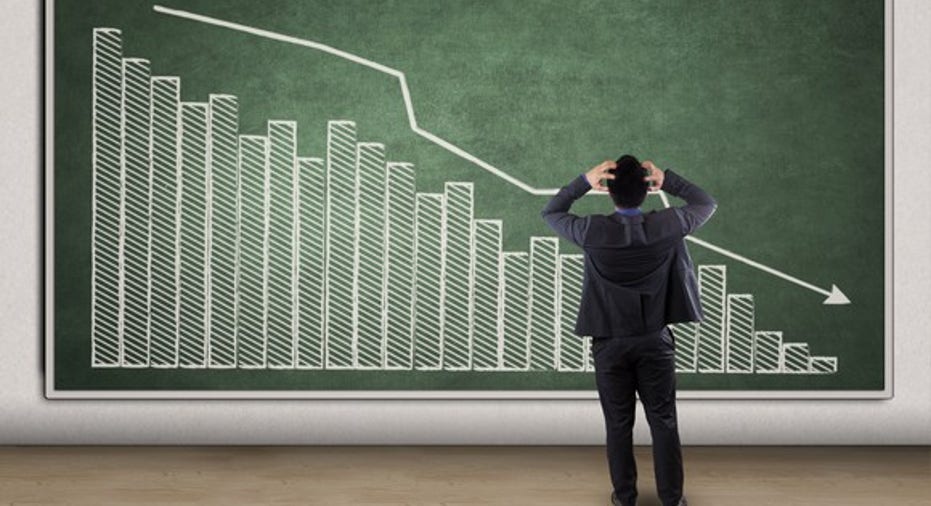 What happened
As of 12:42 p.m. EST Wednesday, Gilead Sciences' (NASDAQ: GILD) stock had fallen by as much as 10%. The biotech's double-digit plunge was mainly sparked by its worse-than-expected 2017 guidance that was released late Tuesday.
So what
The key piece of information that's driving Gilead's shares lower on Wednesday is the biotech's particularly anemic 2017 sales forecast for its hepatitis C franchise. Specifically, Gilead is expecting its 2017 hep C sales to range from $7.5 billion to $9 billion, representing a potential decrease in year-over-year sales of 39% to 49%. That's a mind-boggling drop off for a core drug franchise, and underscores why investors are hitting the exits on Wednesday.
Now what
Gilead's hep C sales have been slowing down for a while due to heavier competition, lower prices, and the fact that there is no longer a surfeit of desperately sick patients waiting to try novel hepatitis C drugs. However, the company's shareholders are still probably shocked at the eye-popping rate of the franchise's expected decline this year.
After all, Gilead's top line is now on track to fall by a whopping 18% per the company's best case outlook for 2017, and almost all of this weakness is emanating from its hep C portfolio. To put this figure into the proper context, the Street was forecasting a revenue dip closer to only 7.6% for the whole of 2017.
Gilead's shares are marching southward on Wednesday. Image source: Getty Images.
The silver lining is that this hep C cliff dive was probably already baked into the biotech's valuation based on its rock bottom price-to-sales and price-to-earnings ratios over the last two years. So Wednesday's emotionally charged sell-off is arguably unwarranted, and may represent a great buying opportunity for bargain-hunters.
10 stocks we like better than Gilead SciencesWhen investing geniuses David and Tom Gardner have a stock tip, it can pay to listen. After all, the newsletter they have run for over a decade, Motley Fool Stock Advisor, has tripled the market.*
David and Tom just revealed what they believe are the 10 best stocks for investors to buy right now... and Gilead Sciences wasn't one of them! That's right -- they think these 10 stocks are even better buys.
Click here to learn about these picks!
*Stock Advisor returns as of February 6, 2017
George Budwell has no position in any stocks mentioned. The Motley Fool owns shares of and recommends Gilead Sciences. The Motley Fool has a disclosure policy.