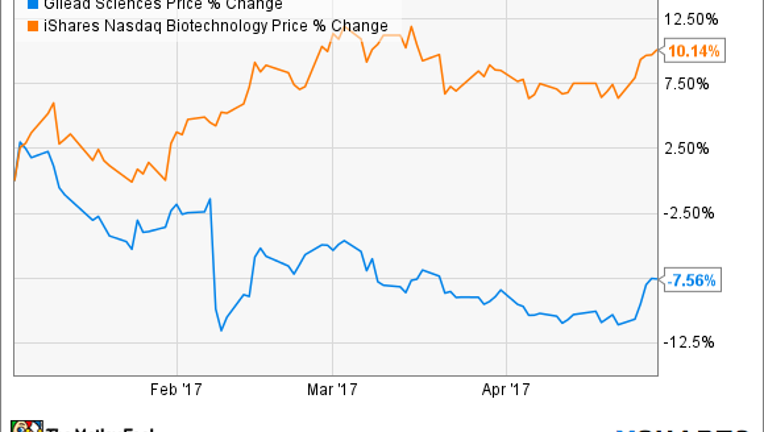 What happened
According to data fromS&P Global Market Intelligence,Gilead Sciences (NASDAQ: GILD)stock gained only 0.98% in April, despite the rest of the industry having yet another fairly strong month. The iShares Nasdaq Biotechnology Index (NASDAQ: IBB), for instance, gained 2.29% last month.
Image source: Getty Images.
So what
Gilead's stock has so far failed to take part in the broader biotech rally this year due to a continually worsening outlook for its hepatitis C franchise. In the first quarter of this year, for example, the company missed consensus estimates on revenue by $126 million because of its plummeting hepatitis C product sales both domestically and abroad. As a result,Gilead's stock has now lost over 7% this year, while the iShares Nasdaq Biotechnology Index has rallied by more than 10%:
Now what
Unfortunately, Gilead's hepatitis C revenue could take another major hit later this year if AbbVie's (NYSE: ABBV) new once-daily pan-genotype hepatitis C therapy gets a green light from the FDA. The short version of the story is that AbbVie'sglecaprevir/pibrentasvir, or G/P for short, is currently under priority review with the FDA, meaning that it could hit the market before year's end.
Unlike the slew of other would-be competitors in the past, this experimental drug is actually significant threat to Gilead's hepatitis C trio of Harvoni, Sovaldi, and Epclusa because it offers shorter treatment times across a range of genotypes. And besides lowering the average treatment duration, AbbVie's G/P could also trigger another round of discounts across the spectrum of next-generation hepatitis C drugs at the behest of payers.
Bottom line: Gilead's going to remain under significant pressure until it fixes its top line via an acquisition. And until that day comes, this stock will almost certainly continue to diverge from the rest of the surging biotech industry.
10 stocks we like better than Gilead SciencesWhen investing geniuses David and Tom Gardner have a stock tip, it can pay to listen. After all, the newsletter they have run for over a decade, Motley Fool Stock Advisor, has tripled the market.*
David and Tom just revealed what they believe are the 10 best stocks for investors to buy right now... and Gilead Sciences wasn't one of them! That's right -- they think these 10 stocks are even better buys.
Click here to learn about these picks!
*Stock Advisor returns as of May 1, 2017
George Budwell owns shares of iShares NASDAQ Biotechnology Index. The Motley Fool owns shares of and recommends Gilead Sciences. The Motley Fool has the following options: short June 2017 $70 calls on Gilead Sciences. The Motley Fool has a disclosure policy.